5 New Live Streaming Products Shown at CES 2023
Written by Paul Richards on January 2, 2023
Attendees of CES 2023 are in for a treat this year with the grand unveiling of new live-streaming products from companies such as
Sony
,
Logitech
,
PTZOptics
,
NETGEAR
,
HuddleCamHD
, and
Panasonic
. 2021 and 2022 were slow years for new technology releases especially as the live streaming and video production industry boomed with demand and suffered supply chain issues. New video production features and live streaming-focused product design are central to all five products in our list that will make video pros want to upgrade their kit. These new products boast new 4K resolution, advanced compatibility with software such as OBS, and connectivity options to make your live streaming setups easier and more robust. Whether you're looking to add a new camera to your rig or an all-in-one setup with wireless accessories, there are options available to meet any budget and provide the ultimate entertainment solution. With these five amazing products on display at CES 2023, it's clear that the future of streaming has never looked brighter.
New Camera Releases at CES this year
New SONY Cameras at CES
SONY will be showing off their latest Cinema PTZ camera line the FR7. The FR7 is the first Netflix-approved pan, tilt, and zoom (PTZ) camera available today, it offers a full-frame sensor. The camera features network control for robotic PTZ controls along with SDI and HDMI outputs. The camera also features a professional XLR input along with Genlock capabilities. The FR7 supports a range of lenses that can be attached to provide cinematic-quality video for even the highest-end productions. This is a very high-quality PTZ camera made by SONY that starts at $10,000. If you are shooting a movie or building out a high-end studio this is the right camera for you. Learn more about the FR7 here.
New PTZOptics Cameras at CES
PTZOptics is announcing a new line-up of pan, tilt, and zoom (PTZ) robotically controllable cameras this year called the
Move 4K
. The Move 4K cameras feature auto-tracking capabilities with the ability to lock in on specific subjects and follow them automatically with pan, tilt and zoom controls. The new Move 4K cameras have been announced as the natural replacement for the award-winning PTZOptics Gen 2 cameras as they offer many of the same features with the future-proof upgrade of 4K resolution. PTZOptics Move 4K cameras offer SDI, HDMI, NDI, and USB connection options for video professionals to accommodate a wide range of video production hardware including Blackmagic video switchers. PTZOptics cameras support integrated camera controls with vMix, Wirecast, Livestream Studio, MimoLive, and OBS with an OBS plugin.
PTZOptics is also announcing a new camera designed for creators called the
Studio Pro
. The Studio Pro features a high-quality 12X optical zoom lens with a Panasonic CMOS sensor that supports Full HD video at up to 60 frames per second. The Studio Pro is unique in part because it includes a new time-of-flight focus solution that allows users to keep objects in an extremely sharp focus during live streaming and video presentations. The Studio is also unique because of an included light that is powered by the camera making the camera a full solution for high-quality video even during online meetings. The Studio Pro will be available at just $699 and will include NDI connectivity for live streaming applications with software such as OBS, vMix, Wirecast, TriCaster, and MimoLive.
New Panasonic Cameras at CES
Panasonic is rumored to be announcing a new full-frame mirrorless camera at CES. The Panasonic Lumix S5 Mark II is a mirrorless DSLR camera with a full-frame sensor. The Panasonic GH6 is also likely to be announced as a new flagship Micro Four Thirds camera. Panasonic did not release too many cameras in 2022 and the CES show seems like the likely place for Panasonic to make some large announcements. The GH6 can produce a staggering 120 frames per second in 4K. Can someone say 4K in slow motion? Full-HD rates for video are supported at up to 300fps (12.5x) slow motion. With the updated 25MP sensor and the ability to capture bitrates super high bitrates, this is the camera you can use to capture B-Roll that will make your videos and live streams incredible.
Netgear ProAV Switches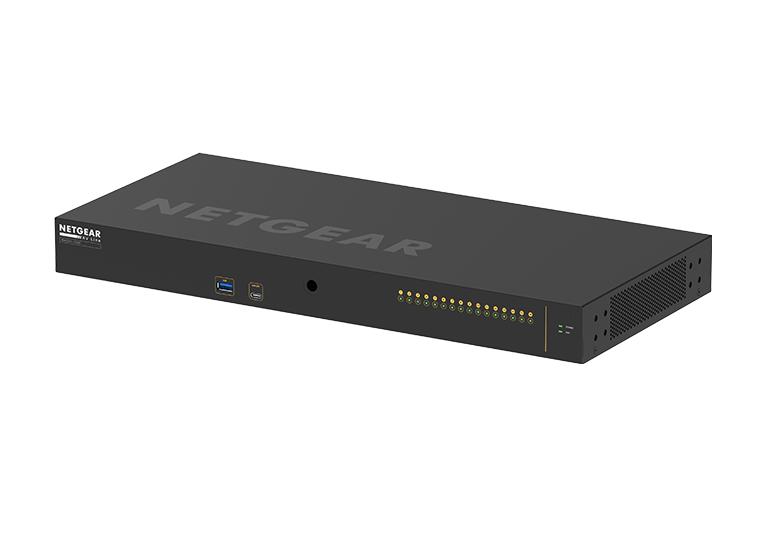 The Managed M4250 network switches are a dream come true for live streaming professionals setting up video production systems that work over IP. Today a network switch is the central hub of IP-based video production systems and the Netgear M4250 switches offer profiles designed specifically for NDI and DANTE. That's right you can use a single NETGEAR switch to run NDI and DANTE properly with the correct configuration. Not to mention that the M4250 NETGEAR switches offer Power Over Ethernet (PoE) connectivity to power all of your PoE devices including PTZ cameras, NDI decoders, and other network-connected video production gear. The NETGEAR M4250 network switches are an ideal addition to any NDI camera deployment. 
Logitech
The latest camera from Logitech is a professional webcam called the Brio 505. It's a plug-and-play USB-connected webcam with 1080p capabilities. The camera features a new show mode that looks ideal for live-streaming applications because it allows you to tilt the camera down to show sketches and work on a tabletop. Logitech is also showing off the StreamCam at CES this year which also costs roughly $129. The StreamCam features a simple rotation that can switch from widescreen mode (16:9) and portrait mode (9:16). As more content is made for vertical video applications, the StreamCam is ideal for live streaming. The StreamCam also features an impressive 60 frames per second. Logitech now offers lighting solutions for creators as well with the introduction of the Litra Glow. This light looks very similar to the light included with the PTZOptics Studio Pro which is next on our list.
Conclusion
By the way, did you check out the new technologies released at the 2022 National Association of Broadcasters (NAB) Show in New York this year? Check out our coverage of that here. It's no wonder that the five new live-streaming products shown at CES 2023 have been making waves in the industry. From innovative technology to intuitive design, they offer a wide range of features continues to push the boundaries of live video production. Whether you're looking for seamless streaming connection options or an all-in-one setup, these products provide the perfect solution and show that the future of streaming is here.
---