The StreamGeeks Team is comprised of Paul Richards, Tess Protesto and Michael Luttermoser. The show is hosted by Paul & Tess and Michael is the producer. Paul is the self-proclaimed, Chief Streaming Officer and curates much of the content for the live show. Tess is the Social Media Manager which is no easy task in today's modern age. Tess can be found on Facebook, in our User Group and beyond when it comes to Social Media. Follow us on Instagram, YouTube or Facebook and see! Michael is our video production expert and when he's not producing one of our live shows, he is business either shooting or editing videos for the StreamGeeks channels.
Finally, if you haven't seen the official tour of our office here is the floor plan. As you can see the entire office has been designed to showcase an entire inter-connected video streaming and production workplace. Every space from the lobby, to the collaboration areas and video streaming studios have been designed with a gigabit ethernet backbone for interconnectivity.
The video above takes you through our $10k budget we spent in the studio. This does not include equipment costs but hopefully gives you a good idea of our thought process and plans for the future 🙂
We have a total of eight cameras in our studio and over fifteen throughout our IP-Connected office space.  We have (4) PTZOptics 20X-SDI second-generation cameras with upgraded NewTek NDI firmware in our studio placed in various locations. Three cameras are wall-mounted and one is on the drop-ceiling. Each PTZ camera in our studio is PoE (Power Over Ethernet) and even though we have traditional 3G SDI cabling connected we normally use the ethernet connection for video, power and control. Camera controls are covered in the (Control) section to the right.
Static Cameras We have four static box cameras in our studio from PTZOptics called ZCams. We have two ZCAM-VL (Wide Angle Variable Lens Cameras) and two 20X-ZCAM cameras which include a 20X optical zoom lens. The 20X ZCam models are designed with the exact same lenses as our 20X PTZ cameras to ensure optimal color matching. Color matching is incredibly important when you have this many cameras in a single studio. Our ZCAM-VL for wide-angle cameras is used for close-ups with the 122-degree field of view lenses. We have one right next to our broadcast desk and one mounted behind the desk for a "behind the scenes" style camera viewpoint.Yes, we use our iPhone and Android smartphones from time to time as video sources in our live broadcast. Our office is equipped with the latest high-speed Ubiquity wireless WiFi systems that provide low-latency connections. We are able to use this wireless network to send video using the NewTek NDI directly into our video production software.
Take action and build a space for yourself at home to make videos! A home studio can change your life, your career, and the way you make content. This is a short story about how I've been putting off creating a home studio, or should I say transforming my home office into a production studio of sorts. It's NOT complete. So give me a couple of weeks to get this home studio working. The way things are looking, it will be getting a lot of use!
Send us pics! Email Paul some pictures of your home studio and we may make a montage video if we get enough footage!
You can email Paul at [email protected]
A studio in the office
It's of course best practice to have live streaming at your office right? Here you can see the West Chester, PA StreamGeeks studio set up by Paul Richards, Tess Protesto, and Michael Luttermoser. This video production space offers four unique sets and a array of awesome live streaming technology that makes multi-camera production possible and even dare I say, easy.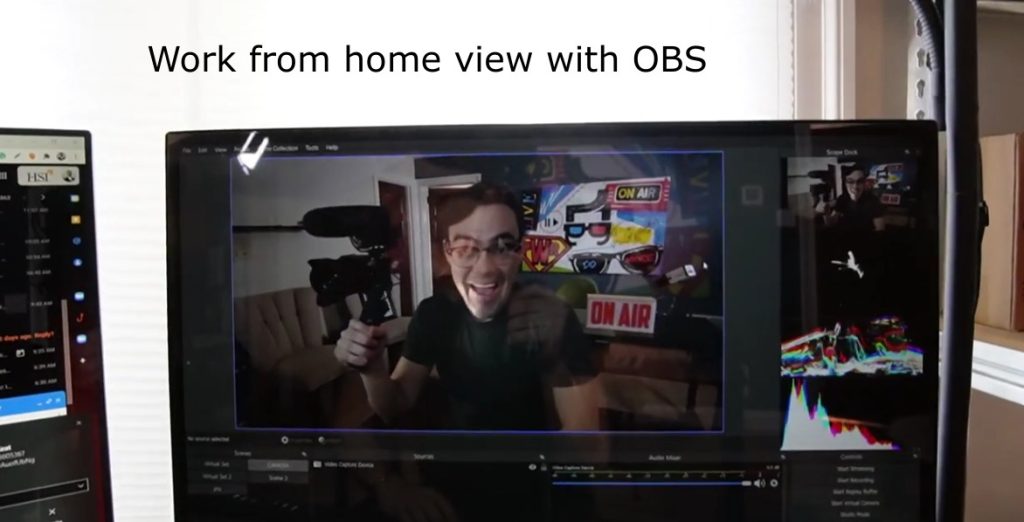 Using OBS from home
OBS is totally free, making it a great tool for any home studio. You can learn more about using OBS for live streaming and video production with some of our other blog posts below.
---