The Unofficial Guide to vMix
Finally a complete guide to vMix
The Unofficial Guide to vMix is the perfect book for anyone interested in live video production with vMix software. vMix is one of the most powerful video production solutions available for live streaming, recording and IP video connectivity today. This easily readable book, will take you from zero to sixty in the live streaming world. Open your eyes to the possibilities of modern video production, and increase your capabilities with the industry's top video production solution, vMix.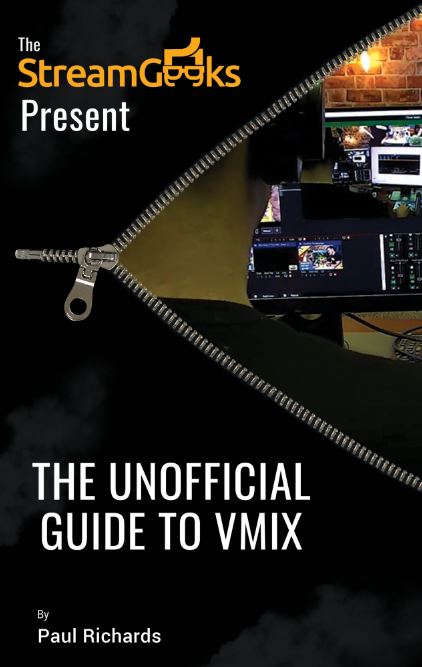 vMix is a software that is used by the world's top broadcasters. But it is also affordable enough for businesses, churches, and organizations of all kinds to set up powerful live streaming solutions on a budget. vMix can turn a regular Windows computer into a modern video production studio, which is helping thousands of users around the world leverage the power of live streaming technology and connect their ideas with the world. Find out why this software makes live video production more accessible and powerful than you have ever imagined, with an invaluable guide that will get you up to speed in a matter of hours.
Free Download via PDF
Available on Kindle and Paperback on Amazon
Take your vMix skills to the next level with an companion online course here.
Go from Zero to Sixty in a matter of hours
Deep dive into the advanced vMix features
This book covers, audio, VST 3 plugins, Multiview, streaming, recording, overlays, vMix social, shortcuts, GT title editor, vMix call, the web controller, color correction tools, virtual sets, PTZ camera controls, NDI, virtual webcams, playlists, data sources, instant replays, triggers and the vMix API.

Author Paul Richards, the Chief Streaming Officer for StreamGeeks, outlines each and every feature of vMix in this clear and cohesive book. Every chapter features detailed pictures and explanations that are expanded upon in the online Udemy course. From the basics of video production to advanced virtual sets and social media integrations, this book will take your vMix skills to the next level.
Go further with live video streaming and read The Unofficial Guide to vMix. Make the most out of a free 60 day trial of vMix with this handy book by your side. If your organization is using vMix, this is the perfect resource for training volunteers and new employees. Whether you are upgrading from OBS or simply building the live streaming system of your dreams, this book can help. 
Download the Book Free Here
Start Learning vMix
What is vMix. Learn here
Getting Started with the vMix interface here
Learn how to work with vMix inputs here
Mixing Inputs Together with vMix Multiview here
Learn about vMix titles here
Learn how to mix Audio in vMix here
Learn how to use VST3 audio plugins with vMix here
Learn all about vMix settings here
Learn about how to use vMix Full Screen and Multiview here
Learn how to record video with vMix here
Learn how to live stream with vMix here
Learn how to use vMix video overlay channels here
Learn how to make Stinger Transitions in vMix here
Learn how to use social media comments in your live stream with vMix Social here
Learn how to use vMix shortcuts here
Learn how to use GT Title Editor to make custom vMix titles here
How to use vMix Call to bring guests in your live stream here
How to control vMix remotely with the web controller here
How to use vMix color correction tools here
How to use virtual sets with vMix here
How to use NDI with vMix here
How to control PTZ cameras in vMix here
Learn how to connect vMix with Zoom using the virtual webcam output here
Learn how to use automated playlists with vMix here
Learn how to use data sources with vMix here
Learn how to use vMix triggers here
Other articles about vMix
What's in the book? Here is an outline
What is vMix?
Getting Started

The Interface
Adding Inputs & Input Settings
Mixing Inputs together with multiviews
Working with Titles

Audio

Audio Plugins

vMix Basics

vMix Settings
Full Screen and Multiview
Recording Video
Live Streaming
Video Overlay Channels
Using vMix Social

Advanced vMix Features

vMix Shortcuts
vMix GT Title Editor
Using vMix Call
Using the Web Controller

Deep Dive

Color correction tools
Virtual Sets
PTZ Cameras
Adding an NDI sources in vMix
External Output (Connecting with Zoom)
Using the Playlists
Data Sources

Mastering vMix

Instant Replay
How to use Triggers
vMix API for developers
---