Technology for Virtual & Hybrid Live Streams & Events
Written by Paul Richards on September 20, 2021
If you are searching for technology for virtual & hybrid live stream events you might want to check out the StreamGeeks setup planned for the 2021 NAB Show. NAB stands for the National Association of Broadcasters and it represents the world's largest live streaming and broadcast show that is held in Las Vegas each year. This year especially the demand for live streaming and online content has been unprecedented. Therefore, the NAB show organization asked the StreamGeeks to help create a dynamic hybrid experience for the show for event attendees at home.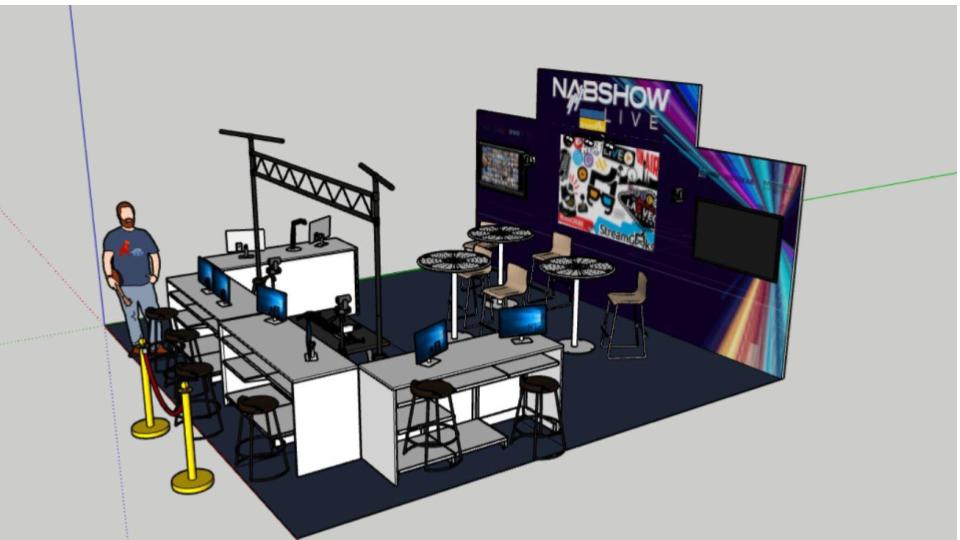 Above you can see the booth setup that is used for broadcasting from the showroom floor. This area features multiple PTZ cameras, live streaming systems, joysticks and digital audio systems. The wiring diagram for this live streaming system is separated into two workflows. Below you can see the video workflow leveraging the cloud. This system uses a mobile live streaming backpack and a booth system centralized around a PoE NETGEAR switch.
The cloud-based streaming setup
Here you can see the cloud-based live streaming system which is ideal for a variety of reasons. First, it allows the broadcasters to switch between two unique RTMP video streaming sources. In fact, the Epiphan Pearl 2 here allows the team to leverage an SRT live stream which is more reliable than a standard RTMP video stream. This cloud-based live streaming system also provides redundancy in the cloud and therefore helps to increase reliability for the stream overall. The cloud also allows broadcasters to quickly create clips of the live stream to be published to social media sites during the broadcast.
The multi-camera presentation setup
Here you can see an all NDI camera setup leveraging the NETGEAR PoE network switch. The broadcast team is deploying multiple PTZOptics cameras with NDI support along with a variety of HuddleCamHD Pro IP webcams. The entire stream is mixed with vMix and the Epiphan Pearl 2 is being used as a dedicated encoder and recording system.
Live Streaming Audio Setup
Finally, you can see the entire audio system laid out here. There are five headphone/microphone sets used to control the audio. In this way, the producer has a backchannel to speak directly to the talent, and the broadcast team can create mix/minus channels for each person. A mix/minus setup is a custom mix of audio that is sent to each person in the production.
In this video, you will see exactly how the StreamGeeks plan to live stream the 2022 NAB Show Live Stream. Yes, we really hoped to live stream the 2021 NAB Show… but the event has been canceled. Enjoy this video that shows off all the technology used to pull off a hybrid event live stream with cameras, microphones, zoom sessions, software, and more…
Products mentioned:
---