How to live stream on Amazon
Written by Paul Richards on September 17, 2020
Live streaming on Amazon is a huge opportunity for Amazon Sellers, Brands, and influencers. Amazon's live streaming program is designed to monetize live streaming via eCommerce sales on their platform. This is an exciting way for video production companies, AV integration companies, and in-house video teams to upgrade their clients live streaming capabilities in order to create professional video that sells. Let's take a look at the live streaming tiers available from Amazon and how you can start live streaming on Amazon.
Who can live stream on Amazon?
Amazon Sellers
Brands on Amazon (Must have access to the Advertising Console)
Influencers (Must have active storefront via Amazon Associates)
Amazon live streaming tiers
Amazon offers three tiers of live streaming, which are used to encourage partners to live stream professionally on their platform. Looks like Amazon is taking a page of out the Twitch book, as they promote long live streams focus on viewer engagement.
Tier 1: Rising Star (This is where you start)
Tier 2: Insider (must live stream for 90 minutes)
Tier 3: A-Lister (must live stream for 1,000 minutes and make $5,000 in sales)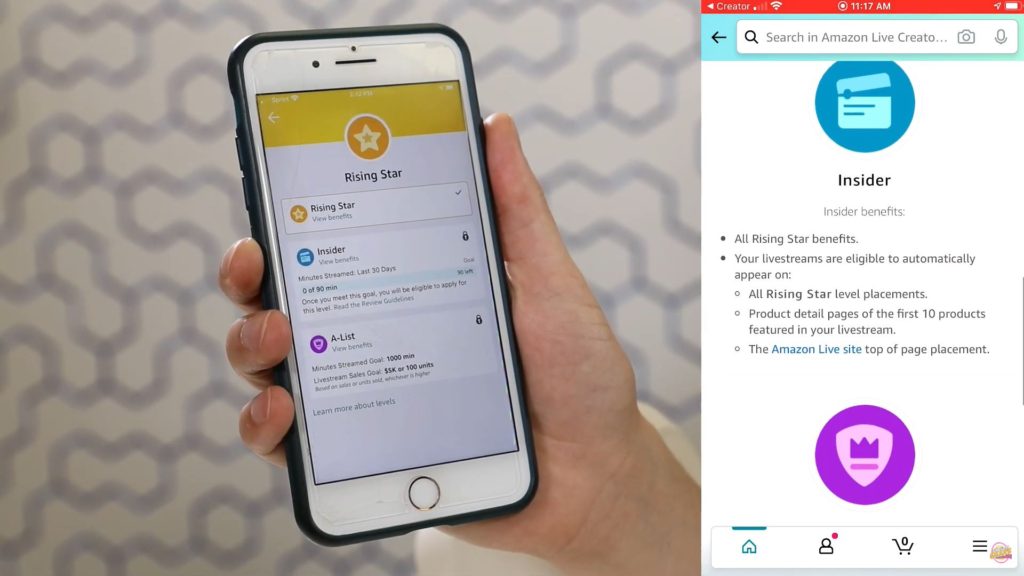 The Amazon live streaming tier system is a fun way to "gamify" the live streaming experience. This form of gamification goes along with the power of live streaming and marketing. Your approach needs to be energetic and fun. As you live stream on Amazon and become more successful Amazon will reward you with increased levels of support and even exposure. For example, as you become an Amazon live streaming Insider and A-Lister you will have increased chances for showing up on the home page of Amazon. I have seen sellers on the homepage of Amazon with thousands of viewers. So it's a very valuable opportunity.
Best Practices for Live Streaming on Amazon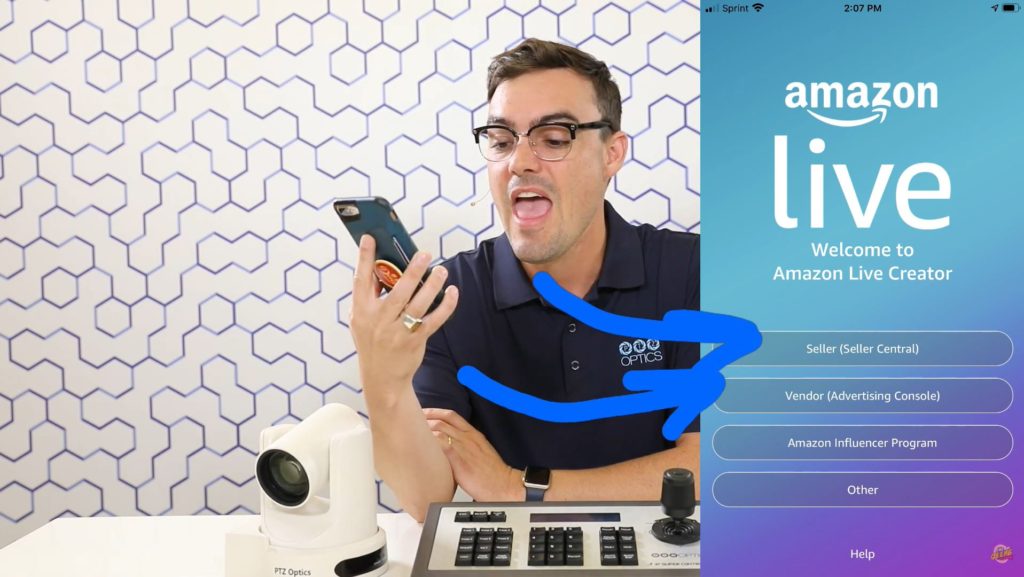 Amazon wants you to be successful as a partner on their platform. The #1 goal is to increase sales with live video. Therefore, Amazon recommends that sellers live stream when they have upcoming promotions or coupons that they can share. Amazon also does not guarantee viewers. Therefore, you should always schedule your live streams on Amazon and promote the live stream on Social Media. This means that you should have a clear call to action for viewers to take during your live streams. Think QVC.
Here is a shortlist of best practices:
Follow Community Guidelines

Stream for at least 30 minutes
Engage with your audience
Remember to sell (Have a call to action)
Show your products in action (don't just talk about them)
Promote off Amazon (Social Media and Email)
Live stream when you have a special deal or promotion

Have good internet (5Mbps)
Plan/Practice
How to get started live streaming on Amazon
First you will need to download the Amazon Live Creator app. This app is only available via iOS devices on the Apple App store now. Next you should set your phone to "do not disturb." You are able to live stream directly from the Amazon Live Creator App or you can select an option to stream from an "external encoder" such as vMix, OBS, Wirecast or xSplit. In fact, as you read into the recommendations from Amazon they highly recommend professional live streaming systems using encoder software or hardware systems other than an iPhone/iPad.
Special features available on Amazon Live
The best feature available for Amazon live stream is the exposure to shoppers. Amazon has an extremely high conversion rate for ecommerce sales and viewers of live streams on Amazon are in the mood to shop. Therefore, it's perhaps the best place on the internet to deliver your live stream. On top of placement, Amazon offers you the opportunity to chat with potential customers. There is no other simple, live way to interact with customers interested in buying your products on Amazon.
Amazon also offers a carousel feature that allows broadcasters the ability to easily select a variety of products that will be featured. In this way, you can offer viewers a simple call to action to click and buy the products you are displaying. Amazon highly suggests that you show off your products, rather than simply talk about them. You can also set up a custom promotion to display in the text below your live stream. This is handy for coupon codes and promotion explanations.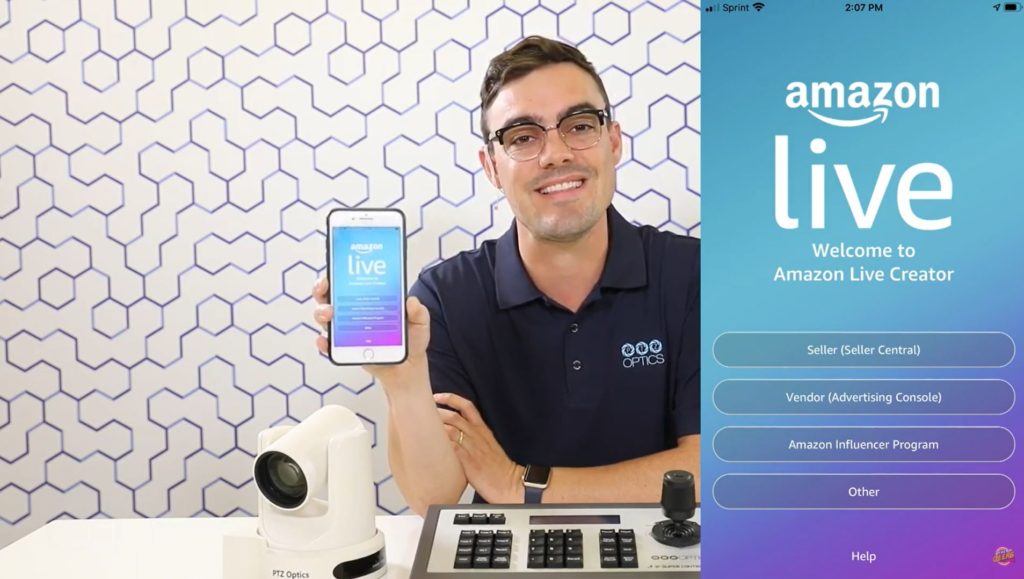 Conclusion
Amazon owns the eCommerce market in the United States and abroad in many countries. Ecommerce sales have exploded in 2020, and live streaming on Amazon is a perfect opportunity for sellers, brands and influencers to get ahead of their competition. Live streaming is a value add sellers where sellers can provide Amazon customers real-time information at a critical moment as they make buying decisions. This is where you want to be if your business sells on Amazon.
If you are thinking about modernizing your live streaming capabilities consider taking our free Basics of Live Streaming course here: https://streamgeeks.us/basics
---