Live Video SEO: Everything a Digital Marketer Should Know
Written by Alyse Falk on April 1, 2022
Do you know what live video SEO is? It's an important factor that can increase your online visibility. Here we tell you everything we know about it.
Ultimate Guide For Digital Marketers & Broadcasters: Live Video SEO
If you think every piece of content can be optimized to improve your online visibility or that of your client, you're totally right. Even live broadcasts can participate in the SEO strategy of a brand.
Why should every little piece of content be optimized? Because all of the content in tandem can bring you closer to the #1 position in the SERPs. And the first place in Google results can help you achieve a click-through rate (CTR) of over 34%.
In this article, we'll cover the meaning and importance of live video SEO, as well as ways to improve it.
What Is Live Video SEO?
Live video or live broadcast SEO is the process of optimizing your live stream videos to improve their search rankings. Search engine algorithms can 'watch' video content and consider it for a proper ranking. That's why businesses should be careful about the content they include in their broadcasts.
Live video SEO can help businesses achieve their ranking and traffic goals.
The 4 Benefits of Live Broadcast SEO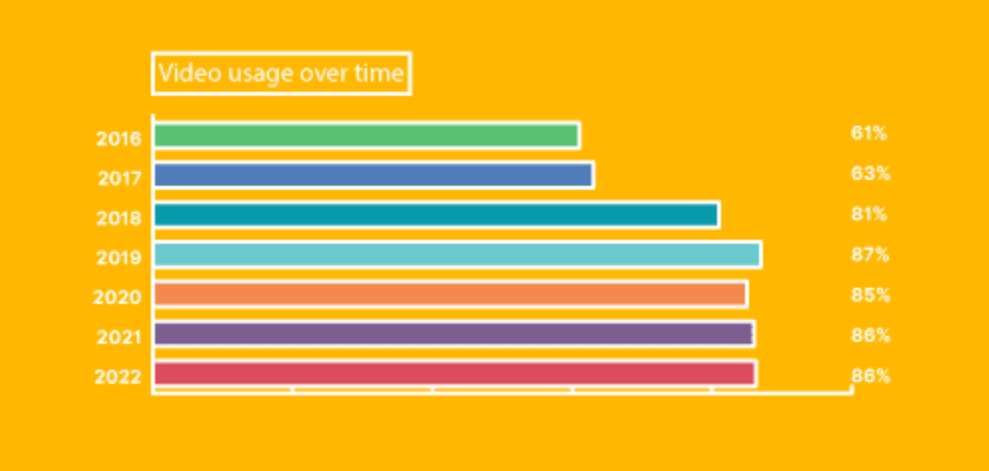 Image credit: https://www.wyzowl.com/video-marketing-statistics/
The benefits of video content are countless, considering such content is becoming more and more popular every year. In 2021, 86% of companies used it as a marketing tool.
We've chosen the four main benefits of live broadcast SEO:
Website traffic increase.


Live video optimization can become a great addition to your SEO strategy. By wisely including keywords in the transcript of your live stream, you have an extra chance to be ranked for the query.





Use this approach to boost your strategy, bringing you closer to the traffic goals you pursue.

Click-through rate increase.


We've already mentioned that the first result in Google Search gets an over 34% CTR. So, the main goal here is to get you that first place. A well-planned SEO strategy for your live videos will attract more viewers.





Some of those viewers will get interested and find your website. Plus, the dwell time will increase upon browsing it, which is good for any web source.

Lower bounce rate.


Embedding a live stream or a saved live on a landing page or blog post can lower the page's bounce rate. If the beginning of the video is informative and interesting, it will draw the user's attention, making them spend more time on the page and not bounce due to lack of media or text structure (or its size).





As we've already learned, using SEO approaches for those videos will attract more users.

More backlinks.


Now, this applies only to worthwhile live streams and saved videos. They tend to get more backlinks, which should be a part of the off-SEO strategy of every business. Informational websites often use videos from other sources with links recommending useful info. Viewers that find the content helpful may also share a link to social media or their personal blogs.
How to Improve the Live Video SEO of Your Website
We wouldn't leave you without practical recommendations on live video SEO improvement:
Include keywords in the title and description of the event page.


The first step in any optimization is to search for the right keywords. We recommend using an

SEO keyword generator

to get enough ideas with detailed information about every keyword.





Keep in mind that you can (and should) create an inventory of relevant keywords matching your niche and touching upon the topic of the stream (optional).

Use keywords in tags.


Tag the recorded video with the focus keyword and include it in the title and description of the archive you create for it.

Optimize the video.


Use schema markup to make sure you give search engines a clear explanation of what the video is about. There should be the following data:

Title

Description

Upload date

Thumbnail URL

Put the video on the top of the page.


By putting the video closer to the top of the page, you show Google that it is a top priority piece of content. Therefore, it may be promoted in the search results first.
How to Improve Video SEO on a Hosting Platform
If you decide to upload the video to a hosting platform, you can use SEO approaches to get the most use out of it:
Add info.


Consider uploading the script of the video and the links to your website and other helpful resources that may help people understand the topic of the video better and research it deeper.

Optimize your profile.


While a video hosting account may not be a top priority for the business, consider filling one in as well. Use keywords wisely in the bio, description, or any other similar field there may be. They may attract your target audience. Make sure you apply the keywords to:

Meta titles

Meta descriptions

Tags
This will help your videos appear on the results pages.
Engage viewers.


In the video and description to it, engage the viewers. Ask them questions, respond to them (relevant to the actual live stream), reply to comments left under the video. Also, invite them to share the content with their friends and on social media if they find it relevant and useful.

Encourage website visits.


In the video and description, encourage people to visit your site to get more info or get familiar with your business, products, services, etc. Keep in mind that the URL has to be short, easy-to-understand, and should appear where it can be easily seen. Use the basic formula: name.com/keyword.

Place the URL in the video.


Make sure people watching on mute can see what site to visit.
Key Takeaways
Live video SEO can become a fantastic addition to your strategy because it can:
Increase website traffic

Increase CTR

Lower bounce rate

Get your website more backlinks
The process of optimizing live streaming is widely encompassing. Most things you can do to improve the SEO of your live content is connected to keyword usage. Here are the key takeaways:
Put a lot of effort into keyword research. Digital tools can help.

Insert the keywords wisely into the title and description of the event and the page with the recording.

Include keywords in the tags for the video, as well as the created archive

Use schema markup with proper keywords to explain what the video is about to search engines.

Put the video on the top of the page to prioritize.
Suppose you upload the video to a hosting platform. In that case, there are also some things you can do SEO-wise, including using the focus keywords in your profile, engaging the viewers, encouraging people to visit your site in the video, and keeping the link somewhere it can be seen easily.
All content should be optimized wisely. In doing so, you get a wholesome SEO strategy that will bring you to the top of Google's SERPS!
---