Using NDI with video monitors
Written by Paul Richards on November 2, 2021
Once you start using NDI®, routing audiovisual sources bi-directionally across a network becomes very powerful. Initially, most people think about NDI® as a way to route inputs to a hardware or software switcher. But in this chapter, you will learn about sending sources to video displays and managing that content on your network. An organization may want to display one particular input, such as a camera or the live program output from a switcher on a display set-up in a lobby. There may be another display onset that is being used to display comments from social media or other graphics. Either way, it is quick and easy to set up and manage NDI®-connected video displays to show different sources on your network. 
Studio Monitor is perhaps the most important application for displaying NDI® content on a screen. Studio Monitor can essentially turn any computer into a decoder. A decoder is a device that takes a video stream like NDI® and decodes it to display via HDMI or SDI on a monitor.  Many NDI® capture devices can be used interchangeably as a decoder or an encoder. An encoder is used to turn an HDMI video signal into NDI® and a decoder does just the opposite. An NDI® decoder is generally easier to use and more reliable than a regular computer running Studio Monitor. NDI® capture devices are available from NewTek, Magewell, and other manufacturers. There are endless numbers of possible applications that can be easily changed depending on the need.
NewTek's Spark appliances offer bi-directional conversion which means they can both convert to act as an encoder or decoder. Different models can convert to and from 4K HDMI, 3G-SDI, and even 12G-SDI.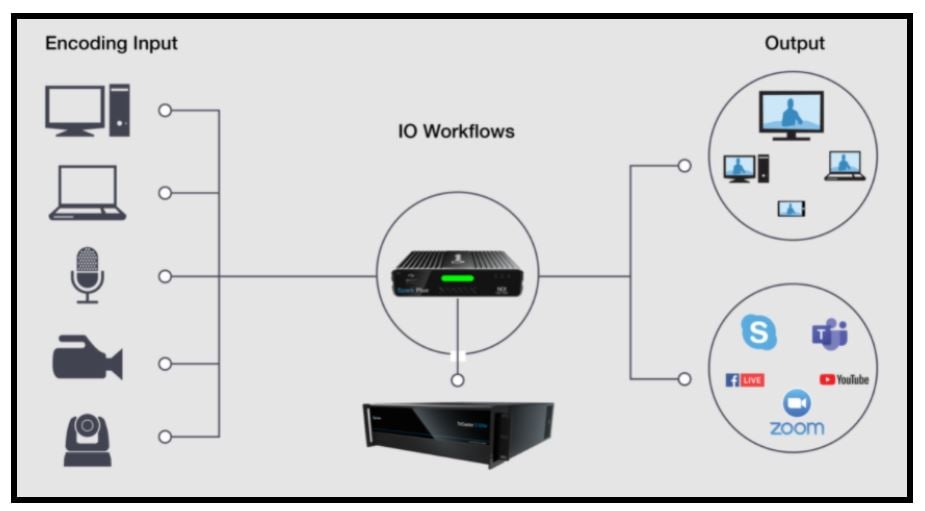 NDI® powered video displays can be used to display the main program feed for a broadcast or live stream. This is ideal for events with a live audience. NDI® powered video displays are also efficient for overflow areas or lobbies to offer people a view of the live event in common areas. NDI® powered video displays are great for spectators, gaming competitions, and demos because of the low latency features on NDI®.
Displays connected with NDI® sources can also be used by digital signage applications for static or video announcements, promotions, and event information. NDI® is also effective if you want to provide content for video walls. VuWall, a leader in video wall control systems, has built NDI® compatibility into its VuStream 150, allowing for complete control of the video wall using an ethernet connection. This dramatically reduces the amount of cabling and setup for video wall implementations.
Applications for NDI® powered video displays are limited only by the imagination. With the ability to power a display anywhere on a local network, producers and event planners will continue to find ways to use NDI® to create more immersive and flexible video environments. In the next chapter, you will learn how easy it is to set up and control Studio Monitor, a primary tool used to display NDI® content. 
Key Takeaways:
Powering a display with NDI® video content is an attractive option both from a content and budget perspective. 

Studio Monitor can be used to display NDI® video content using an appropriate PC or Mac computer.
---