Imagine being able to add more cameras to your production without having to run any cables. By using a smartphone with one of the NDI® apps, you can capture video and audio from any compatible iOS or Android device in resolutions up to 4K. As long as the device can connect via WiFi to your LAN network, it can instantly be added as a source for your switcher or viewed with Studio Monitor.
This is a great way to cover concerts, sporting events, or other productions where additional angles and close-up shots are critical. Thanks to the ability to use both forward and rear-facing cameras, mobile phones and tablets can be used for more interactive exchanges with hosts and camera operators. This option also enables you to get video shots from places where cables would be unmanageable.
What about extending your network entirely across a football field or in-between buildings?
The WirelessCable from PTZOptics is a networking solution that can extend your NDI® network up to 1,300 feet or 400 meters. The WirelessCable allows you to connect one network to another just like an ethernet cable would through a professional Wireless Access Point (WAP) system. In this way, one large NDI® network connects wirelessly for use with cameras and other devices. 
Getting Started with Mobile Cameras Over WiFi
Download and install the NDI|HX® Camera application from the Google Play Store or the Apple App Store. Connect to your LAN via WiFi, and open the application. Compatible computers and devices will automatically discover the output from your smartphone on the network. There are ultra, high, medium, and low bandwidth modes to deal with any bandwidth limitations.
The NDI|HX® Camera Application works with both front-facing and rear-facing cameras. The app features camera tools like pinch to zoom and an optional grid overlay for mobile camera operators. It also features autofocus, autofocus lock, tap to focus, auto exposure, exposure lock, and manual exposure modes. There is also a connection notification and tally display, so operators will know when they are live. Both audio and video can be muted with one touch.
Pro Tip: If you are using a professional audio system in a studio space for example, you will likely want to mute the audio coming through the phone. It is possible to create an audio loop with two microphone sources that are slightly different. 
With the NDI|HX® Camera and the NDI® Webcam Capture tool, any compatible phone or tablet can be used as a webcam over the NDI® network. Therefore, you can use your smartphone as a webcam with software like Zoom. Overall, video users are now able to quickly add more cameras to any production without the need for additional cables. 
Working with Wireless NDI®
Working with wireless NDI® video sources can require some networking knowledge. The WirelessCable is a device that was designed to simplify long distance wireless video transmission for use with NDI®. Using the WirelessCable, setting up wireless NDI® networks is actually plug and play. This is because WirelessCable devices create a low latency, point to point connection between networking devices. In this way, the WirelessCable can be used to connect a single device like a PTZ camera or an entire network using a network switch. Unlike traditional wireless HDMI or SDI technology, NDI® can be used to wirelessly control a PTZ camera, or change the output of a device. Using wireless technology with NDI® makes communication bi-directional. 
It is also possible to use networking equipment to provide wireless NDI® connectivity. If you plan to use your own Wireless Access Points (WAPs), it's best to use a fully managed networking system with static IP addresses assigned for all networking hardware. If any part of the network is not managed, or manually configured to work in unison with the rest of the network, there can be enormous incompatibilities in communication between the networking equipment. Some of the most important settings have to do with multicast and mDNS routing.

Matthew Davis, the lead engineer at PTZOptics, who created the WirelessCable also wrote a guide for Ubiquiti networking equipment available in the PTZOptics Knowledgebase: (help.ptzoptics.com). Here are some notes for your consideration.
Symptoms of a misconfigured network…
Multicast DNS (mDNS)
When you use  a discovery or configuration tool and it is unable to locate your device connected to the same network

When you use a discovery or configuration tool and it randomly finds devices that also disappear randomly.
Multicast
When connecting to a multicast source, your video appears to "smear" or "bleed".

When connecting to a multicast source and you have a successful connection, but receive no content.

When connecting to a multicast source and your network crashes.

When connecting to a multicast source and your network slows to an unusable speed.
Overview of issue(s) and steps
When you have more than one network switch being used in a situation with equipment and applications that use  mDNS for discovery, the switches need to be told which switch will be the "holder" of mDNS discovery tables.

When the IGMP snooping querier is enabled, it periodically sends queries that trigger IGMP response messages from hosts that are requesting to receive IP multicast traffic.

The next step is enabling IGMP and possibly, depending on your exact requirements, enabling or disabling multicast traffic via wireless access points.

Multicast traffic via your WiFi network is a decision that should not be taken lightly as it is very easy to overload a wireless access point (WAP) with multicast traffic. Also not all WAPs are capable of handling multicast traffic; please refer to manufacturer documentation.
You can learn more about setting up a wireless network for NDI® by referencing "Setting up a Ubiquiti Network for PTZOptics & NDI®": help.ptzoptics.com.
The process of properly configuring networking equipment for use with wireless NDI® connectivity can get technical. NDI® does not offer networking equipment directly, and each networking equipment manufacturer offers different products. Review settings including Internet Group Management Protocol (IGMP) snooping, IGMPv3 or greater, LAN to WiFi Multicast traffic settings, and mDNS configurations. 
In conclusion, it's worth testing your existing WiFi hardware with a smartphone app or wirelessly connected computer with NDI®. If the video works smoothly, you may have a working system that does not need to be configured. If you are having issues using NDI® over WiFi, you may want to consider looking into a WirelessCable system. Finally, if you want  to use your own wireless network, it more than likely will require some configuration.
Key Takeaways:
Most modern smartphones can be used to send video wirelessly into an NDI®-capable system over WiFi.

Setting up a network to handle wirelessly transmitted video smoothly can require some network optimization. 

The WirelessCable system has been built to provide wireless video connectivity for NDI® networks. 
Learn more about NDI:


What is NDI? - learn more here
Learn about the history of NDI - here
What is IP Video - learn more here
Learn about popular NDI software and hardware here
Learn about networking for NDI here
Learn about how much bandwidth NDI requires here
Learn how to use NDI with OBS here
Learn how to use NDI with vMix here
Why you should learn how to use IP video here
Learn how to use NDI cameras here
Learn how to use NDI for graphics generation here
Learn how to use NDI with WiFi here
Learn how to power displays with NDI here
Learn about NDI Studio Monitor here
Learn more about NDI Screen Capture here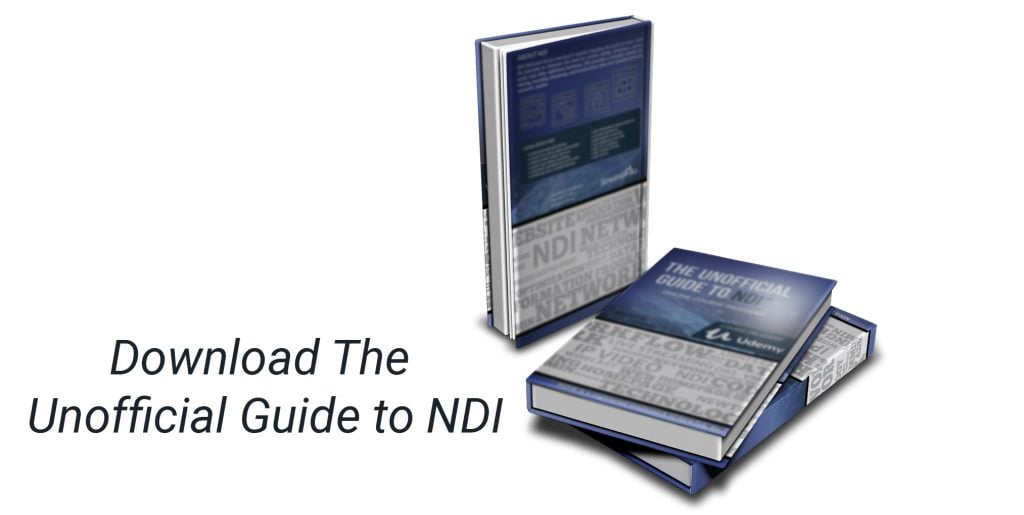 Download the Unofficial Guide to NDI PDF Book
---