Zoom Meeting Security & Participant Management
Written by Paul Richards on April 6, 2020
In this blog post, you will learn how to use the Zoom Meeting security options available for helping to secure your zoom video conferences.
Recent Zoom Tutorials
Two weeks ago we created a tutorial on how to host Zoom parties with live trivia
Next, we demonstrated how to embed you zoom meetings directly into your website

Now it's time to review Zoom Security and Crowd Management. Especially if you are hosting a meeting that is being made open to a large group of people.
Zoom Meeting security options
Zoom video conferencing is really designed to be a private meeting tool in many ways. Zoom features two way communications and for public collaboration it is wise to use a meeting password. During our first testing of public Zoom parties, someone said the "F word" during our public broadcast. Our team has had time to learn how to better manage our Zoom security settings. In this tutorial, you will also learn how to manage meeting participants as well.
Host Meeting Controls
It's important to learn how to secure your Zoom Meetings. Generally, you will only want the people you invite to the meeting to enter. Meeting hosts have controls they can use to manage large groups of meeting participants. This is importantduring a presentation that you may or may not be live streaming. With traditional live streaming the only real security issue you have to consider is exposing your private RTMP information. This information includes a secret key used for streaming to your preferred CDN (Content Delivery Network). When you include a Zoom Meeting in your live stream, you open yourself up to more possible interruptions and security issues.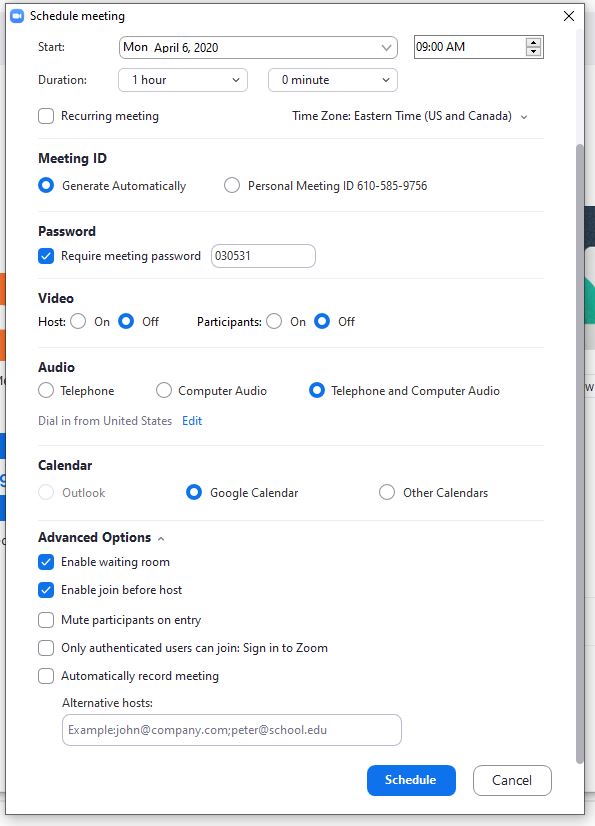 If you are going to be hosting a "Zoom Party" that is open to a large group of people, we highly suggest using a password. This password is used to block unwanted zoom meeting participants from entering your meeting. Your zoom password should only be sent only to the people you invite to the meeting. You can find the password protection options in the zoom meeting scheduling area. But on the other hand, it's important to review the default settings for your zoom security as well. In addition, it may be wise to set up a waiting room for your Zoom meetings. This feature keeps unwanted guests in a waiting room where you can confirm or deny their entry into the meeting room.
Updates to Zoom Meeting security
Basic Zoom users will have passwords on their meetings enabled by default as of early April 2020. If you manage a Zoom account for your friends or family, you should review your management dashboard. You may need to manually enable security features to be turned on for users by default. You can find these features in your Zoom dashboard under security. We highly suggest setting up these security features to be enabled by default for all users in your account. If you are not the admin of your account these features may not be available for you to edit.
Managing meeting participants 
During important meetings and online presentations  meeting hosts have controls available to manage meeting participants. Many times hosts may want to mute participants during a presentation who are making unwanted noise. To make the management of these controls easier you can create a co-host. A co-host can help manage host controls during a meeting. Hosts can share the participant management responsibilities with their co-host. In the meeting participants area you can see all participants. Here you can view who is using a camera and/or microphone. It is here that meeting hosts can individually select users to mute or choose to mute all meeting participants. 
Always use a meeting password

Set as default in Zoom dashboard

Enable Zoom Waiting Room
---