You may have seen the StreamGeeks latest video on the new NDI output available for Zoom Rooms (here). This blog post will now go into more detail about the new output feature for NDI in Zoom, and better explain some important pieces of information that have come available since the release of the last video.
Enable NDI Support
First of all, when you set up a Zoom Room system, you will have to update to 5.7.0 or later on both your Zoom Room computer and your controller in order to gain NDI output support. Many people are looking for Zoom to release NDI on the main meetings client but currently, as of July 2020, only Zoom Room clients are supported. It's very possible that Zoom will integrate NDI support into the main meetings client just like Microsoft Teams has. Today you should know that Zoom Rooms now support up to 3 unique NDI outputs. Zoom Rooms cost roughly $50/month but you may enjoy some of the exclusive features available in Zoom Rooms.
If you have not already, you should enable NDI. This can be done in the Zoom management area by an admin. Users on the client end should also update their meeting client on their computers to receive the new NDI consent screen. Once enabled, you will get 3 NDI video outputs. These video outputs can be used to pin any of your participants using any of the Zoom clients (PC, Mac, iOS, Android ect). You can also choose Active Speaker for one of these outputs. If you choose "Active Speaker", this NDI output will always show the speaker in the meeting who is currently speaking.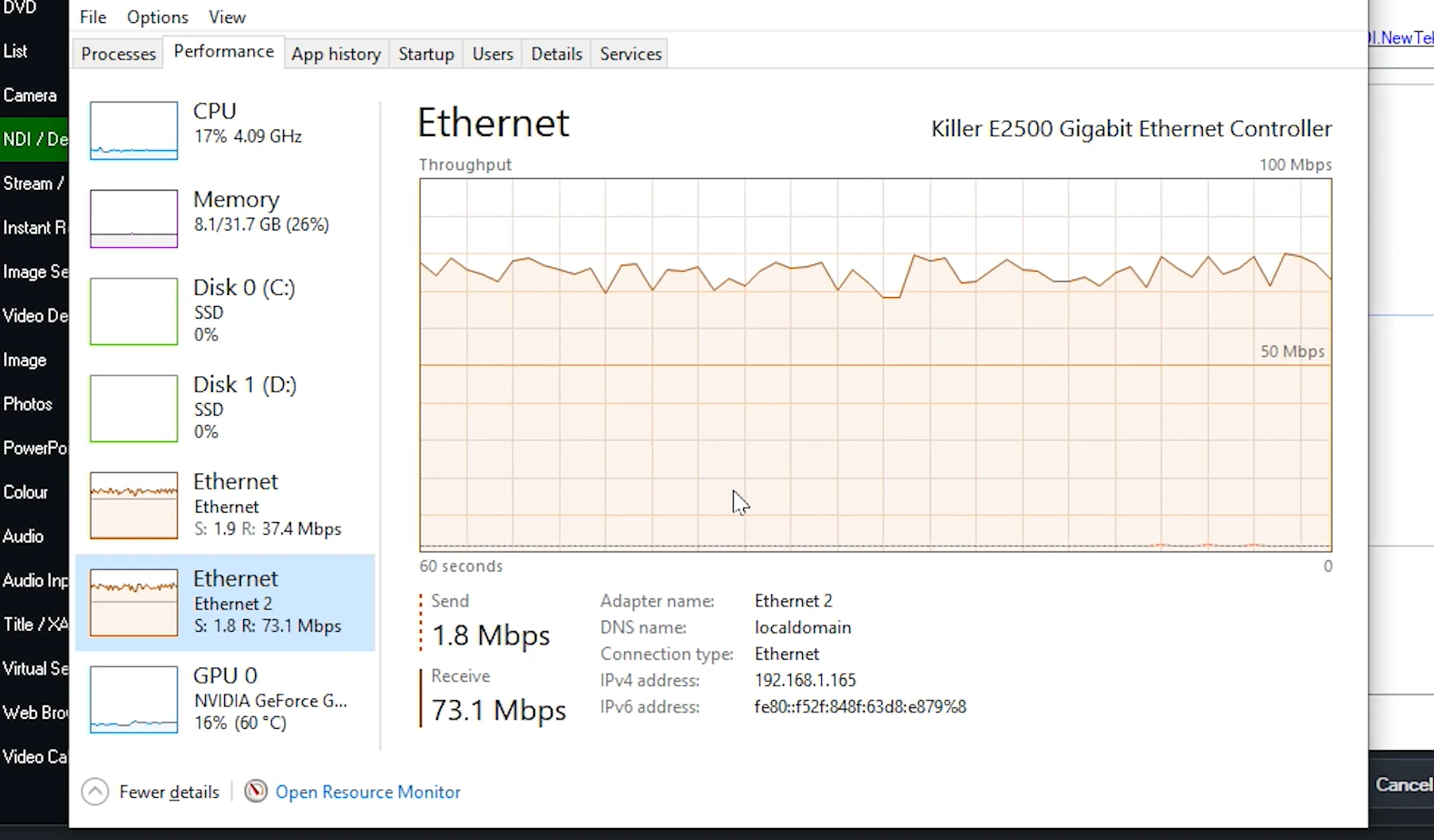 You can also get a specific NDI audio output from the entire system. In a future video, the StreamGeeks plan to show the NDI audio output being using for podcasting with Zoom. Using the latest NDI Audio Direct tool you can then take the audio from Zoom directly into any Digital Audio Workstation (DAW) software. This is an ideal way to increase the quality of your Zoom audio quality.
So here's where a few questions come up. What version of NDI is Zoom using? How much bandwidth does each of these NDI streams use? In the testing performed, it seems that Zoom is using the NDI FB (Full Bandwidth) version of NDI instead of the NDI HX (High Efficiency) version. This may change in coming releases. To test the bandwidth used by the NDI outputs, you can use Windows Task Manager and look at the Ethernet monitors. The testing performed shows the bandwidth used by each NDI stream which is roughly 100 Mbps per video stream.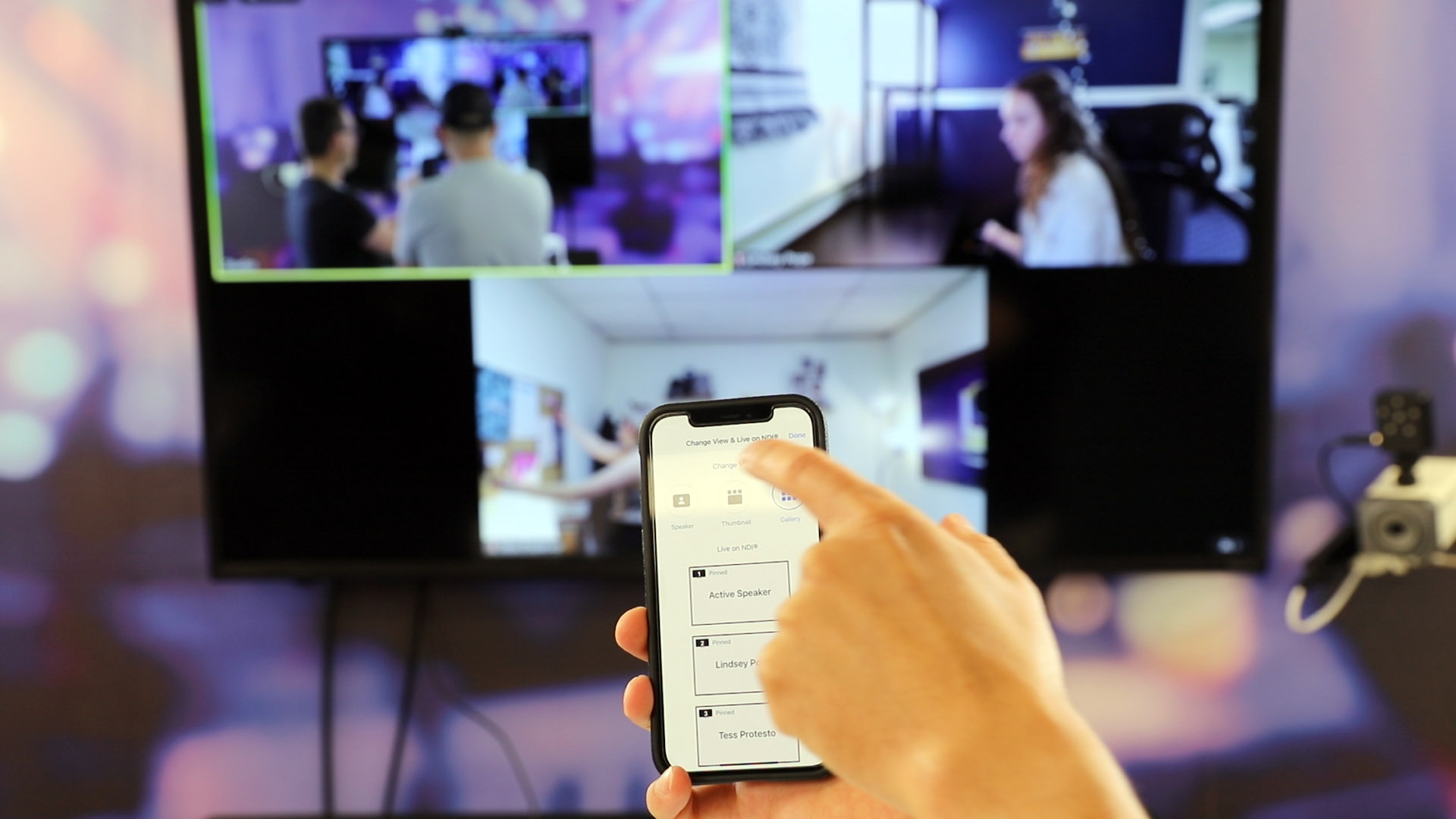 What about bringing NDI video into Zoom?
If you are wondering how you can connect an NDI camera into Zoom, it's actually quite easy. You can use the NDI Webcam Input tool which is a free tool from NDI that converts the IP video stream from NDI into a virtual webcam feed selectable in Zoom. The small issue with using this tool in Zoom Rooms is that the tool is hidden from view and would need to be set before you launch the Zoom Room. Another test the StreamGeeks tried out was capturing the entire Zoom Room interface and sending it out via NDI Screen Capture or NDI Screen Capture HX. If you are reading this article, you should know about the difference between NDI HB vs NDI HX. The Unofficial Guide to NDI is a great book you can read to learn more about this. Basically, NDI HX is the "High Efficiency" version of NDI which uses a much lower bitrate and therefore less bandwidth on your network than the traditional NDI FB "Full Bandwidth." Using NDI Screen Capture is a great way to add a fourth NDI output from your Zoom Room and capture the gallery view of the screen.
Other articles about Zoom
Learn how to produce live events using Zoom Rooms NDI and a hardware encoder here
---