How to Host Private Live Streams & Virtual Events
Written by Paul Richards on March 17, 2020
The Virtual Ticket is for anyone who wants to host next-level engaging experiences for online attendees. This book is full of detailed case studies from innovative event planners. Learn how these event planners are diversifying their revenue streams with virtual tickets. Whether you are a business, sports team, non-profit, event venue or a garage band, you will learn how to plan live streams. This book will teach you how to provide value that audiences are willing to pay for.
How to Host Private Live Streams
Adding a virtual ticket option for your next event does more than increase profits. Virtual tickets help expose events to global audiences by increasing convenience and accessibility.  Hosting private live streams allows event planners and production companies a way to monetize their live streams. Learn how to engage with online audiences, and prepare events to address online event attendees. In other words, this book helps you plan for becoming a successful online broadcaster. For instance, you can learn how to set up a live streaming system to host a private live stream yourself.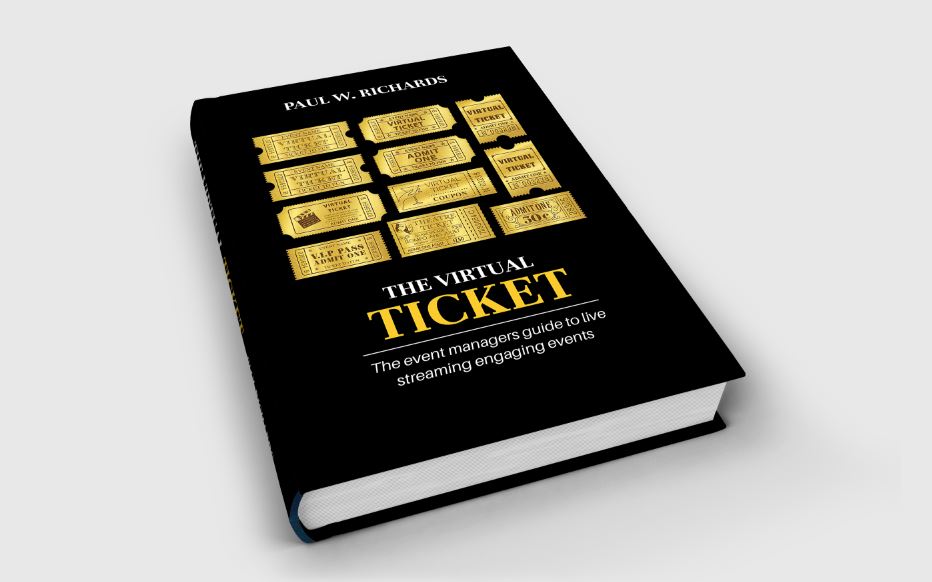 The author Paul Richards is the Chief Streaming Officer for the StreamGeeks,. In this book, he details effective strategies for transporting audiences into experiences that will keep them coming back for more. The author outlines from start to finish how conferences can add virtual ticket options to their marketing plans. The Virtual Ticket will help event managers budget for the new endeavor and plan accordingly.
Learn how to host virtual events
Richards explains how the multi-billion dollar digital experience economy has been growing year after year. As a result, readers who are unfamiliar with influencer marketing, live streaming, and online community building will be encouraged to get involved. readers can learn how to better understand modern consumer behavior regarding digital experience purchases. A paradigm shift in event marketing will help readers understand how to position virtual tickets. Learn how to market live streams as exciting experiences worth sharing with friends. Richards draws on innovative thinkers from books such as "Experience Economy", "Growth Hacker Marketing", and "Special Events." Therefore standing on the shoulders of giants, Richards is able to craft a journey that is full of insights and actionable takeaways.
If you want to sell virtual access to online experiences, this is the book for you.
Learn more on Monetizing Live Streaming
Get your free copy of the Virtual Ticket here.
Take an online course on hosting private live streams here.
Learn what virtual tickets mean for the events industry here.

How to monetize your next live event -

here

How to accept donations on your Facebook and YouTube live streams - here 

Selling Event Virtual Tickets and Private Live Streams -

here

Viewer Statistics for live streaming –

here

Here's why Twitch is such a BIG opportunity for live streamers -

here
Did you know your town may have a Business Improvement District? They may help your set up a live stream! More here
Selling Virtual Tickets with Event Planner Derral Eves - more here
Learn about three events that are already selling virtual tickets here.
A look at the technology needed to host private live streams here.
A look at planning a virtual event here.
Review your virtual ticket pricing strategy here.
Preparing your event for live streaming here.
Learn how to build your event live streaming team here.
---