How to mount a PTZ camera
Written by Paul Richards on November 16, 2021
One of the big values of PTZ cameras is their size compared to traditional over-the-shoulder broadcast cameras. Large broadcast cameras generally require tripods and even platforms in production spaces. Each traditional broadcast camera not only takes up a large amount of space, but also requires a cameraman. With PTZ cameras, a single camera operator can control multiple cameras, but more importantly, PTZ cameras can be placed in strategic locations throughout an event space.
The placement of your PTZ cameras is important. Later in this book, you will think about shot composition and viewer perspectives. Traditional video production allows camera operators the flexibility to move a single camcorder or production camera around using a tripod from location to location. PTZ camera operators are often beholden to the location their cameras have already been installed. If you are planning a new PTZ camera installation, consider the following camera mounting locations and think about the variety of views they will offer you.
PTZ Camera Mounting Locations
Here are some of the locations PTZ cameras are installed in.
Wall-mounted

– Wall mounts provide unique eye-level views or they can be positioned on a balcony to provide overviews of large spaces. Many PTZ camera operators prefer to have their cameras wall-mounted upside down, in order to provide a wider range of tilt operating space. When the camera is mounted upside down you can invert the camera's image so the video is displayed correctly.

Ceiling-mounted

– Ceiling mounts provide views from above the event space and are helpful for showing documents on a table or angled views of scenes from above.

Pole-mounted

– Pole mounts position the camera in places above the audience. A prime example is the inside of a church with vaulted ceilings. In this scenario, a ceiling mount would be too high, but a pole mount can safely place the camera 10-15 feet below the vaulted ceilings. 
The ability to easily place PTZ cameras in unique locations is a major benefit to remote production teams that have a central management location at the back of a church or production area. These areas can now remotely control cameras with no need for an intercom system which camera people use for communication. PTZ cameras are also very small and discreet, so unique locations on walls, ceilings, and balconies make them unobtrusive in almost any type of building.
PTZ Camera Ceiling Mounts
Ceiling mounts are helpful in church and theater camera installations because they are barely noticeable. Ceiling-mounted  PTZ cameras offer the most flexibility in terms of panning since they are unobstructed on all sides. They also provide height clearance to avoid attendees from blocking a shot. PTZ wall-mounts go directly on any wood or drywall ceiling or attached to an electrical gang box. Once you mount your PTZ camera to the ceiling, you can invert the image in your video production software such as OBS, xSplit, Wirecast, or vMix. You can also invert the camera's image directly in the menu system which is ideal if you are outputting video directly to a display. Another advantage of ceiling mounting your camera is that you actually have a better view than mounting the camera upright in many scenarios. This is because the camera can pan all the way down when mounted upside down which it cannot do when mounted upright. 
Pole Mounts
When affixing a PTZ camera to the ceiling, there are situations when it is more suitable for the camera to be closer to the ground. This is especially true with high ceilings or when it is preferable to have less of an angle. For these applications, a PTZ camera pole mount may be best. 
PTZ camera pole mounts allow you to install a camera using a 1″ NPT pipe attached to the ceiling. The pipe can be cut to any length, and the mount is secured to the pipe. Pole mounting is an excellent solution due to the fact that all required cabling can be run through the pipe for a clean-looking installation. Buildings with vaulted ceilings are too high to mount a camera on the ceiling. Vaulted ceilings are typically supported by strong wooden beams that are an ideal place to mount a pole that can reach down safely 10′-15′ from the ceiling. Using a pole in this manner will help you place cameras or projectors that are completely out of the way. 
Wall Mounts
PTZ wall mounts also allow for the discreet installation of PTZ cameras. Wall mounts can keep cameras out of sight while providing excellent angles for capturing video. For example, many studios like to capture video at eye level for the presenters so that the audience feels like they are looking directly at the on-camera talent. Cable access ports are available on the wall-side of most mounts so that cables can be run into the wall and out of the way. Wall mounts can place PTZ cameras on drywall surfaces, wood, and even hard surfaces such as masonry. Anchors secure the mounting screws securely to most wall surfaces. If your wall mounting area is higher than eye level, consider mounting the camera upside down which is ideal for capturing wider angle camera views from higher locations, like a ceiling mount. 
Outdoor Enclosures
PTZ cameras can be used for temporary or permanent use in outdoor settings. Most outdoor PTZ camera enclosures offer protection from rain and snow. A key feature to consider with outdoor cameras is vandalism protection. When you are selecting an outdoor enclosure you need to consider the climate of your location and whether you will need add-ons like a heater or blower system. Heater and blower systems eliminate fog and condensation that can accumulate on enclosure lenses during changing seasons and various weather conditions. Other features allow you to protect your cameras from intentional abuse.
Tripods
PTZ cameras are commonly mounted to tripods. Almost all PTZ cameras include a tripod attachment which allows them to attach to the tripod's quarter-twenty connection screw plate. The quarter twenty connection screw plate connects the camera to the plate and the plate to the tripod legs. 
Tripods are available in all shapes and sizes for use in a variety of applications. For example, the picture above shows a massive telescoping tripod used for capturing sports. These large tripod systems allow video producers to capture video from an ideal height when they are covering sports. There are also many tripod adapters available to allow for tripod customizations. For example, the image on the left above shows a light stand customized with a right-angle arm mount used to place a PTZ camera. 
Some video producers have found that "speaker stands" are taller and sturdier than traditional tripods. While speaker stands do not generally come ready to mount a camera to, there are adapters for them that allow you to connect multiple PTZ cameras.tUsing speaker stands with custom adapters has become popular because they can easily reach over crowds head-height. 
Summary
The best thing about all of these mounting options is that you don't need to choose only one. For churches live-streaming or recording services using multiple cameras and installation angles may be appropriate. It is possible to have a wide, high-angle shot setup with a PTZ camera on a ceiling mount. A straight-on close-up can be captured from a PTZ camera using a pole mount. An additional angle can be added using a PTZ camera on a wall mount. Whichever mounting method you use, install your cameras exactly where they are needed to create high-quality video. 
Key Takeaways:
The IR remote control is an important tool for setting up a PTZ camera.

The IR remote control can be used to open up an on-screen display menu for adjusting the camera's settings.

Most IR remote controls can control more than one PTZ camera using the camera switch buttons.

Most IR remote controls feature shortcuts that help to quickly set up PTZ cameras on an IP network.
Learn more about PTZ Cameras
Download the PTZ Camera Operator Handbook here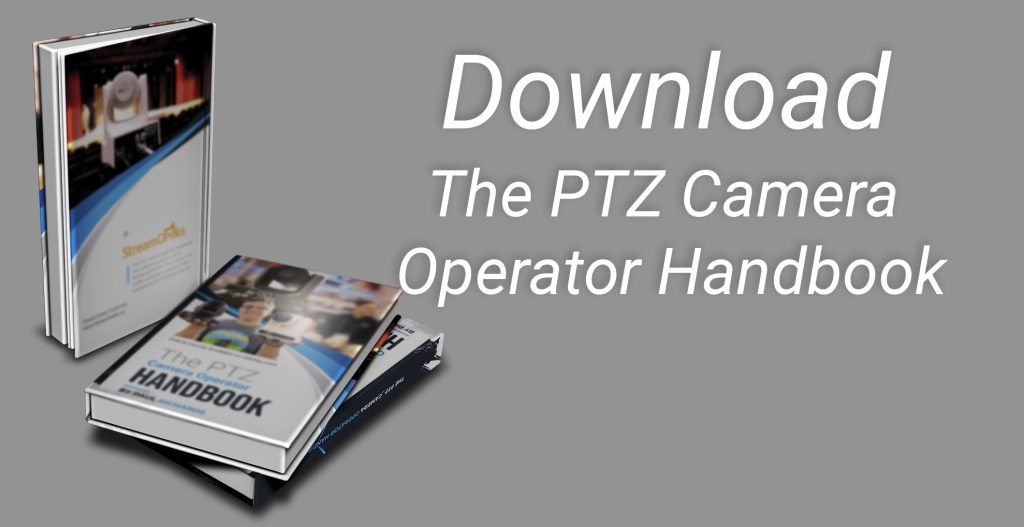 ---