What is a PTZ Camera?
Written by Paul Richards on November 8, 2021
Though it has become a buzzword in the tech industry, many people may not know what the term "PTZ camera" means. PTZ cameras are pan, tilt, and zoom robotic video cameras that allow operators to control the camera remotely. PTZ cameras can pan horizontally, tilt vertically, and zoom in on a subject using an optical zoom lens to enhance the image.
PTZ cameras are sought-after solutions because they serve a variety of applications, including live video production, sports broadcasting, video conferencing, telemedicine, and security. PTZ cameras can be used with SDI video production switchers, HDMI extension systems, IP video workflows, and USB video conferencing.
PTZ cameras are ideal for live streaming because they combine the ease of use of a webcam with the functionality of a camcorder. This is because pan, tilt, and zoom cameras almost always include optical zoom which is used to zoom in on subjects from long distances. What makes PTZ cameras unique is their ability to be remotely controlled. For example, PTZOptics cameras can be controlled with software solutions such as vMix, Wirecast, OBS, Livestream Studio, and Mimolive. This allows a one-person production to operate the live streaming software and automate camera controls for one or more cameras. 
PTZ cameras are built for 24/7 use and offer easy installation options such as Power Over Ethernet so you can power a PTZ camera using a single ethernet cable from your network. PTZ cameras are also small and discreet. This makes them ideal for installing in any space where you are adding live streaming;PTZ cameras can be installed on walls, ceilings, and even under balconies. 
PTZ cameras offer a long list of unique features that are continually being released to provide better remote camera operation experiences for operators. For example, PTZ cameras offer features, including the ability to pan, tilt, and zoom to a preset location, to provide a one click workflow for operators. Camera presets are generally stored on the camera and they can be recalled to robotically move the camera to a specific location at a specific speed. For example, preset #1 may be zoomed into a location on stage, while preset #2 may be a wide-angle shot of a crowd. In this way, PTZ cameras allow camera operators to quickly recall multiple positions inside their space with ease. A single-camera operator can control multiple cameras remotely, even while performing complex tasks like video switching.
Key Takeaways:
PTZ stands for Pan, Tilt and Zoom

PTZ cameras are generally built for 24/7 use

PTZ cameras are continually being improved and new firmware is released regularly to increase the functionality of the cameras

A PTZ preset is a set of coordinates that are saved on the camera which represent specific pan, tilt and zoom locations.

A PTZ preset can be saved on the camera and recalled with the click of a button.
Learn more about PTZ Cameras
Download the PTZ Camera Operator Handbook here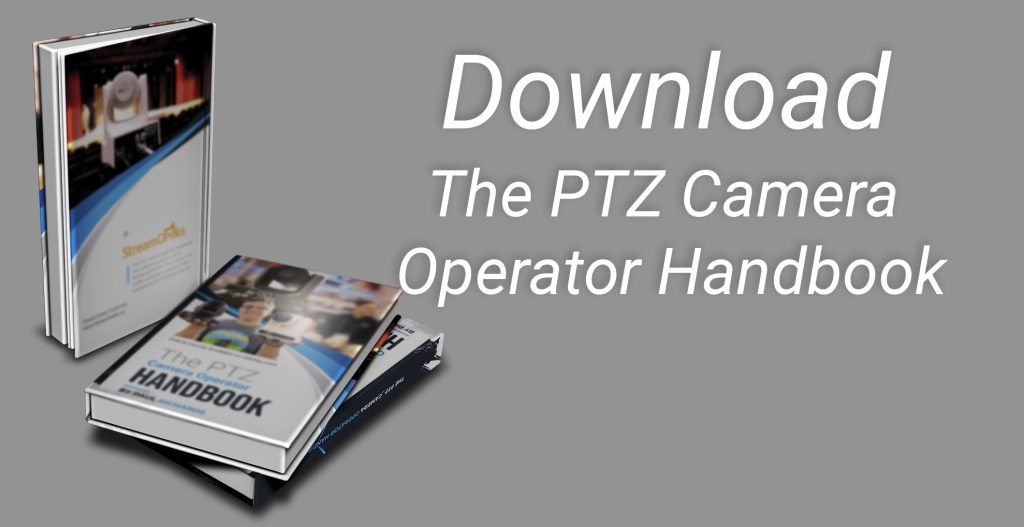 ---