The Different Types of PTZ Cameras
Written by Paul Richards on November 11, 2021
Most PTZ cameras are distinguished by their optical zoom and video output options. It's worth noting that motorized robotic heads are available to gain control over traditional broadcast cameras. While robotic "PTZ heads" can turn a traditional camera into a remotely controllable solution, they are not actually cameras, and therefore not included in this book. In many ways, PTZ control heads are a product designed to help segway the industry into a more automated working environment. PTZ controls remain extremely expensive in comparison to PTZ cameras and they are only used in high-end broadcast applications when an organization has already invested in traditional "over the shoulder" style camera technology. Today, PTZ cameras are designed to serve a variety of markets, the biggest of which are security, communications, and broadcast TV/streaming video. While researching PTZ cameras you will find there is a significant amount of overlap between cameras designed for video communications and broadcast/streaming video. Security cameras are generally considered in a class of their own. Therefore, a good way to classify the different types of PTZ cameras is by their video output options. 
The most popular video outputs include SDI, HDMI, IP (RTSP, RTMP), NDI®, and USB. SDI is the preferred video output for many professional use cases because of its durability, reliability, and ability to be run long distances. SDI cabling which stands for (Serial Digital Interface) features a locking connector that is used to securely connect the cable to a camera and a video production switcher or device. This cable is made of copper and uses standard Bayonet Neill-Concelman (BNC) connectors on each end. SDI can send video and audio directly from cameras to devices and does not require any networking equipment. The plug and play nature of SDI has made this cable a favorite in video production. SDI cables enable 3G (3 Gigabits of data), 6G (6 Gigabits of data), and even 12G (12 Gigabits of data) and allow for uncompressed video resolutions of up to 4K.
PTZ Cameras with HDMI
The best-known video connection today is HDMI which is popular because of its ability to integrate with almost any consumer device including TVs, video switchers, monitors, and capture cards. HDMI is almost always available for use with consumer monitors and video switchers that are readily available. HDMI supports resolutions up to 4K but unlike SDI, the cable can only reliably be run 50 feet without signal degradation. However, it's worth noting that HDMI cabling can run longer distances with the use of HDMI extension systems. 
HDMI video production equipment is usually less expensive than SDI equipment because of the video switching components necessary to make the equipment. HDMI video switchers and systems are generally used for consumer or prosumer systems. While HDMI systems cost less to purchase, they limit the length of cabling you can use between your camera and your production gear. An HDMI cable can easily "pop-out" during a live production because it does not feature locking connectors.
PTZOptics with IP Connectivity
The next most popular cable connection for PTZ cameras is ethernet which can do more than control the camera. A single ethernet cable can now be used for low-latency IP video, camera control, and it can power your PTZ camera using a PoE (Power over Ethernet) network switch. PTZOptics SDI cameras now feature PoE connectivity built-in. Ethernet is generally used to replace the need for power supplies and outlets that need to be installed by electricians in remote locations. Because IP video and ethernet technology is continuing to evolve, this cable has become the most important when it comes to innovation. A new video standard called NDI is now available in many PTZ cameras which provides IP video connectivity with many of the most popular live-streaming solutions including Wirecast, vMix, TriCaster, Livestream Studio, MimoLive, and many more.
PTZ Cameras with USB
Finally, USB is a cable that is used for plug-and-play use with PTZ cameras. The USB-enabled PTZ cameras can provide video connectivity with most livestreaming and video production software in the same way that you would connect a webcam to your laptop to use with Skype or Zoom. USB can also be used for camera control using a protocol called Universal Video Codec (UVC). UVC is an interesting PTZ camera control protocol that is widely adopted in unified communications software but not in live streaming and video production. While USB connectivity may seem like the easiest way to connect cameras to your computer, USB ports can have limited bandwidth to support high-definition video. Most computers can only support one or two high-definition cameras connected via USB for video production. USB cabling can also only be extended short distances. For these reasons, USB cabling is only used when the system requires a small number of cameras that are located close to the source they are connected to.
When you are looking for a PTZ camera for your project, it's a good idea to map out your entire video production system. At a high level, you should know the type of connection your project requires for video. You may find that you need one type of connection for a video switcher and another for viewing the video as a camera operator. The next step is determining how you would like to control your camera. This will help you determine the type of camera control cables you will need. Finally, you should consider the optical zoom and resolution your project will require. Once you have determined these factors, you will be well-prepared to choose a PTZ camera for your project.
The picture above was drawn by a television producer preparing to put together his first PTZ camera system. Diagrams like these can be drawn by hand, or easily created with presentation software such as PowerPoint or Google Slides. Another important feature on PTZ cameras is the size of the image sensor and the quality of the lens being used. The image sensor and lens work together to gather the light necessary to create high quality video.
Outdoor PTZ Cameras
It's also important to note that some PTZ cameras are designed for outdoor use. Most PTZ cameras designed for outdoor use have been created for security purposes. Security cameras generally are designed to provide video directly to a network video recording system for security purposes. Outdoor security cameras are ideal for monitoring areas of interest and include a different feature set from most broadcast and streaming cameras. Almost any PTZ camera can be placed inside an outdoor enclosure for use outdoors. In the picture to the right, you can see a PTZOptics camera being placed in a Dotworkz outdoor enclosure. For example, many sports that require live streaming and video production put PTZ cameras on posts to capture the game from the appropriate height. When the camera's intended purpose is live video production, many organizations will put a broadcast camera inside of an outdoor enclosure for protection against the elements. 
Key Takeaways:
PTZ cameras can be categorized by the video connections and optical zoom lenses.

When selecting a PTZ camera it's a good idea to create a simple wiring diagram to lay out all the connections you may require for your project. 

Each video connection option has a unique set of limitations you should be aware of.
Learn more about PTZ Cameras
Download the PTZ Camera Operator Handbook here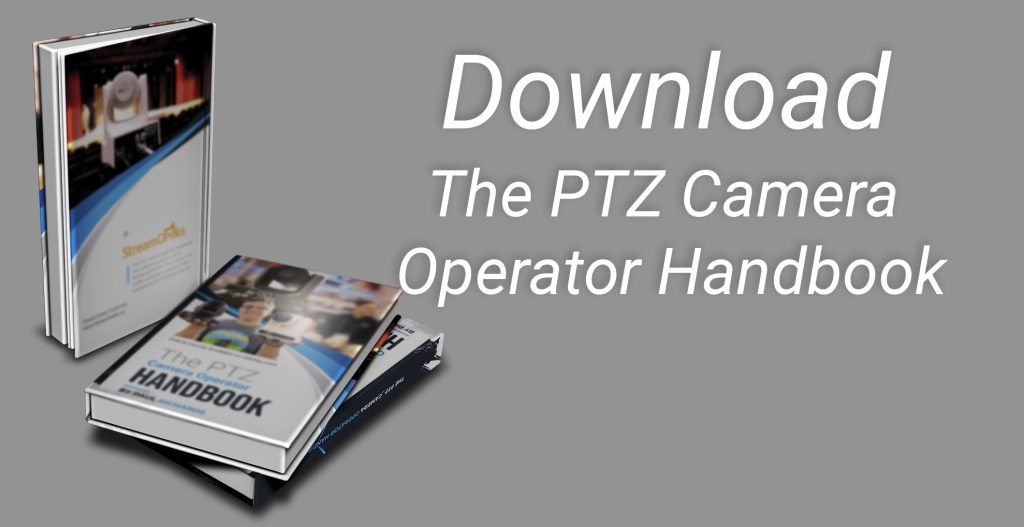 ---