The parts of a PTZ camera
Written by Paul Richards on November 9, 2021
This chapter will outline each significant part of a PTZ camera. Starting with the motor, you will learn about important camera features such as lenses, image sensors, installation connections, resolution dials, power connections, video connections, control connections, and inputs for audio.
PTZ camera motors
There are a few main types of PTZ camera motors including belt-drive, direct-drive, and brushless motors. Motors vary in quality and depending on the camera model you choose, you may find different specifications for how quickly the camera stops and the accuracy of controls when a stop command is issued. Other differences in motor quality can affect the noise levels. PTZ camera noise levels are measured in decibel levels.
Most PTZ cameras can move very quickly and by default are set to a very fast speed. For example, a SONY BRC-X1000 can pan 0.3 ° to 60 ° in one second. The BRC-X1000 can also tilt 0.3 ° to 60 ° in one second. Good PTZ cameras can also operate very slowly and they have the ability to ramp up speed quickly as necessary. You will find that each type of PTZ camera controller will vary its ability to control PTZ speeds. For example, you will have a much different experience controlling a PTZ camera with a dedicated joystick versus a keyboard and mouse with software. 
PTZ camera lenses
The lens on a PTZ camera determines the field of view and optical zoom. The field of view represents the width of the camera image. A wide field of view is usually considered anything greater than 70 degrees. There exists a tradeoff between optical zoom lenses and field of view that requires a decision to be made when selecting a lens. Lenses that offer a wide field of view cannot also offer a large amount of optical zoom. On the flip side, lenses that offer high levels of optical zoom are not usually able to offer fields of view as wide. 
When choosing a lens you should consider camera placement. If your camera is mounted far away from a subject of interest, the extra field of view is not necessary because the distance from the camera and subject is great enough to capture the entire area anyway. If your camera is mounted close to a subject, you need to consider what the entire width of your viewing area will be when fully zoomed out. PTZOptics offers an optical zoom and field of view calculator you can use to see the effects of various camera lenses at ptzoptics.com/zoom.
Optical zoom represents the camera's mechanical ability to adjust the internal zoom lens built into the PTZ camera. When the lens moves, the image produced by the lens changes without digitally pixelating the image. The lens can "Zoom In" or "Zoom Out" to change the light that shines onto the camera's image sensor. In general, a 3X zoom is considered to be a low amount of zoom, and 30X optical zoom is on the high end. For example, the PTZOptics 30X-SDI optical zoom camera can zoom in on a head and shoulders view of a subject from up to 75' away. A 12X-SDI camera camera can only zoom into a 9' (3 meter) wide space from the same distance.
PTZ camera image sensors
The camera's image sensor is a component that converts the light coming through the lens into a usable digital image. As light from the lens hits the image sensor, that light is converted into the digital pixels that make up the "picture" you see. The size of the image sensor is one of the most important factors to consider regarding image quality. Although there are many different types of camera image sensors, the Complementary Metal Oxide Semiconductor (CMOS) sensor has become one of the most popular sensors in cameras today.
CMOS technology has become popular in smartphones, digital camcorders, and PTZ cameras alike. CMOS sensors allow each pixel of the digital image to be read individually. CMOS sensors perform well with a variety of settings applied to the image such as contrast, brightness, luminance, dynamic range control, backlighting, and more. A good quality image sensor paired with a good quality lens will create good looking video in most lighting scenarios. 
PTZ camera infrared sensors
Most PTZ cameras that are designed for video communications include some sort of infrared (IR) control option. IR remote controls come standard with these cameras to provide a quick and easy way to wirelessly control the camera. Most PTZ cameras feature an IR sensor that can be used to receive the signal from the included IR remote from roughly 25-35 feet away from the camera. IR remote controls will be covered in more detail in a later section.
Standard connections you will find on PTZ cameras. 
Audio Line In

: This is used to bring audio into the camera via a 3.5mm line-level audio connection. 

CVBS

: This is a composite video SD interface. 

System select resolution dial

: Used to select the resolution of the camera.

RS485

: This is an analog control input for use with joysticks and other control equipment. 

RS232 IN

: This is also an analog control input for use with joysticks and other control equipment.

RS232 OUT

: This is used to control additional cameras in a daisy-chain style. You can run a single chain of control using in and out ports on multiple cameras connected to a joystick controller.

Network

: This is used for network control and IP streaming for the camera. This port can also be used to power the camera if it is Power over Ethernet (PoE) enabled. 

HDMI

: This is the digital video output used to connect HDMI cables. 

SDI

: This is the serial digital video output used to connect SDI cables. 

USB 2.0

: This is a USB port; various cameras feature different USB ports like the USB 2.0., USB 3.0, and USB-C. Check the camera's instructions to determine if video can be output from this connection. In some cases, USB-C can be used to power the camera. 

Power Connection

: A  standard 12V DC power connection. Most cameras include a power supply designed to fit this 12V DC port. 

Power Switch

: This is the camera's on/off switch. 
Resolution Dial
Many PTZ cameras include a resolution dial that can be used to manually adjust the camera's video resolution. Ideally, all cameras used in a single video production project will be set to the same resolution and frame rate with the exception of instant replay cameras that are used to show video in slow motion. The resolution dial can be adjusted using a small flat head screwdriver or a tweaker. You can find the resolution dial's corresponding video chart in the camera's instruction manual. Using the resolution dial, you can manually set each camera to output the same video resolution and frame rate via video connections such as SDI and HDMI. 
Note: Some video connections such as USB and IP video are managed outside of the resolution dial. For example, USB video connections often auto-negotiate video resolutions and frame rates with the software they are connected to. IP video connections are similar, in the sense that they offer high levels of control via software. 
Power Connections
Most PTZ cameras have two power options. You can either power your camera with the power supply that is included or with a power over ethernet (PoE) connected network switch. A PoE-enabled network switch is an ideal way to power a PTZ camera, especially if you are already planning to use the camera's IP connection options. Be sure to check your camera's PoE compatibility and power requirements. Each PoE camera that is connected to a PoE network switch will use a certain amount of the overall power budget available to the network switch. 
Most PoE-powered PTZ cameras are either PoE or PoE+ capable. The main difference between PoE and PoE+ is the amount of power required to operate the camera. Standard PoE cameras commonly use between 8-12 watts of power. PoE+ PTZ cameras can use up to 30 watts of power. Most PoE-enabled network switches have a number of PoE-enabled ports with a maximum amount of power available. When selecting a network switch, you will need to budget for the power required for each PTZ camera you plan to use. 
Video Connections: 
PTZ cameras often offer multiple video connections which can include HDMI, SDI, USB, IP, NDI, CVBS, and DANTE. The most common physical connections are HDMI, SDI, USB, and Ethernet. Ethernet connections are unique in the sense that they can provide power, and a growing number of IP-based video standards. For example, some network connected cameras can also support NDI or DANTE video outputs. Ethernet is also unique because it can also be used for PTZ camera control. The chart below outlines the most common cable types, the bandwidth they are capable of transmitting, and their maximum recommended distance for reliable operation. 
| | | |
| --- | --- | --- |
| Cable Name | Bandwidth | Maximum Distance |
| Cat 5e | 1 Gbps | 328′ (100 meters) |
| Cat 6 | 1 Gbps | 328′ (100 meters) |
| Cat 6a | 10 Gbps | 328′ (100 meters) |
| Cat 7 | 10 Gbps | 328′ (100 meters) |
| HDMI 1.4 | 10.2 Gbps | 50′ (15 meters) |
| HDMI 2.0 | 18 Gbps | 50′ (15 meters) |
| SDI | 270 Mbps | 1000′ (300 meters) |
| HD-SDI | 1.5 Gbps | 300′ (90 meters) |
| 3G-SDI | 3 Gbps | 200′ (60 meters) |
| USB 2 | 480 Mbps | 15' (5 Meters) |
| USB 3.0 | 4.8 Mbps | 9' (3 Meters) |
| Thunderbolt | 30 Gbps | 3' (1 Meter) |
Maximum distance refers to the longest length the cable can reliably extend in feet or meter measurements.
The bandwidth a cable is capable of transmitting will limit the number of video sources, or the quality of a single source you can send over the cable. Modern video compression technology now allows video producers to maintain a high level of quality even when compressing video signals up to ratios of 100:1. Compressing video signals with standards such as NDI, allows you to send more video sources over cabling such as ethernet. 
A compressed video signal is measured in a bitrate. A bitrate represents the amount of data that is being transmitted per second. The chart below offers a rough estimate of the bitrates required for Real Time Messaging Protocol (RTMP) , a standard compression format for live streaming. The chart shows the varying quality options available and the bitrates that they require. RTMP is a compression format that is used to send video over the public internet. NDI and DANTE are popular IP video production protocols that are used to send video inside the local area network (LAN). Most LANs have a large amount of bandwidth in comparison to the bandwidth provided by the internet service provided. Therefore these video protocols use less compression and have higher quality.
Average bandwidth information from NDI video sources. 
| | | | | |
| --- | --- | --- | --- | --- |
| Resolution | Pixel Count | Frame Rate | Quality | Bitrate |
| 4K 30fps | 3840×2160 | 30fps | High | 30Mbps |
| 4K 30fps | 3840×2160 | 30fps | Medium | 20Mbps |
| 4K 30fps | 3840×2160 | 30fps | Low | 10Mbps |
| 1080p60fps | 1920×1080 | 60fps | High | 12Mbps |
| 1080p60fps | 1920×1080 | 60fps | Medium | 9Mbps |
| 1080p60fps | 1920×1080 | 60fps | Low | 6Mbps |
| 1080p30fps | 1920×1080 | 30fps | High | 6Mbps |
| 1080p30fps | 1920×1080 | 30fps | Medium | 4.5Mbps |
| 1080p30fps | 1920×1080 | 30fps | Low | 3Mbps |
| 720p30fps | 1280×720 | 30fps | High | 3.5Mbps |
| 720p30fps | 1280×720 | 30fps | Medium | 2.5Mbps |
| 720p30fps | 1280×720 | 30fps | Low | 1.5Mbps |
Many PTZ cameras offer simultaneous video outputs, with some limitations. For example, the PTZOptics NDI® camera line  offers video outputs via HDMI, SDI, and NDI® all at the same time. But to use the camera's composite video baseband signal (CVBS) port in a standard definition mode, the HDMI and SDI ports are disabled. This is because standard definition (480i or 576i) video is not supported on the more modern HDMI and SDI outputs. 
Most network-connected PTZ cameras are able to output industry-standard video options such as Real Time Streaming Protocol (RTSP), Real Time Media Protocol (RTMP), and Real Time Streaming Protocol Secure (RTMPS) video streaming. These industry standards are used for viewing the camera's video over a network connection. RSTP is generally used inside of a local area network to preview the video stream available from the camera. Some cameras will offer two or more RTSP video streams that you can connect to. These video streams can be pulled off of the camera with software such as VLC Media Player or the free PTZOptics camera control app. 
The reason many cameras offer multiple streams is for bandwidth considerations. For example, you may want to use a primary high definition stream, and a lower bandwidth backup stream if your network cannot handle a smooth connection with the primary stream. RTMP and RTMPS streams are generally used to send video to a content delivery network (CDN). RTMP and RTMPS streams are pushed directly to social platforms such as Facebook or YouTube which provide a server and secret key for the PTZ camera to send video to. The difference between RTMP and RTMPS is security. RTMPS is a newer, more secure version of RTMP. 
USB Cables
USB cables are the most common cable used in any modern video project. USB cables are used to connect simple devices such as keyboards and mice to your computer but they are also common on PTZ cameras for video output. USB can also be used to capture video sources such as HDMI or SDI with the use of a capture card.
USB cables come in a variety of connector types including USB-A, USB-B, USB-C, micro-USB, and mini-USB. USB cables are currently available in three main versions: USB 2.0, USB 3.0, and USB C.
USB connector types.
In general, USB 2.0 cables are used for low bandwidth devices such as audio mixers, keyboards, and webcams. USB 3.0 and USB C cables are used for higher bandwidth connections like PTZ cameras. Capture cards are devices that can convert an SDI or HDMI video feed into USB and they generally require a USB 3.0 or USB C connection in order to do so. 
Low bandwidth vs. high bandwidth USB devices.
USB bandwidth specifications.
When using USB cables in your video production system it's important to think about cable lengths, the availability of ports on your computer, and USB bandwidth. If you need to extend the length of a USB cable, you can do so with a USB extender.
Pro Tip: If you need to extend a USB connection to a camera more than 20 feet, consider extending HDMI or SDI instead. SDI cabling can be reliably extended hundreds of feet.
USB ports
Next, you need to think about USB ports on your computer. Some of your ports maybe USB 2.0-enabled and others maybe USB 3.0-enabled. Additionally, these ports may share a common USB bus which could limit the overall bandwidth available to all USB ports in that section of your computer's hardware.
Pro Tip: If you are trying to connect two USB cameras to your computer and notice issues, try switching USB ports. Sometimes two USB ports on one side of a laptop share a USB bus.
By taking one of the ports and switching it to the other side of the computer, you gain access to additional bandwidth with an extra USB bus inside your computer. 
HDMI and DisplayPort video connection cables are ideal for short cable runs and connecting LCD monitors and cameras that are within a short distance of each other. 
Types of cables used for live streaming projects.
If you need to extend HDMI cabling, purchase an HDMI extender but know that HDMI cables should not exceed 50 feet. SDI cables can be used at much longer distances and have locking connectors that help to prevent accidental disconnections. For this reason, many professionals use SDI cabling paired with an SDI to USB converter to extend the USB cable for video production.  
HDMI or SDI cabling with a capture card that converts video sources into USB.
Ethernet Cables
Ethernet cables are the heart of many IP-based video production systems and they can also be used to provide internet access to your computer. Ethernet cables rarely extend beyond 100 meters (328 feet), though they come in a variety of quality types. 
Most video production setups that use ethernet for video connectivity require CAT 5e cabling or greater because regular Category 5 cabling only supports up to 100 megabits per second of data transmission. CAT 5e supports a full gigabit or 1,000 megabits of data transmission.
Ethernet connections are easy and convenient for a variety of applications. For one thing, you can use network switches to connect many devices over your network. A router can be used with a network switch to give all devices connected to your network internet access. You do not necessarily need a router in order to send and receive video from on a local area network but it is recommended. 
Audio cables
Audio connections on PTZ cameras are often overlooked. The most common audio connections found on PTZ cameras are 3.5mm and XLR audio connections. Depending on the exact camera model you are using, these audio connections can be embedded into some or all of the video outputs available to you. For example, if you connect a 3.5mm audio input into the back of a PTZOptics USB camera, the audio can be fed directly into the USB and IP video streams. This allows you to send a usable audio stream along with the video you send using these connections. 
Note: Most PTZ cameras require a line level audio input in order to receive a usable audio signal. Line level audio is essentially the stronger level of audio signal before amplification. Line level audio has a much stronger signal than mic-level which will generally not produce a usable audio signal for PTZ camera inputs.
Regarding audio, most PTZ cameras also offer a limited number of audio adjustment settings. For example, you will have the ability to adjust gain, the sample rate, and the bitrate. The gain allows you to increase the overall volume of the audio, but too much gain can distort the quality. The sample rate is the amount of times the audio being captured is sampled per second. The standard sample rate is generally 44.1 kilohertz (44,100 hertz). The audio bitrate represents the amount of compression used to stream the audio. To give you an idea of audio bitrates, most streaming services, such as Spotify, use between 96 and 320Kbps. 
Audio cables are important for any livestreaming project and are connected to PTZ cameras to give a production an additional audio source. The most common audio cables used with PTZ cameras include the XLR and TRS. 
XLR cable.
In general, XLR cables have two main advantages over TRS. First, XLR cables have the required three-conductor design to support balanced audio where the signal protects against interference over long distances. The longer your cables are, the more important balanced audio is.
However, TRS cables can also provide balanced audio if the cable is connected between a balanced TRS output and balanced TRS input. 
Second, XLR cables are also able to provide 48-volt phantom power to microphones that use this feature. Your audio mixer must provide this power but the XLR cable is capable of transmitting it.
Quarter-inch TRS audio cables are generally used for guitars and simple speaker set-ups, but XLR cables are preferred for many other applications like professional microphones and digital pianos. Laptops and smartphones use 3.5-millimeter audio cables.
Audio connectors TS, TRS, and TRRS.
There are three types of audio jacks used for live video production: TS, TRS, and TRRS. These stand for Tip/Ring, Tip/Ring/Sleeve, and Tip/Ring/Ring Sleeve. TS audio connections are mono, meaning they do not support left and right audio. TRS audio connections support stereo sound, while TRRS cables support stereo audio and a microphone connection. Both TS and TRS jacks are available in a 3.5-millimeter size, as well as quarter-inch sizes. However, TRRS jacks are usually only available in 3.5-millimeter sizing.
PTZ Camera Control Connections

The primary PTZ camera control connections are ethernet, RS-232, and RS-485. When using an IP connection to control the camera, ethernet cabling is required to connect the camera and the control source. Control sources could be a computer on the network, a smartphone, or even an IP-connected joystick. IP camera controls vary between PTZ camera manufacturers but in general, commands are sent over the network to a specific port that the camera responds to. 
In order for a computer or IP joystick to control a PTZ camera on the network, it will need to have the device's  IP address. Setting up a static IP address and managing IP connections will be covered in more detail in an upcoming chapter. Many PTZ camera manufacturers have standardized around a standard control set created by Sony. Sony's VISCA over IP standard is, perhaps, the most popular PTZ camera control used today. Sony is a pioneer of robotic camera technology and the control protocols they have developed have been adopted across the industry with the expectation of Panasonic. Panasonic uses its own custom control protocols which offer unique features, but also are not compatible with many standard controllers. The VISCA over IP standard is the foundation for many PTZ camera manufacturers that then add their own special commands to the existing standard options.
The example above shows the PTZOptics SuperJoy which is a unique PTZ joystick controller that can control both IP and serial-connected PTZ cameras. At the top left, three PTZ cameras are connected in a "daisy-chain" style. These cameras are connected using the IN and OUT RS232 ports. This connection is ideal for systems without network cabling, or when the camera layout is in a straight line from the joystick controller.
Below that, you see three additional cameras connected with various PTZ camera protocols, including standard IP, SONY, and NDI®. Each of these IP-connected cameras is connected directly to the network switch which also connects to the joystick controller. In many cases, PTZ cameras are situated in different locations where they can be connected back to the central network. This allows PTZ camera operators the flexibility to control cameras that may be quite a distance from the controller. 
For example, one camera might be connected thousands of feet away from a camera operator through a chain network switches and connection cables installed throughout a college campus. It's possible to have networks that are connected across cities, countries and even around the world. The PTZ camera in the bottom right is connected to the public internet. It is possible to control cameras from anywhere in the world using Dynamic Domain Name Systems (Dynamic DNS) and/or public IP addresses. Remote production capabilities and advanced networking will be covered in more detail in an upcoming chapter.
Analog camera controls can be connected with RS232, RS422, or RS485 cabling. These connections can be used with VISCA or PELCO P/D control protocols. The advantage to analog cabling means that the systems do not require a network connection. Many temporary systems that are set up and broken down use analog controls to simplify their production. Analog cables also offer the option to use daisy chain controls.
Installation connections
It's hard to find a PTZ camera that does not feature at least one tripod connection (¼-20 screw hole). These standard connections are known as "quarter-twenty" connections which feature a threaded port that can be used to connect cameras to a wide range of mounts and adapter options. The diagram above shows a common PTZ camera wall mount designed to attach to a PTZ camera using this port. The wall mount features cable access and mounting holes to secure the mount and the camera to a wall. Quarter-twenty connections are generally located in the center of the bottom plate of the camera. 
Key Takeaways:
PTZ cameras are similar to regular cameras but they have integrated robotics that provide remote control capabilities.

PTZ cameras include motors, lenses, image sensors and audio/visual connections

PTZ cameras can be controlled remotely through a variety of serial and IP control options. 

IP camera controls allow for integration with popular video production software.

IP camera controls also allow for WiFi connectivity with devices such as smartphones.
Learn more about PTZ Cameras
Download the PTZ Camera Operator Handbook here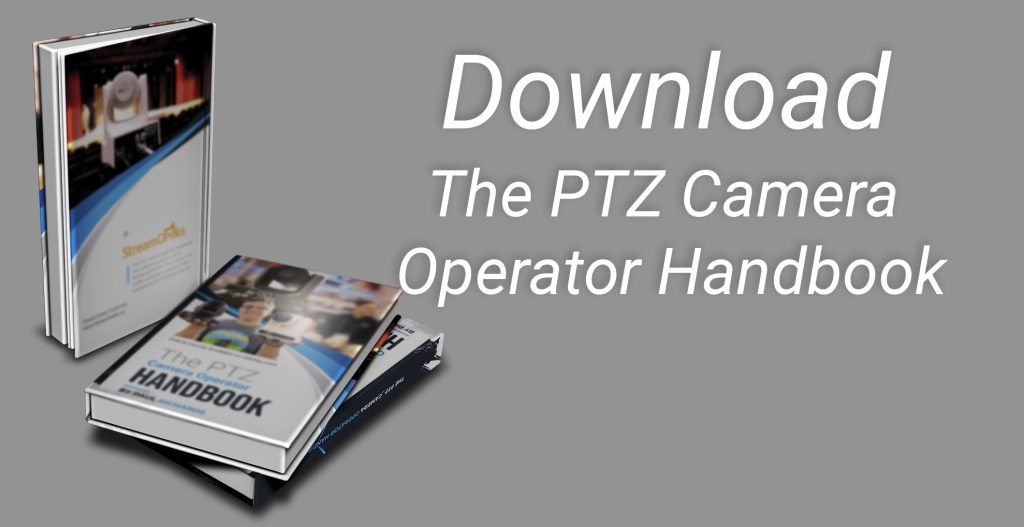 ---