Video Production in 2022
Written by Paul Richards on November 3, 2021
Welcome to the world of modern video production! This chapter has comes from the PTZ Camera Operator Handbook. 
Now it's time to uncover all the amazing things you can do with your PTZ camera. Today, PTZ cameras are giving video makers around the world new levels of control and flexibility over the video they produce. Content creators are setting up mini-studios to streamline their workflows. Volunteers are helping to stream everything from worship services to hometown sports games. Multi-camera productions are happening every day to connect audiences with events around the world. The prevailing trend happening throughout the world is more video production with a higher level of automation and productivity.
Since there is so much to learn about when it comes to video production, it's not uncommon to overlook PTZ camera operation. No matter what type of video you are shooting, camera movement and control will affect the final product. If you are like most video producers I have met, the process of making a video is less of a job and more of an art. 
The good news is that modern video production technology is giving unprecedented power to video makers at all levels. So whether you use a smartphone to make short home videos or you own a fleet of PTZ cameras, the way you make videos has likely been improved by new technology over the past couple of years. PTZ cameras are a particularly powerful video production tool because they extend your camera operation capabilities. With PTZ cameras, it's easier than ever to coordinate multi-camera productions that are controlled from a central location. The beauty of this technology is that it can be used to simplify your job. You can use PTZ cameras to kick up your feet and move robotic cameras that are hundreds of feet away. You can also use these cameras to increase your production value. If you are into multi-tasking you can take on large projects with smaller teams, increasing your productivity and making amazing videos your audiences will love.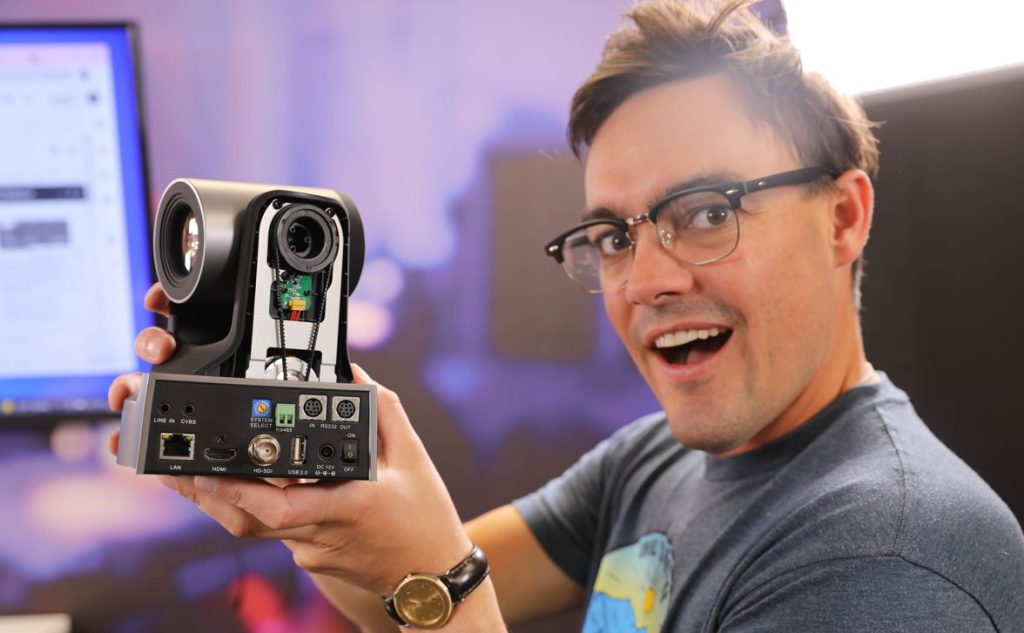 The modern video producer
Imagine you are in front of a TV studio control system. You are likely imagining lots of buttons,  knobs, and sliders each of which perform special broadcast TV magic. For the past few decades, video producers have worked with camera operators who physically move cameras where they are directed. Video producers will often communicate with camera operators in order to direct their vision during s live production. Traditional camera crews are still important today for a long list of video production types. As PTZ camera control technologies become easier to use, newbies, amateurs and professionals alike are finding they can accomplish camera operations in new ways that were once impossible or out of reach for most budgets. 
Today, 99% of what you see on broadcast TV can be created with a powerful laptop running live streaming software. Remove all of those fancy knobs and buttons you were imagining, and replace them with a simple keyboard and mouse. In a similar manner, the idea of hiring one person to run one camera, is mostly a thing of the past, except for special high action scenarios. Robotic cameras are now so easy to control, smaller crews can operate them remotely with relative ease. The broadcast industry as a whole has been growing so quickly, traditional camera operators have been able to shift focus into PTZ camera operators and become more production. Most modern devices in video production today are now available to control over WiFi and network-connected devices like a computer. Modern connectivity now allows a single computer to easily control more than just PTZ cameras, but other devices like video switchers, encoders, decoders and cloud-based video delivery systems. PTZ camera operators are able to use joystick controllers to control multiple cameras that may be located hundreds of feet from a central control room all with the power of network connectivity. 
In fact, as you will learn in this book, responsibility for camera operation is becoming increasingly important. PTZ camera operation can be done with something as simple as a smartphone. New technology for PTZ camera controls with iOS and Android apps is now opening up new opportunities for anyone with a WiFi-enabled device to become a camera operator. Camera control software designed for PTZ cameras has become increasingly easier to use in the past few years thanks to the BETA testing of thousands of bleed-edge PTZ camera users. There is even a large community of developers who share camera control projects they are working on through a social coding website called GitHub. These projects range from scientific test experiments to hobbies and do-it-yourself  (DIY) tech. In each case, the traditional borders of video production are being expanded by robotics and other innovations. 
Technology continues to improve all the time. Savvy video makers are able to bring together multiple technologies to fit their workflow and redefine what is possible for their specific application. A perfect example is the use of a regular Windows computer combined with USB-connected video capture cards. Video capture cards are able to connect HDMI and SDI video sources into computers via a common USB cable allowing you to use your computer as a video production switcher. Another popular example is the use of IP-based video streams which connect to the network you are already using with your computer. IP video standards such as NDI and DANTE allow you to send and receive video sources using standard ethernet cables and networking equipment which can replace expensive video hardware and expand what is possible for video productions of any budget. Many software solutions for video production such as vMix and Wirecast can be installed on your computer to turn a laptop or desktop machine into a live streaming, recording, and instant replay system. PTZ control software allows anyone with a smartphone or network-connected computer to contribute to larger video production as a PTZ camera operator.
Massive improvements to live video delivery have come about in the past decade that has allowed for an explosion in live streaming adoption. While many PTZ cameras can be used to live stream directly to social media websites, most professionals prefer to use PTZ cameras with a video switcher before live broadcasting the video out as a mixed production. Streaming directly from a PTZ camera is convenient but it does not allow you to mix multiple cameras together or apply graphics and overlays that are common in video production software. New content creators are using live streaming in amazing ways to communicate with their audiences. Amazon now offers creators the ability to live stream directly on Amazon.com as a way to promote new products that creators can profit from when they are sold. Other creators are using YouTube or Facebook to grow their audiences by live streaming video with the ability to authentically connect and communicate in real-time. From highly professional productions at the world's largest companies, to home studios in basements across the country, the wave of innovation in live video is moving at a record pace. 
This book will cover just a few of the innovations happening across the broadcast industry in detail, including PTZ cameras, camera control software, video production software, and cloud technology for streaming video. These tools enable you to put the power of a team of camera operators in your pocket, and a room full of broadcast equipment in the cloud. This book will bring you up to speed on the latest technologies at a high level and offer the best practices of PTZ camera operation. 
You will learn:
How to become a proficient PTZ camera operator 

The essential parts of a PTZ camera

Cables, Connectors and their limitations

How to properly set the exposure of your camera

How to tune pan, tilt, and zoom speeds and other important settings

How to choose the correct PTZ controller for your project

How to automate camera movements so you can do more as a producer with a smaller crew 

About new emerging technologies and how they may impact the future of video production
No matter where you are in your video production career, this book will take your knowledge of PTZ cameras to the next level. By reading this book and taking the online course available on Udemy.com, you will gain a better understanding of robotic cameras and their impact on video production. 
Important Links:
Key Takeaways:
PTZ cameras are remotely controllable robotic cameras

PTZ cameras have changed the way modern video productions look at camera operation

The PTZ Camera Operator Handbook is a great resource for learning about PTZ cameras

The PTZ Camera Operator Handbook also includes an online course on Udemy. By taking this course you can receive a certificate of education on the subject
Learn more about PTZ Cameras
Download the PTZ Camera Operator Handbook here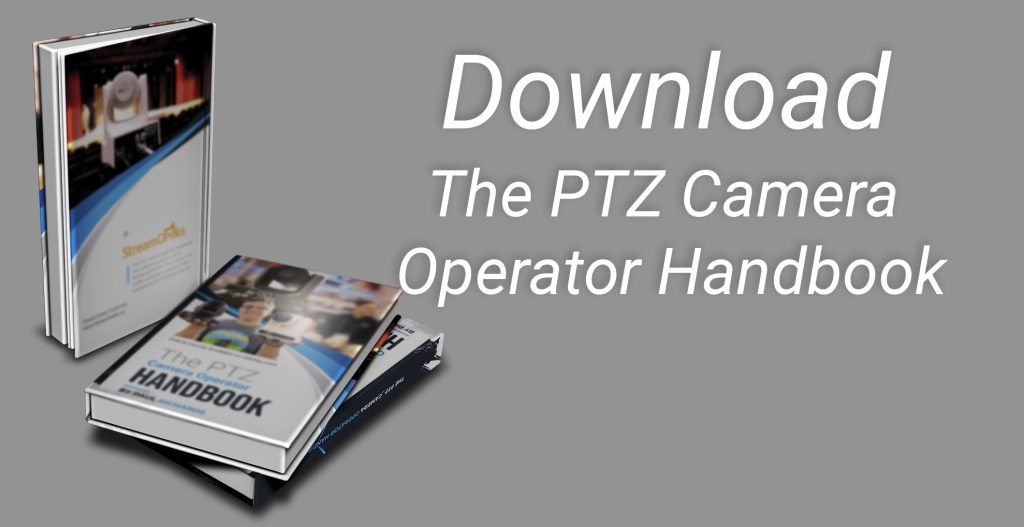 ---