Innovations in Video Production
Written by Paul Richards on December 3, 2021
There are many important innovations in the video production industry that have occurred over the past decade. Two standards that you should learn about include NDI® and SRT. While these technologies are quite different from one another, they both allow video productions to use PTZ cameras in new and exciting ways. 
New Technology in Video Production
NDI® stands for Network Device Interface and it is a high quality, low latency, IP video transmission standard for video production. This video connection type was initially adopted by the livestreaming industry in software such as: Wirecast, vMix, LiveStream Studio, OBS, xSplit, and the NewTek Tricasters. Today, NDI® is used in a wide variety of video applications including broadcast, distance learning, and video communications software applications such as Microsoft Teams and Zoom. There are so many software and hardware integrations for NDI® it's easy to use NDI® with almost any project that uses video on a computer. 
Most NDI® users start their journey with NDI® by seeking a new way to connect video sources beyond the traditional HDMI and SDI cable types. Over the years, NDI® tools have grown to include NDI® viewing applications, screen capture software, virtual webcams inputs, and remote camera control options. There are even apps for iOS and Android that can turn your smartphone into an NDI® camera or presentation tool. NDI® Tools allow anyone to get started using IP video and easily leapfrog old technologies that used to require expensive capture cards and hardware video switchers. 
NDI
While IP video is not a new concept, NDI® has brought ease of use and flexibility to the complex world of network video. At its core, NDI® has made the ability to quickly discover, send, and connect IP video sources incredibly easy and reliable. Over the years, NDI® has also released new connectivity options such as NDI|HX® which stands for High Efficiency. NDI® High Efficiency adds additional flexibility for bandwidth control when sending video over your local area network.
So how does NDI® actually work? NDI® requires a local area network, which is a network of computers connected together via ethernet cables. Networking equipment has become incredibly affordable and essential to modern communications, so you likely already have a network in your home or office already. Networking equipment has revolutionized the way that we access the internet, communicate with the world, and connect our computers to software applications and hardware. NDI® uses standard networking equipment to send and receive video from various sources on your network. 
Luckily, little networking knowledge is required to start using NDI®. If you use OBS, it's simple: just download the NDI® plugin and start sharing the output of your OBS production on your network with another computer. If you use vMix, try searching for NDI® sources on your network that you might want to incorporate into your production, like a smartphone with the NDI® app running. There are so many ways to use NDI® with thousands of software and hardware configurations.
What is NDI® used for?
Many video projects use NDI® to send and receive video over IP. NDI® has an auto-discovery feature which makes it easy to manage the video sources available on a network.  For example, a church may use NDI® to send PowerPoint slides from one computer and receive them on another computer that is used for livestreaming. Another example would be setting up a display in an office to show an NDI® source coming from a video production software like OBS. Any Windows or Mac computer can receive the NDI® video stream and display it on a TV located in a facility. 
What is an NDI® camera used for?  
NDI® cameras often have PTZ features that take advantage of NDI®'s two-way communication capabilities.  In this way, NDI® cameras can be controlled over the same ethernet cable used to send audio and video. For example, a PTZOptics NDI® camera can use a single ethernet cable to power the camera, control the PTZ functionality of the camera, and send audio and video to a source on the network. 
What is the difference between NDI® and SDI? 
SDI is a technology that has been around for decades. SDI stands for Serial Digital Interface, and the cable itself is capable of sending uncompressed video long distances. NDI® is a much newer technology that uses the latest video compression methods to make sending and receiving high-quality video possible over standard computer networks. An SDI camera video feed can be converted into an NDI® stream and sent over the network. An NDI® video feed can also be converted into a SDI video output and plugged into a monitor.
What is NDI® for OBS? 
OBS (Open Broadcaster Software) is a free, open-source video production software available at OBSProject.com. OBS is the world's most popular livestreaming software and it is supported by a worldwide network of developers. 
Palakis is a developer that created a plugin for OBS which supports NDI®. This plugin is available for both Mac and PC versions of OBS and it adds simple support for audio/video inputs and outputs over IP inside OBS. This allows OBS users to add NDI® sources to OBS just like any source. It also allows OBS to transmit the main program video via NDI® to other systems, and provides a special OBS filter that can be used to output any OBS source via NDI®.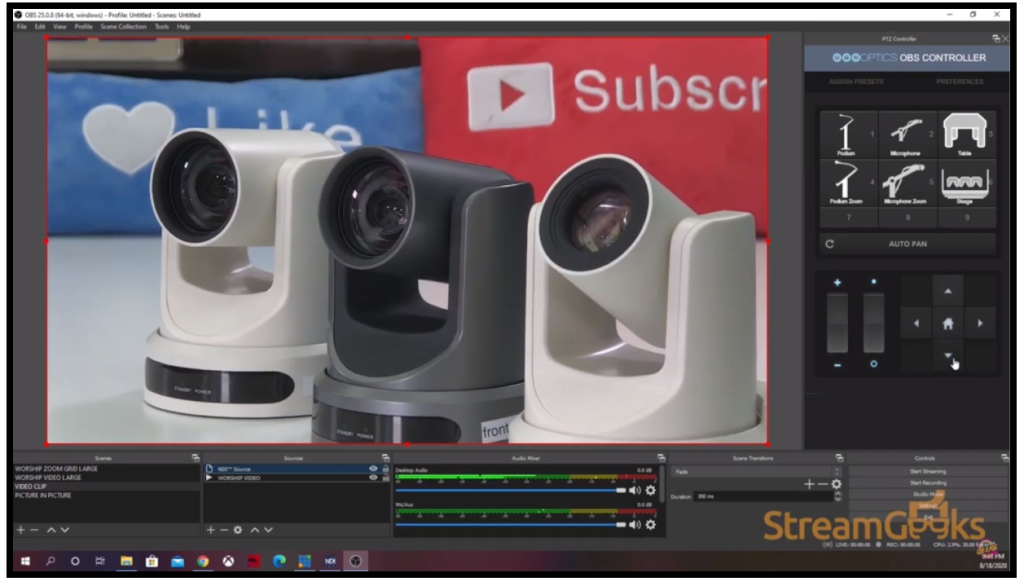 How do I set up a NDI® camera? 
Most NDI® cameras are plug-and-play when it comes to setup. NDI® cameras can be plugged into any LAN (local area network) and configured to operate with any software or hardware solution that supports NDI®. Once a NDI® camera is plugged into the network, it will show up as an available source on your network. Therefore, the NDI® name that you give your camera will show up in any software or hardware solution when you click the "add NDI® source" option. 
What is SRT?
SRT is a video transport protocol designed to send high-quality video over the public internet. SRT stands for Secure, Reliable, Transport. SRT can be used with many popular video production solutions including OBS, Wirecast, and vMix. SRT is used by video producers of any size to enable remote productions from around the world.

Unlike NDI®, which is designed for local area networks, SRT was designed for use over the public internet. This is achieved partly by managing a fixed amount of latency for each video stream. SRT video connections provide broadcast studios remote access to high-definition video and audio that is usable for video production. For example, SRT is an ideal way to send video from reporters in the field who contribute remote video. Broadcast studios receive the SRT video mix and bring it into news productions.
SRT has made a name for itself by providing encryption that ensures secure transport of video with high production value. SRT can enable end-to-end Advanced Encryption Standard (AES) encryption which is ideal for any content that requires protection. SRT protects against video jitter and packet loss even during bandwidth fluctuations from unreliable WiFi or cellular connections. 
As SRT hardware and software has become more affordable, productions at schools, churches, and state/local government agencies are using the solution. While SRT is used by the world's largest live production companies including Fox Sports, Comcast, and the NFL, the solution is open source and is also used by thousands of independent broadcasters. 
SRT is helping to enable remote productions around the world. There are a few things you should know before you start using SRT.
First of all, SRT uses the public internet. Therefore, you can either set up a peer-to-peer connection or you can use a proxy server to connect. A peer-to-peer connection will require little networking knowledge. For example, you will need to know your public IP address, make sure your router is set up with port forwarding, and configure your video production software to receive the stream. The second and easier way to set up SRT is to use an SRT MiniServer paired with proxy server capabilities. The application, which costs $30 per month, will receive SRT video feeds and convert them into NDI® which you can easily use with OBS, vMix, Wirecast, and more. 
SRT is not ideal for two-way communications like Zoom or Skype. Rather, SRT is ideal for broadcasting in one-way communication scenarios like remote reporting and connecting video streams to a remote broadcast studio. One of our favorite use cases for SRT is remote production with a couple of 5G connected cell phones. The Urbanist produced a multi-camera tour of New York City using the Lorax Broadcaster App on iPhone 12 cameras. The cameras were able to send 2-3 Mbps quality video streams back to a production PC which incorporates broadcast elements such as live chat, graphics, overlays, and more. 
Another great example of SRT, is to connect two video production systems. For example, consider a trade show happening where a livestream is running.  A company can easily set up a few cameras onsite, but it does not need to bring an entire video production system to the site. Instead, it can send each video and audio stream from the tradeshow floor back to a video production studio for broadcasting out to the world. 
Both NDI® and SRT represent new ways to think about video production. As these technologies progress, it may no longer be necessary for PTZ camera operators to travel to venues in order to do their job. The boundaries that once held back video production crews are being broken down with new innovative solutions.
Key Takeaways:
NDI is a technology used to make video production more efficient by leveraging an existing network

SRT is a technology used to send video more reliably over the public internet. 
Learn more about PTZ Cameras
Download the PTZ Camera Operator Handbook
---