Why you should learn how to use video over IP
Written by Paul Richards on November 2, 2021
While the possibilities with NDI® are endless, for most users, the most significant advantage of the protocol is simplifying connections and workflow. With the multitude of devices and software packages available for broadcast video, putting together and operating a video production solution can be overwhelming. Getting a system to work well involves understanding the benefits and limitations of various cabling options, ensuring the compatibility of devices, and the production computer or switcher has the capacity to provide the end result your project requires.
NDI® can radically simplify, not only set-up but ongoing use. Imagine every device and piece of software sending and receiving video data using the same format and protocol. You will no longer need to rewire cables to change a configuration since everything will run over ethernet cabling as a standard. In fact, cameras and other sources can be added without a direct run to the hardware or software switcher.  A short cable to the closest ethernet connection enables access to all computers on the network. 
While traditionally, a PTZ camera requires an SDI cable, a control cable, and a power supply, using NDI®, a single ethernet cable will provide video, control, and power. If you are running multiple cameras with 100 of cabling, you will save roughly three pounds of weight per camera. This is a big deal and potential cost-savings for those who set up onsite live streaming systems on a regular basis. With NDI®, connecting a camera, computer, or another device anywhere on your LAN makes the gear available to another device anywhere on the same LAN. This has opened up possibilities for those who are new to video technology. The next generation of video producers will expect this type of connectivity. In short, there's no turning back; IP video is here to stay. 
Another benefit of NDI® is scalability. It is frustrating when you need to add another camera or other device and find that there are no more available inputs on your switcher. Traditional capture cards require USB or Thunderbolt ports on your computer which are always limited. Using IP video means that the number of sources you can use is only limited by your bandwidth and the number of open ports on your network. Fortunately, even if your ethernet LAN ports are full, it is inexpensive and straightforward to add an additional switch to the network.
If the space you are using already has a LAN that meets NDI® standards as referenced in Chapter 6, you can connect sources and be up and running in minutes. In addition to sources being available for production, streaming, and recording software, NDI® can facilitate the routing of any available video to video displays, including control room monitors, confidence monitors, and video displays for an audience or public viewing. Video for IP using NDI® can even send any NDI® source, including your production switcher, to a virtual webcam input allowing new flexibility in popular video conferencing software platforms like Microsoft Teams or Zoom. 
In conclusion, the main benefit of NDI® is ease of use and simplicity of integration. For those who have been trained in traditional video switching hardware, NDI® is a paradigm shift. For those who are just getting started with live streaming and video production, NDI® is a solution that you will learn that you cannot live without. It's not unusual for new technologies to quickly leapfrog over old standards. For these reasons, NDI® has become the standard for network video on a LAN.
Key Takeaways:
NDI® will make your video projects more efficient. 

IP video represents a paradigm shift and its benefits will pave the way for even more scalable video projects in the future. 
Learn more about NDI:


What is NDI? - learn more here
Learn about the history of NDI - here
What is IP Video - learn more here
Learn about popular NDI software and hardware here
Learn about networking for NDI here
Learn about how much bandwidth NDI requires here
Learn how to use NDI with OBS here
Learn how to use NDI with vMix here
Why you should learn how to use IP video here
Learn how to use NDI cameras here
Learn how to use NDI for graphics generation here
Learn how to use NDI with WiFi here
Learn how to power displays with NDI here
Learn about NDI Studio Monitor here
Learn more about NDI Screen Capture here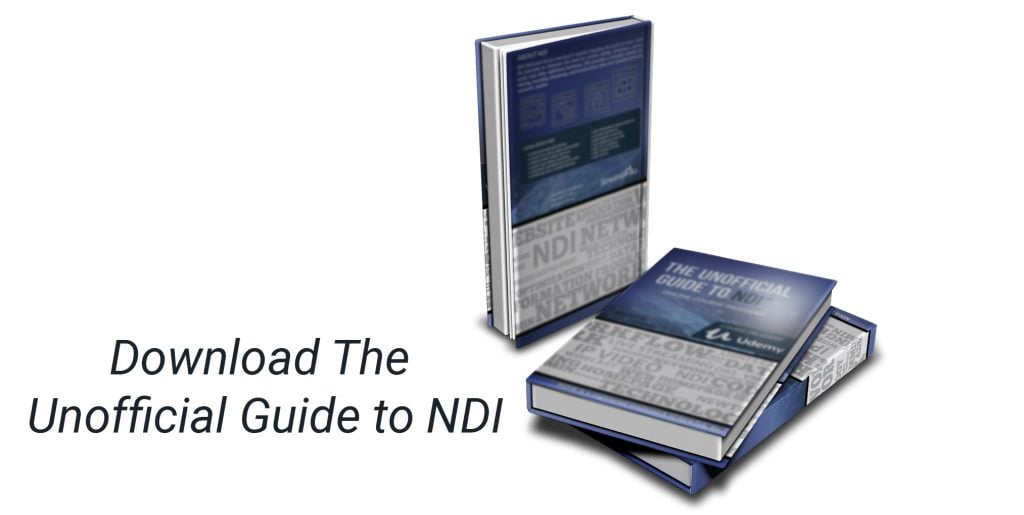 Download the Unofficial Guide to NDI PDF Book
---