A brief history of NDI
Written by Paul Richards on November 2, 2021
NDI® was first released in 2015, at the International Broadcast Conference (IBC) show in Amsterdam. Dr. Andrew Cross had been working on IP video technology as the chief technology officer at NewTek prior to the release. The predecessor to NDI® was called AirSend and it was used primarily as an IP video tool for NewTek TriCaster users. In 2015, Dr. Cross became the CEO of NewTek which marked a transition for the company toward the future of IP video. While other IP video standards existed at the time including SMPTE 2022 which was released in 2007, Dr. Cross and his team at NewTek were determined to create a new standard for IP video. 
The very first demonstrations of NDI® were shown on a NewTek TriCaster. NewTek, which is now owned and operated by the Vizrt Group, is a Texas-based video production company which was started in 1985. The TriCaster is NewTek's flagship product, which offers live video switching, broadcast graphics, virtual sets, audio mixing, recording and much more. Ten years after its first release in 2005, the TriCaster became the world's first natively integrated NDI® video switcher.
Software and hardware integration announcements for NDI® kicked off in 2016 when vMix, a popular PC-based video switcher, released NDI® support at the National Association of Broadcasters (NAB) show. At this time, the NDI® Software Development Kit (SDK) was used by developers from around the world. Gallery Sienna, for example, released a desktop scan converter application for MacOS users along with an NDI® signal generator. The very first NDI® iOS app was also released in 2016. 
Later in 2016, NewTek released NDI® 2.0 which included support for discovery across subnets. Also in 2016, Magewell, a major video capture and distribution company, announced seamless support for NDI® with its PCIe capture cards. In 2017, NewTek announced NDI® 3.0 which added support for NDI|HX® and multicast. NDI|HX® allowed PTZ camera manufacturers, such as PTZOptics and eventually, Sony to integrate NDI® directly into their camera models. NDI|HX® provides lower bandwidth NDI® video streams to maintain high quality and low latency video connectivity. 
By 2018, Microsoft announced support for NDI® via Skype for Content Creators. Hundreds of software and hardware companies were now promoting their integrations for NDI® as an easy way to integrate with the growing ecosystem. Software solutions that supported NDI® by 2019 included Avid, EVS, OBS (with a plugin), Wirecast, vMix, Livestream Studio, xSplit, TriCaster, MimoLive and many more. At this time, Magewell debuted its NDI® bridge software at the 2019 NAB Show.
In 2019, NewTek released NDI® 4.0 which included a slew of updates that made NDI® faster and more efficient. These enhancements came in part from hardware TCP acceleration. Throughout the history of NDI®, a free NDI® tool pack has been made available to the public. This tool kit includes NDI® Studio Monitor, NDI® VLC Plugin, NDI® Test Patterns, NDI® Screen Capture, NDI®|HX Driver, NDI® for Adobe® Creative Cloud®, NDI® Webcam Input, NDI® Access Manager, NDI® Import I/O for Adobe CC, and NDI® Screen Capture HX. These NDI® tools will be covered in more detail in an upcoming chapter. 
In 2019, NewTek announced that it would be acquired by the Vizrt Group. Vizrt, which is short for "visual artist,"is a Norwegian company that creates content production, management, and distribution tools. After the acquisition, Vizrt separated NewTek and NDI® into separate companies. Dr. Cross accepted a position as the President of Global Research and Development at Vizrt and the NDI® community continues to grow.
In 2020, HuddleCamHD announced the world's first NDI®-enabled webcam called the HuddleCamHD Pro IP. In 2021, NewTek released NDI® Screen Capture HX along with updates to the entire NDI® tool pack. 
Since its introduction, NDI® has been updated with several new versions. The original NDI® was replaced by NDI® 2.0, NDI® 3.0 and so forth. Throughout this evolution new features based on customer requests have been added. NDI® 3.0, for example, added the important multicast feature you will learn about later in this book, the NDI|HX® protocol, and support for PTZ cameras. Multicast enables audiovisual content to be sent to multiple destinations simultaneously without significantly increasing the overall bandwidth used to send video separately using unicast. NDI|HX® is a more efficient, lower data rate codec. This upgrade helps to expand NDI® into situations with more limited bandwidth. Support for PTZ cameras from specific manufacturers cleared the way for NDI® to become an end-to-end solution for video production. In addition to several performance improvements, NDI® 4.0 added support for NDI|HX2®, providing a truly native NDI® stream for many hardware products which increased reliability and reduced latency. 
On June 2, 2021, NDI® released version 5.0. NDI® 5.0 builds upon the ability to record unlimited video sources for true multi-camera editing with frame accurate synchronization. NDI® 5.0 also introduced NDI® Bridge, a tool for transferring video over long distances without the need for 3rd party applications. NDI® Bridge allows multiple NDI® networks to gain connectivity from anywhere in the world. NDI® 5.0 also included NDI® Remote, a tool to connect individuals and receive their audio and video with the click of a link from any internet-connected device. NDI® Remote is now being used to connect live show interviews and camera sources from around the world. 
New updates for NDI® are announced on a regular basis. You can follow ndi.tv/community for the latest news. 
Key Takeaways:
NDI® has been in use for many years. 

New applications and integrations are being announced for NDI® on a regular basis. 

A community of software and hardware developers collaborate to create new solutions for the NDI® ecosystem. 

New releases of NDI® help to make the entire system more efficient. 
Learn more about NDI:


What is NDI? - learn more here
Learn about the history of NDI - here
What is IP Video - learn more here
Learn about popular NDI software and hardware here
Learn about networking for NDI here
Learn about how much bandwidth NDI requires here
Learn how to use NDI with OBS here
Learn how to use NDI with vMix here
Why you should learn how to use IP video here
Learn how to use NDI cameras here
Learn how to use NDI for graphics generation here
Learn how to use NDI with WiFi here
Learn how to power displays with NDI here
Learn about NDI Studio Monitor here
Learn more about NDI Screen Capture here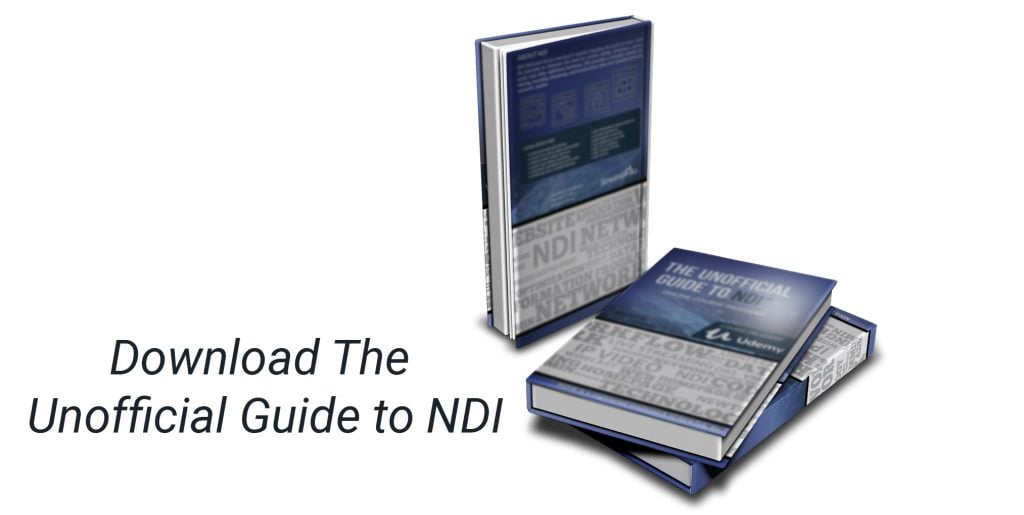 Download the Unofficial Guide to NDI PDF Book
---