Network Device Interface (NDI®) is a high quality, low latency IP video transmission standard that is popular for video production. NDI® is an easy way to connect live video sources between computers. The NDI® video connection standard was initially adopted by the live video production industry for use in software including Wirecast, vMix, LiveStream Studio, OBS (via a plugin), xSplit, and the NewTek TriCaster. Today, NDI® is used in a wide variety of video applications including broadcast, distance learning, and video communications. It's easy to use NDI® with almost any project that uses video on a computer since there are so many software and hardware integrations. 
Most users of NDI® are looking for a new way of connecting video sources beyond standard High Definition Media Interface (HDMI) and Serial Digital Interface (SDI) cables. HDMI and SDI video cables have obvious limitations like cable distance and resolution. NDI® offers much greater flexibility compared to traditional video cables because it uses network connections that are already in place for most computer systems. 
Getting Started with NDI
To get started, users can download free NDI® tools which are used to send and receive video over a standard Local Area Network (LAN). Over the years, NDI® tools have grown to include NDI® video viewing applications, screen capture software, virtual webcam inputs, remote camera controls, and KVM solutions. There are even apps for iOS and Android devices that can turn a smartphone into a camera or presentation tool using NDI®. NDI® tools allow anyone to get started using IP video and easily leapfrog old technologies that used to require expensive video capture cards and switchers. 
Example of an NDI® ecosystem.
All NDI® compatible software and hardware becomes part of a larger ecosystem where all sources are visible and available to other computers on a network. In this way, NDI® video sources open up a new world of connectivity that is far beyond traditional point-to-point video cabling. While IP video is not a new concept, NDI® has brought ease of use and flexibility to the complex world of network video. 
With thousands of developers using the royalty-free NDI® standard, video production professionals are able to find new and innovative ways to use the solution. At its core, NDI® makes the ability to quickly discover, send, and connect IP video sources incredibly easy and reliable. NDI® users will tell you that "it just works" which, in part, is due to the discovery system that allows software and hardware systems to easily find each other on a LAN.
Over the years, NDI® has released new connectivity options such as NDI|HX® which stands for "High Efficiency." NDI|HX® was announced in 2017 and provides additional flexibility for bandwidth control when sending video over a LAN. NDI|HX® has also made the use of NDI® video over WiFi and other bandwidth-constrained networks possible. In 2020, NDI|HX®2 was announced with a slew of new improvements that optimize NDI®. With two NDI® video options available, NDI|HX® is known as the "High Efficiency" version and NDI® HB is known as the "High Bandwidth" option. Other important tools that you will learn about in this book include NDI® Studio Monitor, which allows users to quickly browse and control video sources on any Mac or PC computer, and NDI® Access Manager which provides security and network management for IT professionals.
NDI® in use with various software and hardware devices connected to the Local Area Network (LAN).
So how does NDI® actually work? NDI® requires a LAN, which is a network of computers connected with networking equipment. Networking equipment has become affordable and essential to modern communications. You likely have a network in your home or office already that's capable of using NDI®. Networking equipment has revolutionized the way that you can access the internet, communicate with the world, and connect your computer to other software and hardware systems. NDI® is able to use standard networking equipment to allow you to send and receive video from various sources on your network. In an upcoming chapter, you will learn more about LANs and how you can use them to produce video with NDI®.
NDI Networking
Some networking knowledge is required to start using NDI®. If you use Open Broadcaster Software (OBS), the world's most popular live video production software, you will find a free plugin available to add NDI®. It's simple to use, and allows you to start sharing the output of your OBS production on your network with another computer. If you use vMix, one of the most popular professional video production solutions, NDI® functionally is already built-in. You can use a smartphone with the NDI® mobile app to get started right away. But NDI offers so much more. There are so many ways to use NDI® with thousands of software and hardware configurations. 
NDI® is quickly changing the world of video. With the potential to eliminate the need for custom cabling, interfaces, capture cards, and additional hardware, NDI® provides a versatile solution for sharing, recording, displaying, and broadcasting video over standard ethernet networks. The NDI® protocol offers a new level of flexibility without compromising quality. This means high-quality, low-latency video over ethernet is now plug and play in most cases. With the latest versions of the NDI® protocol, it is possible to create and operate an entire video production workflow using a LAN and sources connected by WiFi, thanks to the latest highly efficient NDI|HX®.
NewTek announced the NDI® protocol for audio and video in 2015. NDI® can encode any audio and/or video source such as a camera, graphics package, screen capture, or pre-recorded video files and send them over a standard local area network (LAN). NDI® is not limited to using NewTek hardware and software. Any other NDI® enabled computer, device, or software on the same network can receive and decode the signal and view, record, and stream it, or use it in combination with other audio and video in a live or recorded production. 
In simple terms, with NDI®, there is no longer a need to run SDI or HDMI cables to cameras and other devices as long as you can connect them to your LAN. Even better, you can access sources on the network from anywhere else on the network. NDI® can be efficiently routed to multiple locations while conserving bandwidth with easy to use tools for managing video on your network. Producers also have far more options for routing and sharing audio and video across a network. This new freedom has sparked a creative renaissance for live video productions where producers have new possibilities that used to be out of budget and far too complicated.
NDI® is a highly flexible protocol, and it is quickly being adopted by hardware and software vendors. Some devices come with NDI® pre-installed, and many software packages are ready to send or receive NDI® signals natively. 
Key Takeaways:
NDI® is an IP video standard that uses computers and networking equipment. 

Some minimum requirements for computers are necessary to use NDI®.

Some minimum requirements for networking equipment are necessary to use NDI®.

While little networking knowledge is required to use NDI®, setting up a network to optimize NDI® requires networking experience. 
Learn more about NDI:


What is NDI? - learn more here
Learn about the history of NDI - here
What is IP Video - learn more here
Learn about popular NDI software and hardware here
Learn about networking for NDI here
Learn about how much bandwidth NDI requires here
Learn how to use NDI with OBS here
Learn how to use NDI with vMix here
Why you should learn how to use IP video here
Learn how to use NDI cameras here
Learn how to use NDI for graphics generation here
Learn how to use NDI with WiFi here
Learn how to power displays with NDI here
Learn about NDI Studio Monitor here
Learn more about NDI Screen Capture here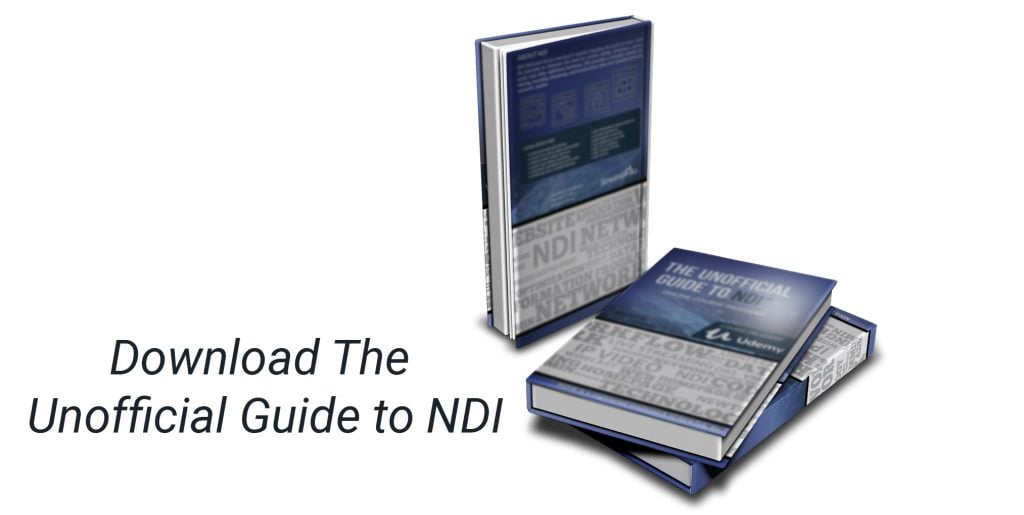 Download the Unofficial Guide to NDI PDF Book
---