Using NDI for graphics
Written by Paul Richards on November 2, 2021
While most production software packages and hardware switchers have some built-in graphics generation capabilities, many productions require even more power and control. In professional, fast-moving environments, graphics creation often happens at a dedicated workstation. In some cases, multiple workstations are used to keep up with on-the-fly graphics design and editing. 
With NDI®, graphics and titles can be generated anywhere on the network and used immediately as a production source. Using an additional computer for graphics and title generation allows small teams to collaborate in a live production environment. It also distributes the workload away from the technical director or switcher operator who often has more tasks then they can handle on their own. NDI® makes it easy for a dedicated graphics operator to create and manage graphics so they are ready to go when needed by a producer on the same network. 
NewTek offers a standalone, NDI®-compatible program called NewTek Live Text, which turns any PC into a standalone graphics and titling workstation. Titles and graphics can be built on the fly and sent to another computer running OBS, or another NDI®-compatible production switcher in real-time. Users can quickly add custom titles, graphics, scores, stats, and clocks.
Open Broadcaster Software (OBS) offers a free animated lower thirds plugin to generate graphics. To use NDI® with  OBS, all that's required is a free NDI® plugin. The NDI® plugin for OBS allows you to output the entire production of OBS as an NDI® source or an individual source.
NDI® also offers an Adobe Creative Cloud plugin that works with Adobe Premiere and After Effects. This allows graphic designers to run animated titles, motion graphics, looping effects, and more in a live production environment. Other popular NDI®-enabled presentation software includes ProPresenter and Easy Worship. ProPresenter makes presentations look more professional with masks, overlays, slides, and announcements but generally requires a dedicated operator. Using an NDI® video output from ProPresenter, the operator can easily send the graphics to a livestream producer on another computer on the network. NDI® video can be used with an alpha channel which provides users with a transparent layer of video. Video with an alpha channel can easily be layered on top of camera sources for example to create a seamless integration for video productions. 
In addition to NewTek's offerings, there are several software packages dedicated to graphics generation that are NDI®-compatible. From simple titles to professional broadcast news options, a variety of software can add a higher level of graphics to your NDI® production network. Some of the options are from RT Software, Nexus Celio, Panamation, and NewBlueFX. For a collection of official NDI® products, go to: ndi.tv/marketplace.
Key Takeaways:
As your video productions grow more sophisticated, working with graphics software is often necessary. 

NDI® is an ideal way to connect a computer running graphics software to another system that's used for live streaming or video production.
Learn more about NDI:


What is NDI? - learn more here
Learn about the history of NDI - here
What is IP Video - learn more here
Learn about popular NDI software and hardware here
Learn about networking for NDI here
Learn about how much bandwidth NDI requires here
Learn how to use NDI with OBS here
Learn how to use NDI with vMix here
Why you should learn how to use IP video here
Learn how to use NDI cameras here
Learn how to use NDI for graphics generation here
Learn how to use NDI with WiFi here
Learn how to power displays with NDI here
Learn about NDI Studio Monitor here
Learn more about NDI Screen Capture here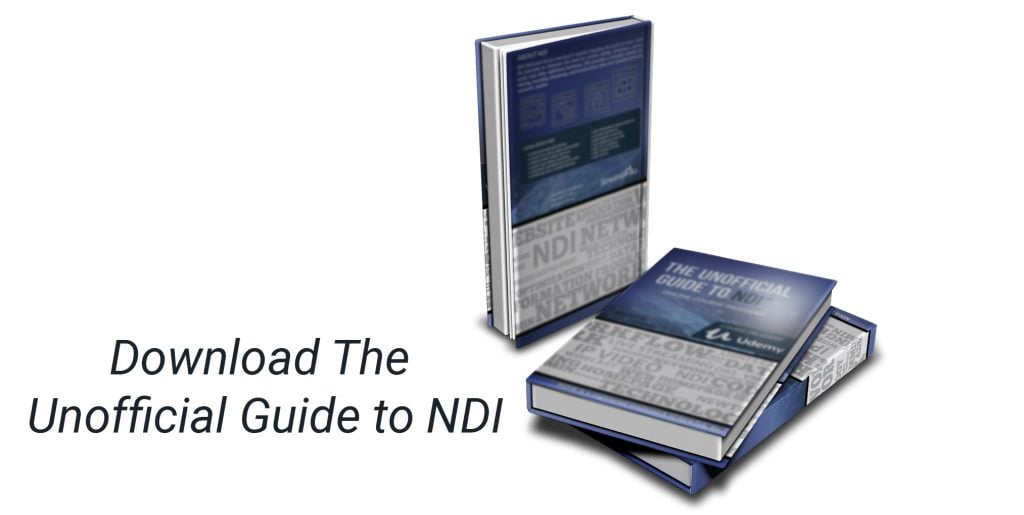 Download the Unofficial Guide to NDI PDF Book Here.
You can purchase the paperback on Amazon here.
You can enroll in the online course here.
---