Live video production software vMix was designed for use on Windows computers. It was also one of the first video production software solutions to announce NDI® support in 2016. Over the years, vMix has become one of the most popular video production solutions. Therefore, reviewing the NDI® implementation available in vMix is an ideal way to see the multitude of options available.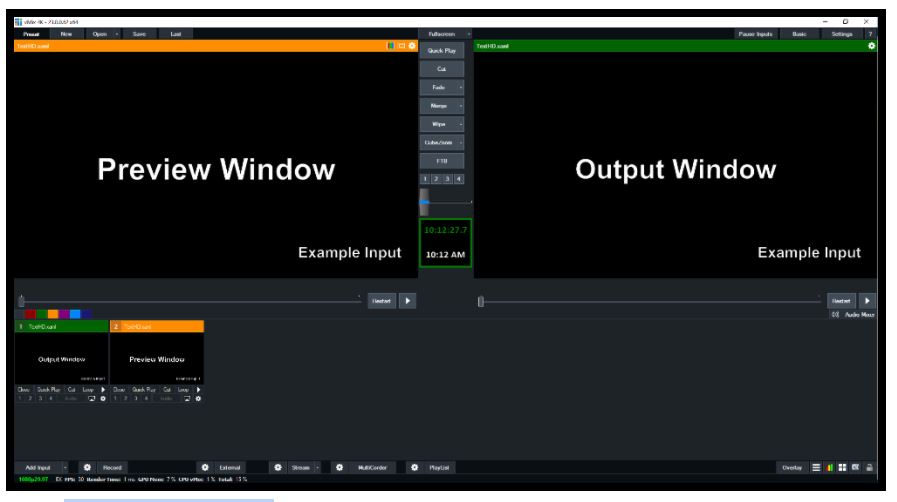 NDI® has opened up a new world of possibilities for vMix users which, in turn, has created a customer feedback loop that has led to many notable improvements. And vMix supports both NDI® input and output functionality with a variety of options. 
NDI Video Input Options for vMix
Connecting to the NDI® inputs is fairly simple with vMix. When you open vMix, click the Add Input option and select the NDI®/Desktop Capture tab to view available NDI® sources on your network.  A small loading animation will cycle next to the NDI® logo to let you know that vMix is searching for NDI® sources that are available on your local area network (LAN). 
The tool will display NDI® sources with a friendly name, an image, and an IP address when available. One area of vMix many users appreciate is the little preview windows that makes it easy to switch between sources. Below the list of available NDI® sources, you can choose to connect with Low Bandwidth Mode, Audio Only, Progressive Segmented Frame (PsF), or Increase Buffer Size. Low Bandwidth Mode is a great option if you are having bandwidth issues on your network. Audio Only mode will allow you to connect to the NDI® source without video. The PsF option is a progressive video format like 1080p29.97 or 1080p30. Finally, Increase Buffer Size is ideal for scenarios where latency is not an issue. 
Once you have connected to an NDI® source, vMix added a feature to right-click on that NDI® source to choose any of these options on the fly. In fact, when you right-click on an NDI® source, you will see a list of other NDI® sources on your network. This helps you swap between NDI® sources and conserve bandwidth and processing power. 
NDI Video Output for vMix
The vMix tool  is capable of supporting many NDI® outputs. You can configure the NDI® output options in the Settings area under Outputs. Here you can set up four unique NDI® outputs and configure each. In fact, each NDI® output is configurable so that you can choose between settings for audio, video resolution, Secure Reliable Transport (SRT), latency, and even encoding options where available. Below the four main NDI® outputs you also have an option to turn all cameras, calls, and audio inputs into NDI® outputs. This is ideal if you want your vMix system to be able to share all of its camera sources; for example, with another NDI®-compatible system. 
Simple Use Case:
A local area network with two computers running vMix. On the same network, two computers are also running Studio Monitor.
The StreamGeeks use video content contribution from a second computer using vMix. In the diagram above, you can see that the StreamGeeks studio has two computers running vMix and two computers with Studio Monitor. One vMix computer is the main video production machine, and the second vMix computer is used to contribute social media content. There are many scenarios where using a second or third computer with vMix is useful. Another interesting use case comes from the Griswold Elementary School broadcast club. This use case along with a handful of other interesting educational examples comes from the Accelerated Broadcast Club Curriculum.
A local area network used for school announcements show
In the example above, you can see a four-computer set-up that broadcasts the morning announcements at an elementary level school. The first main production computer runs vMix. The second computer runs NDI® Screen Capture which sends PowerPoint slides that display the weather in the main vMix computer. A third computer is used to connect directly to the vMix remote controller available via an IP address. This computer triggers overlays and graphics. Using the vMix remote control connection, an operator can update and change the information in titles that appear in the main production computer. Finally, a fourth computer runs with an additional copy of vMix in order to receive the main production computer's output and connects it to the local public television system.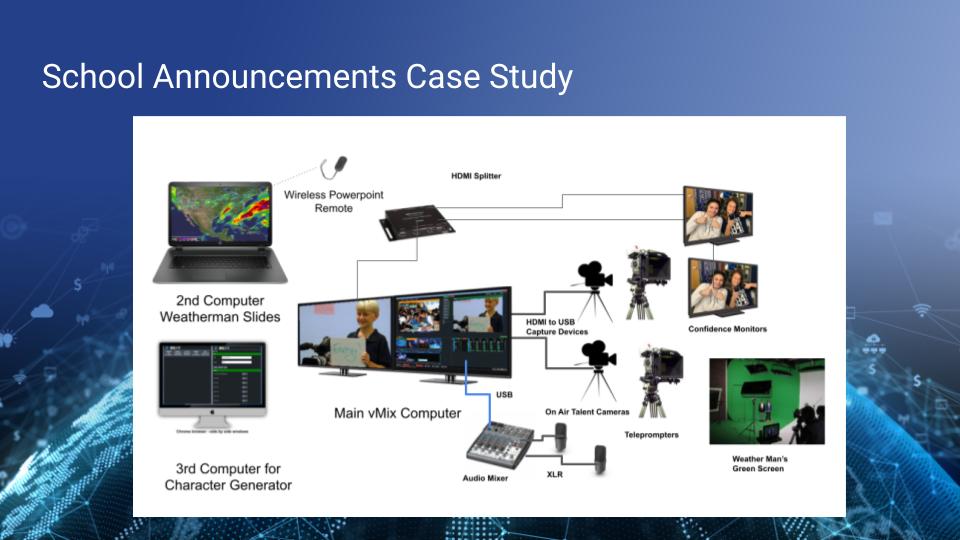 The four-computer production system in more detail.
As you can see from the diagram above, NDI® makes a small video production system very powerful. In addition, vMix already supports many IP connectivity features such as remote control which make NDI® integration very efficient. Each video production software system has a slightly different NDI® implementation. You have now seen both OBS and vMix which will give you a good sense of what to expect in a variety of other software solutions. 
Key Takeaways:
The vMix tool is one of the most popular paid live streaming software solutions. 

It has maintained industry-leading support for NDI®. 

You can use vMix to create NDI® video outputs in a variety of convenient formats.
Learn more about NDI:


What is NDI? - learn more here
Learn about the history of NDI - here
What is IP Video - learn more here
Learn about popular NDI software and hardware here
Learn about networking for NDI here
Learn about how much bandwidth NDI requires here
Learn how to use NDI with OBS here
Learn how to use NDI with vMix here
Why you should learn how to use IP video here
Learn how to use NDI cameras here
Learn how to use NDI for graphics generation here
Learn how to use NDI with WiFi here
Learn how to power displays with NDI here
Learn about NDI Studio Monitor here
Learn more about NDI Screen Capture here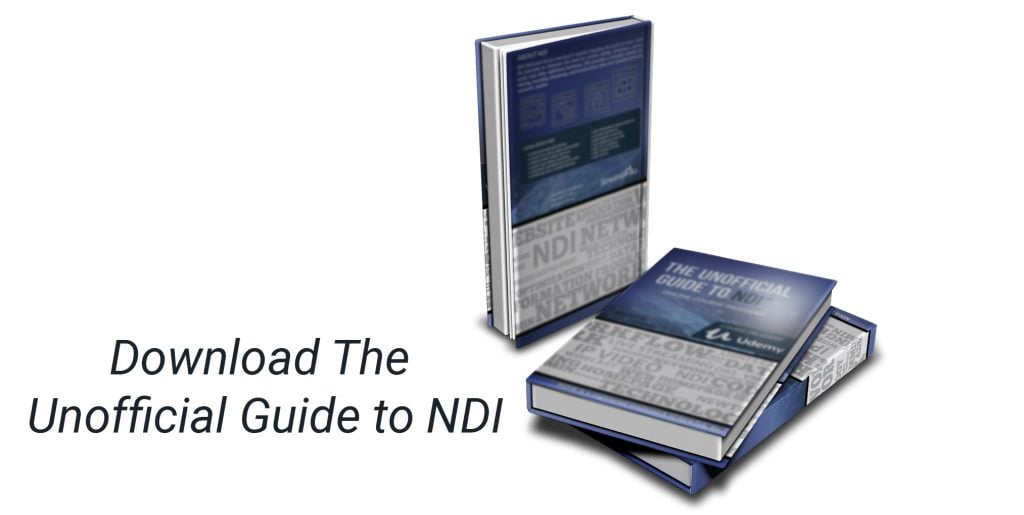 Download the Unofficial Guide to NDI PDF Book Here.
You can purchase the paperback on Amazon here.
You can enroll in the online course here.
---