Whether you need to capture a PowerPoint presentation, a software demonstration, or even high frame rate video gaming content, NDI® Screen Capture offers a solution. Using the NDI® Screen Capture application you can send video over the network, and access the video from any computer on your network. NDI® Screen Capture also supports connected webcams without the need for a capture device. This allows you to send a dual NDI® video stream with screen capture and webcam together in one discoverable group of NDI® sources. Video captured by NDI® Screen Capture can be used by hardware or software video systems for streaming or recording. The NDI® video from Screen NDI® Capture is often used by a video switching software such as OBS or vMix to mix into a larger production as described in Chapter 5. 
Getting Started with Screen Capture
It doesn't take much time to get started sharing screens with NDI®. First, go to ndi.tv/tools and download the tools for your computer (Mac or PC). Be sure that your computer is connected to the same network as the rest of your NDI® devices. Once you start the software, you will see a notice pop up on the screen saying "Your Screen is Now Available as an NDI Source". If you want to finetune the application's settings, access the settings area from your system tray. Right-click on the NDI® icon in order to choose a framerate, designate the area of the screen you wish to capture and toggle on or off the mouse pointer from being captured. You can also select an audio source to capture. Keep in mind that you can send video from one or two monitors plus video from a connected webcam. You can also enable KVM Control which gives your keyboard and mouse control of the computer you are connected to. You can get keyboard and mouse control by connecting to the NDI® Screen Capture from the Studio Monitor application on another computer. This is a great feature because you already have live video, so it's easy to simply take control of a computer on your network running NDI® Screen Capture.
Pro Tip: If you are having issues discovering an NDI® source on your network, check each computer's IP address to ensure each is on the same IP range. 
Broadcasting, Streaming, Recording, and Viewing Screen Capture
Once NDI® Screen Capture is running, you can access it on the network like any other NDI® source. It can also be viewed on any instance of Studio Monitor, where you can use the local keyboard and mouse to control the computer running NDI® Screen Capture with the KVM Control feature enabled. 
The More Efficient NDI|HX® Version
NDI® Screen Capture HX was released in 2021 and it provides screen capture capabilities with the high efficiency version of NDI®. The NDI|HX® protocol uses less bandwidth than NDI® HB, making it ideal in limited bandwidth connections. NDI® Screen Capture HX also takes advantage of NVIDIA's hardware for the highest possible quality with the lowest impact on CPU performance.  NDI® Screen Capture HX is ideal for a variety of applications including capturing video gaming where framerate and computer performance are critical. NDI|HX® is also beneficial in cases where you want to capture a large number of screens and need to carefully manage the bandwidth capabilities of your network.
NDI® Screen Capture & NDI® Screen Capture HX
The NDI® Screen Capture applications allow users to capture the screen of almost any computer without a video capture card. This includes full-screen displays, select screen regions, and any combination of windows and applications. 
NDI® Screen Capture HX offers full resolution screen capture up to 4K at frame rates up to 120 Hz. It works seamlessly with NVIDIA GPUs on PCs to stream content via the NDI® network. NDI® Screen Capture HX uses end-to-end hardware acceleration to create a high-quality video with very little latency. The main drawback to the NDI® Screen Capture HX currently is that it does not support additional video via a webcam source. 
Both NDI® Screen Capture and NDI® Screen Capture HX work well with popular video production and switching solutions such as TriCaster, OBS, vMix, and Wirecast. For PCs equipped with an NVIDIA GPU, look into updating the graphics cards to support the new NVENC encoder. NDI® is using the latest technology from NVIDIA to further improve the performance of NDI® video streaming. 
Key Takeaways:
NDI® Screen Capture is a free application available in the NDI® tools.

NDI® Screen Capture is used to connect almost any computer screen to the network. 

A new NDI® Screen Capture HX software is available to provide the highly efficient NDI|HX

®

format for screen capture. 
Learn more about NDI:


What is NDI? - learn more here
Learn about the history of NDI - here
What is IP Video - learn more here
Learn about popular NDI software and hardware here
Learn about networking for NDI here
Learn about how much bandwidth NDI requires here
Learn how to use NDI with OBS here
Learn how to use NDI with vMix here
Why you should learn how to use IP video here
Learn how to use NDI cameras here
Learn how to use NDI for graphics generation here
Learn how to use NDI with WiFi here
Learn how to power displays with NDI here
Learn about NDI Studio Monitor here
Learn more about NDI Screen Capture here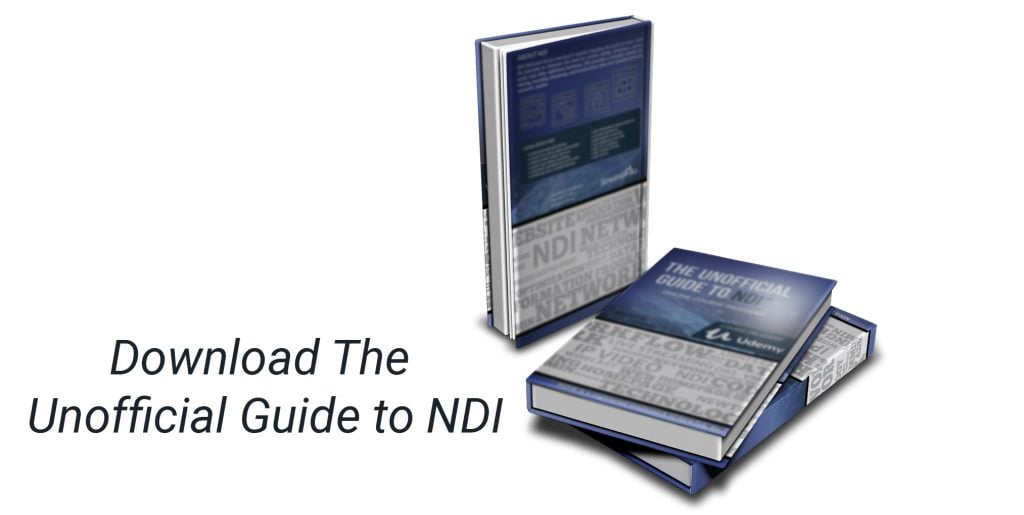 Download the Unofficial Guide to NDI PDF Book
---