Popular NDI Software and Hardware
Written by Paul Richards on November 2, 2021
Once you have stepped into the NDI® ecosystem, you will find a growing number of hardware and software tools available to improve your production workflow and that offer new creative possibilities. Due to the nature of NDI®, there are many software tools that can do as much or more than previous hardware options. NDI® has always offered many resources to developers to add NDI® functionality to their software and hardware systems. The NDI® Software Development Kit (SDK) has helped many developers integrate NDI® into their products over the years since its release. 
In this chapter, you will learn about the most popular tools and software solutions available for use with NDI®. 
| | | |
| --- | --- | --- |
| NDI® Tools | Streaming Software | Graphics Software |
| NDI® Studio Monitor, NDI® Bridge, NDI® Remote, NDI® Screen Capture, NDI®|HX Driver, NDI® for Adobe® Creative Cloud®, NDI® Webcam Input, NDI® Access Manager, NDI® Import I/O for Adobe CC, NDI® Audio Direct, NDI® Screen Capture HX, NDI® Test Patterns | OBS, vMix, Wirecast, Livestream Studio, MimoLive, Wowza, xSplit, Manycam, NewTek Connect | ProPresenter EasyWorship Panamation Resolume Sportzcast  |
| | | |
| --- | --- | --- |
| NDI® Hardware | Communications | Smartphone Apps |
| Magewell, Epiphan, LiveU, Teradek, PTZOptics, SONY, Panasonic, HuddleCamHD, NewTek, Cannon, Bluefish444, Tally-Lights LLC, Bird-Dog | Microsoft Teams, LiveToAir by Gnural Net, Skype | NDI® Camera NDI® Capture |
The list above offers some of the most popular NDI® supported software and hardware solutions. Please note this is not a complete list.
Free NDI® Tools
NDI® offers a free set of tools for you to get started. You can download these tools at https://www.ndi.tv/tools/. Below is a list of the most useful NDI® tools you can start using today. 
Studio Monitor
Studio Monitor can be used on a Mac or PC computer to quickly display any NDI® video source available on your LAN. This application can quickly display all discoverable NDI® sources on your local area network. Studio Monitor has a long list of features that will be covered in an upcoming chapter. Most importantly, you can view any NDI® source and if the source is a PTZ camera, you can control the PTZ camera with an on-screen control set. 
Studio Monitor connected to a PTZ camera will reveal PTZ camera controls.
NDI® Studio Monitor can also be controlled remotely by a web-server. The IP address for this web server can be found in the applications settings area. Once you enter this IP address into a web browser on the same LAN, you can access the control for Studio Monitor. This is particularly useful if you are using Studio Monitor to power a LCD screen that is remote to your current location. Applications include digital signage, video for overflow areas, and remote camera control applications. In this way, NDI® Studio Monitor can be used as a router to deliver customized NDI® video content to a number of displays on your network. Here is a summary of NDI® Studio Monitor benefits:
Independently configurable video source, overlay, and audio per instance.

Launch, distribute, and manage multiple instances from a single device.

Support for control and configuration via compatible mobile devices.

Comprehensive support for multi-monitor video wall and signage installations.

Remote control of PTZ camera, recording, and configuration for applicable sources.

Record NDI® files directly from multiple instances with NDI® Studio Monitor.

Remote control via web server.

NDI® output allows NDI® Studio Monitor to act as a router and server for delivery to multiple outboard displays.
Studio Monitor features a web server that can be used to control the application remotely.
NDI® Webcam Input
The NDI® Webcam Input is a small utility which creates a virtual webcam source from any discoverable NDI® video source on your network. The NDI® virtual webcam is then usable with any software that uses the webcams. This mini-application allows you to select an NDI® source that you would like to use as a webcam source in an application such as Zoom or GoToMeeting. Once selected, you can use any NDI® source on your network as a webcam in any application using the available "NewTek NDI®" virtual webcam selection.
During the installation of NDI® tools, you can choose to have the NDI® Webcam Input "run at startup." When the application is running it can be found in the system tray. You can click the application to open up a small menu of settings. It is here where you can choose the NDI® video source you would like to make available as a virtual webcam.  
The NDI® Webcam Input is compatible with Google Hangouts, GoToMeeting, Skype, Zoom, and more. It supports full frame rate video and audio up to 1080p and 4K UHD at 60 fps. The Webcam Input application is found in the system tray. Webcam Input can be used with popular platforms like Zoom.
NDI® Screen Capture
NDI® Screen Capture can capture the screen of the computer it is installed on and make it available as an NDI® video source. NDI® Screen Capture supports the capture of multiple monitors and it also includes the ability to capture a webcam. There are now two versions of NDI® Screen Capture — the original version is called NDI® Screen capture, and a newer version is called NDI® Screen Capture HX. Both versions will be outlined in more detail in an upcoming chapter. The biggest difference is the encoding options which allow NDI|HX® Screen Capture to reduce bandwidth. NDI® Screen Capture appears in the system tray.
Once NDI® Screen Capture is running on the computer you will receive a notification saying, "Your screen is now available as an NDI® source." You will also see the NDI® Screen Capture icon in the System Tray. From here you can open up the application settings which include Framerate, Capture Settings, Audio Source, Webcam Video Source, Webcam Audio Source, and Enable KVM Control. Most of these features are self-explanatory, but the KVM control is an interesting feature you can use to take keyboard and mouse control for the computer remotely. Once enabled, the NDI® Studio Monitor application will allow you to control any computer remotely with the NDI® Screen Capture KVM Control feature enabled. Here are a few features the application enables:
Generate multiple live video sources simultaneously with selectable audio.

Support for multi-monitor capture, with independent output at up to 60Hz.

Capture all of your system's desktops in real-time, at 60Hz and  games at 120Hz or above with almost no CPU usage.

KVM (keyboard, video, mouse) remote control of any workstation running Scan Converter from NDI® Studio Monitor.

Consumes minimal system resources with no noticeable performance impact.
NDI® Screen Capture HX looks very similar to NDI® Screen Capture with a few new features.
NDI® Screen Capture HX
NDI® Screen Capture HX is the High Efficiency version of NDI® Screen Capture which features new levels of control for bandwidth optimization and Graphics Processor Unit (GPU) hardware acceleration. When the application is opened, a notification will let you know that your screen is being made available on the network as an NDI® source. NDI® Screen Capture HX includes four options for bandwidth levels. You can choose between Ultra, High, Medium, and Low. NDI® Screen Capture HX takes advantage of new graphics card video compression technology which can support resolutions up to 4K with surprisingly low bandwidth requirements. It allows:
Full resolution screen capture up to 4K and above at frame rates up to 120 Hz or higher

End-to-end hardware acceleration including screen capture, color conversion, and video compression.

High-quality dedicated encoding pipeline on

NVIDIA

hardware and full control over the video bitrate that enables superior image quality while using any network – including wireless networks.

Low latency screen capture.

Support for capturing audio from any sound device – input or output – that's fully synchronized with the video signal.

Full remote Keyboard Video Mouse (KVM) controls, allowing remote control of keyboard, mouse, clipboard, and even touch from a remote machine.

Full control over the video bandwidth, resolution, and frame rate being used.
NDI® for Adobe® Creative Cloud®
NDI® for Adobe Creative Cloud enables users to output NDI® video directly from Adobe products including After Effects and Premiere Pro. This allows video producers to quickly output video directly from the timeline of their projects for review and approval. These applications include Adobe Premiere Pro, Adobe Prelude, Adobe After Effects, and Adobe SpeedGrade. NDI® for Adobe Creative Cloud is:
Compatible with Adobe After Effects® CC, Premiere® Pro CC, and more.

Supports full-resolution, real-time video with audio, and transparency.

Viewable from any NDI®-enabled receiving device anywhere on the network.
NDI® Access Manager
NDI® Access Manager allows administrators to restrict access to NDI® video sources on their network. The application allows users to manage visibility and accessibility of NDI® sources to specific computers on a network. NDI® Access Manager can easily group NDI® sources together to make them either public or privately discoverable. It also enables administrators to:
Configure NDI® channels as public or private on the network.

Group NDI® systems, devices, and applications to preference.

Connect to and access NDI® channels on other networks via an IP address.

Connect to and access NDI® channels on other networks via an IP address.

Advanced controls allow preferences for Transmission Control Protocol (TCP) or User Datagram Protocol (UDP) connections, multicast operation, and optional discovery server support.
NDI® Audio Direct
NDI® Audio Direct is a tool designed to bring NDI® audio sources into Digital Audio Workstation (DAW) software. DAW software solutions are used to record, edit, and produce audio. The NDI® Audio Direct tool leverages two plugins that are designed to transport audio in and out of DAW software solutions. NDI® Audio Direct is compatible with any DAW that supports VST 3 or LV2 audio plug-ins. 
NDI® VLC Plugin
VLC is a free open-source video player. VLC's wide user adoption has led NDI® to support the system with a free plugin. The plugin allows NDI® video sources to be directly accessible with compatible VLC software without the need for transcoding. 
The plugin is compatible with existing  and previous versions of VLC Media Player for Windows.

It makes content accessible without transfer, transcoding, or direct connectivity.

It supports encoding of multiple instances of the VLC Media Player simultaneously.

It offers virtual PTZ control for the pan function and zoom control around VLC output.
NDI|HX® Driver
The NDI|HX® Driver is required to connect with certain NDI|HX® devices such as PTZ cameras or encoders. Newer devices that support NDIv4 or later will not require this driver. 
The NDI|HX

®

Driver is compatible with systems, devices, and applications supporting NDI®.

High-efficiency transfer is optimized for limited bandwidth environments.

It's suitable for WiFi, remote, and large-scale networks.
Video Production Software
Livestream Studio
Livestream Studio is a popular live streaming software solution that Vimeo offers. Livestream Studio supports NDI® inputs and outputs along with PTZ camera control support for NDI®-enabled cameras. Livestream Studio is a professional video product that was made popular by Livestream.com. Vimeo continues to support Livestream Studio and offers the product to customers using Vimeo's cloud services for premium live streaming.
MimoLive
MimoLive is a Mac-only live streaming software designed specifically to optimize video production capabilities on Mac OS hardware systems. MimoLive has become a favorite for Mac users who enjoy video resolutions up to 8K, plus simultaneous streaming to YouTube, Facebook, Twitch and many more destinations. MimoLive supports NDI® inputs and outputs, plus it also features support for PTZOptics PTZ camera controls over IP. This allows MimoLive to work seamlessly with PTZOptics NDI® camera models. 
NewTek TriCaster
NewTek's flagship TriCaster video production switchers include what may be the most highly integrated NDI® functionality of any hardware switcher. The NewTek TriCaster mini, for example, is described as an "NDI® First" video switcher. Other TriCasters include the TC1 and the TriCaster 2 Elite. 
NewTek Connect
NewTek is a video production equipment manufacturer owned by the Vizrt Group. NewTek Connect is a free software solution that simplifies your video workflow. You can quickly expand the number of sources available on your NDI® network by converting existing video sources into NDI® using NDI® Connect. The software is installed on the host computer and instantly accesses any camera or other device connected via a capture card over your local area network. You can even enable the computer's webcam to add another source to your production.
Any signal sent or received by a compatible capture card (such as cards from AJA, Blackmagic, and others) can be made available across the network via NDI® for use in live production, recording, streaming, or display purposes. NewTek Connect is free, but it only features one channel of video. NewTek Connect Pro allows you to connect up to four channels of video.
NewTek Connect Pro
NewTek's Connect Pro expands upon the standard Connect software to turn a standard PC into a production workhorse that can bridge multiple conventional and IP-based formats. From standard video capture devices to IP cameras, webcams, media files, existing video streams, the software can handle all your sources and help you distribute them to multiple destinations.
Capture any input source on your local area network and send a signal as an output to hardware elsewhere on the network. Within the software, you can adjust the signal with the integrated Waveform and Vectorscope, independent color correction settings, and eight channels of configurable audio.
NewTek Connect Pro also adds another dimension to monitoring with the NDI® Connect Webserver. Just open a browser on any compatible device on your network and view up to 16 NDI® sources simultaneously with configurable layouts.
OBS (Open Broadcaster Software)
Open Broadcaster Software (OBS) is a free open source live video production software. Palakis, a software developer, released a plugin for OBS in 2017 which provides NDI® support in a variety of ways. The most common use for the plugin allows OBS users the ability to connect multiple OBS systems together. The plugin provides NDI® outputs, inputs, and a special filter to turn any OBS source or scene into an NDI® output. OBS is the world's most popular live streaming software partly because it is free and maintained by a world class group of open source developers.
vMix
Software video mixer vMix announced support for NDI® in 2016, years before many other paid video production software solutions. The product's lead developer, Martin Sinclair, has been an NDI® proponent since its release and continues to support the latest versions of NDI® as they are released. The way vMix supports NDI® inputs and outputs is  that it allows users to turn all cameras into NDI® outputs. In fact, vMix can turn all cameras and all audio inputs into NDI® outputs. Those who are well-versed in streaming software industry trends are hard-pressed to find a better software-based video production solution with such detailed NDI® support. 
Wirecast
Wirecast is a popular live streaming software available for both Mac and PC users. Wirecast announced support for NDI® inputs in 2017 which allows users to bring any NDI® source directly into Wirecast. Wirecast also added support for NDI® outputs which allows users to output NDI® sources from Wirecast. 
Wowza
Wowza is known for its cloud-based live streaming products. Wowza's streaming engine is used to power live streaming and on-demand applications for almost any type of device. Wowza has partnered directly with NewTek to build NDI® into jointly developed encoding products. 
xSplit
The popular live streaming and recording software xSplit is used by over 13 million people worldwide. It features NDI® input and output functionality which is ideal for creators, especially those in esports, who use the software to live stream and record videos. 
Graphics Software
EasyWorship
EasyWorship is a presentation software that is designed to help worship leaders. EasyWorship supports NDI® inputs for bringing in video sources from other devices on the network. EasyWorship demonstrated its compatibility with PTZOptics NDI® cameras at the Worship Facilities Expo in 2018. EasyWorship also supports NDI® outputs to easily share the output of the software to other NDI®-enabled devices. 
Panamation
Panamation is a live character graphics and paint tool available to make live annotations via NDI®. The product is designed to provide users with a simple interface to annotate on top of other NDI® video sources. As an NDI® output, the alpha channel video can be overlaid inside on top of other video sources. 
ProPresenter
ProPresenter is a live production and presentation solution available from Renewed Vision. ProPresenter is popular for houses of worship among other productions that require live lyrics and presentations to be incorporated into a video format. ProPresenter supports NDI® outputs that allow you to easily connect to the Pro Presenter output from anywhere on a LAN. 
Resolume
Resolume is a software for "VJs" or Visual DJs. Resolume supports NDI® inputs and outputs that allow the software to connect to other computers on the network. Resolume is primarily used by musicians and entertainers in live performance environments. 
Sportzcast
Sportzcast is a live scoreboard system that supports NDI®. Sportzcast devices can connect to an existing scoreboard and output the scores via NDI® video. In this way, a simple Sportzcast box can automate the graphics coming into an NDI® compatible video switcher. Because Sportzcast equipment can be placed in-line with existing scoreboard systems, the data can be added into NDI®-enabled video systems seamlessly.
NDI® Hardware Manufacturers
Magewell
Magewell is one of the world's top manufacturers of video capture devices and pioneered video capture for SDI, HDMI, and NDI® in many forms including the PCIe and USB formats. Magewell makes a variety of NDI® decode and encode solutions which provide the NDI® ecosystem with a multitude of product options. Magewell has also developed a software solution called the Magewell Bridge which can convert almost any Magewell product into an NDI® output. 
HuddleCamHD
HuddleCamHD is a video communications hardware manufacturer that specializes in plug and play devices. HuddleCamHD released the industry's first-ever NDI® webcam called the HuddleCamHD Pro IP. HuddleCamHD also offers a variety of other NDI®-enabled camera products including the SimplTrack2. The SimplTrack2 is an NDI®-enabled auto-tracking camera ideal for automatically following a presenter onstage or at presenter at the front of a classroom.
PTZOptics
PTZOptics is a live streaming camera manufacturer with options for SDI, HDMI, NDI®, and USB-connected pan, tilt, and zoom cameras. PTZOptics was one of the first manufacturers to offer NDI|HX®  PTZ cameras. PTZOptics also offers NDI®-enabled box cameras and joystick controllers. It's is known for its range of camera models that support up to 30X optical zoom, ideal for large spaces such as houses of worship, theaters, or educational venues. 
Epiphan
Epiphan is a Canadian manufacturer of encoder and presentation switcher products. Epiphan offers a wide range of encoding, capture, and video switcher solutions. The Epiphan Pearl product line was the first product Epiphan offered with NDI® capabilities. The Epiphan Pearl, Pearl Mini, and Pearl Nano all offer NDI® support. Epiphan Pearl products are all-in-one video streaming and recording systems that are popular in education and live production.  
LiveU
LiveU is the world's premier provider of live video transmission. LiveU is well-known for its cellular-bonded streaming products which allow broadcasters the ability to stream video from anywhere with a cellular connection. LiveU also offers a variety of content management solutions that  offer NDI® output options. In this way, LiveU servers can capture content from anywhere in the world and make the outputs available via NDI® to production systems on the LAN network.
Teradek
Teradek is known for its wireless video transmission products. Teradek offers NDI® options for users to connect their wireless streaming solutions to a LAN for connectivity with NDI®. The Teradek Cube, for example, is a device that attaches to a camera which enables wireless communication to a receiver and can then be connected to the network for NDI® video connectivity. 
SONY
Sony is one of the world's best-known video product manufacturers. Sony makes a line of PTZ cameras that are enabled with NDI®  to give Sony users ethernet connectivity to simplify their camera setup. Sony cameras support Power Over Ethernet (PoE) which allows users to power a camera over ethernet, control the camera, and receive video. 
Panasonic
Panasonic PTZ cameras support NDI® connectivity across a wide range of options. Panasonic also produces video switchers and PTZ camera controllers which support NDI®. 
Tally-Lights
Tally-Lights is a manufacturer of Tally Lights which are available for vMix, Wirecast, OBS, and NDI® systems. Tally Lights are indication lights that are used with cameras to let on screen talent know which camera is live.  Tally Light functionality is built into software such as NDI® Studio Monitor which will show a red border on any NDI® input that is currently being used for a live production in the output area. NDI® Studio Monitor will show a green border when any NDI® input is currently in the preview area of a live production software. Tally-Lights NDI® controllers can power up to eight Tally Lights which can be paired with up to eight NDI® cameras. 
Communications Software
Microsoft Teams
Microsoft Teams is used globally by businesses as a communication tool. Teams offers video communications, collaboration, and organization for teams of workers. Microsoft Team offers NDI® video outputs allowing the software to connect to other NDI® devices on a LAN.
Skype for Content Creators
Skype for Content Creators is a premium version of Skype designed to help creators easily access video from collaborators around the world and integrate it into their projects. Skype for Content Creators supports NDI® video outputs which allows you to bring FullHD video from Skype directly into other NDI®-compatible software and hardware. 
LiveToAir by Gnural Net
LiveToAir is a video communication solution designed specifically for hosting video callers into live productions. While Microsoft Teams and Skype were designed for video communications, LiveToAir was designed for live streaming. In this way, the engineers at Gnural Net have included features for producers who are creating live shows. LiveToAir includes features such as a screening room, and of course NDI® outputs. 
What about Zoom?
At this point you may wonder how you can use NDI® with Zoom. You may have heard about Zoom power users talking about how they use NDI®. In fact, using the NDI® Webcam Input, you can bring any NDI® source directly into Zoom. 
Smartphone Apps
NDI|HX® Camera (Smartphone App)
You can add an additional camera to your production instantly with NDI|HX® Camera. With this software, you can turn any iOS or Android™ mobile device into a live video source by connecting to the same local area network as your NDI® hardware. Adjustable bandwidth modes allow for the best possible quality on the network. The application gives you complete camera control, including auto or manual focus and exposure, front or rear camera selection, and a built-in tally system.
NDI|HX® Capture (Smartphone App)
NDI|HX® Capture is designed for OS and Android™ mobile devices. The application allows users to capture the screen of any smartphone. This is ideal for presentations made from iPads or Android tablets. NDI|HX® Capture is also being used to capture video game content directly from smartphone screens. Once the app is running, the entire screen of the smartphone is made available as an NDI® output on the network. This output can then be made available to any NDI® software or hardware system on the network.
Conclusion
As NDI® technology continues to expand throughout the video production world, expect even more applications to become available. NDI® has made it easy for third-party software developers to include NDI® functionality in their software, creating endless possibilities for future development.
Key Takeaways:
NDI® tools are available for free. These tools,offered directly from NDI®, help make IP video easier to use. 

A large number of software developers have integrated NDI® technology into their solutions. 

A large number of hardware developers have products available to replace legacy HDMI and SDI video gear with modern NDI®-enabled solutions. 

NDI® video can be used with any application that uses a webcam by using the NDI® Webcam Input. 

NDI® video can be produced with most smartphone devices connected to the network via WiFi. 
Learn more about NDI:


What is NDI? - learn more here
Learn about the history of NDI - here
What is IP Video - learn more here
Learn about popular NDI software and hardware here
Learn about networking for NDI here
Learn about how much bandwidth NDI requires here
Learn how to use NDI with OBS here
Learn how to use NDI with vMix here
Why you should learn how to use IP video here
Learn how to use NDI cameras here
Learn how to use NDI for graphics generation here
Learn how to use NDI with WiFi here
Learn how to power displays with NDI here
Learn about NDI Studio Monitor here
Learn more about NDI Screen Capture here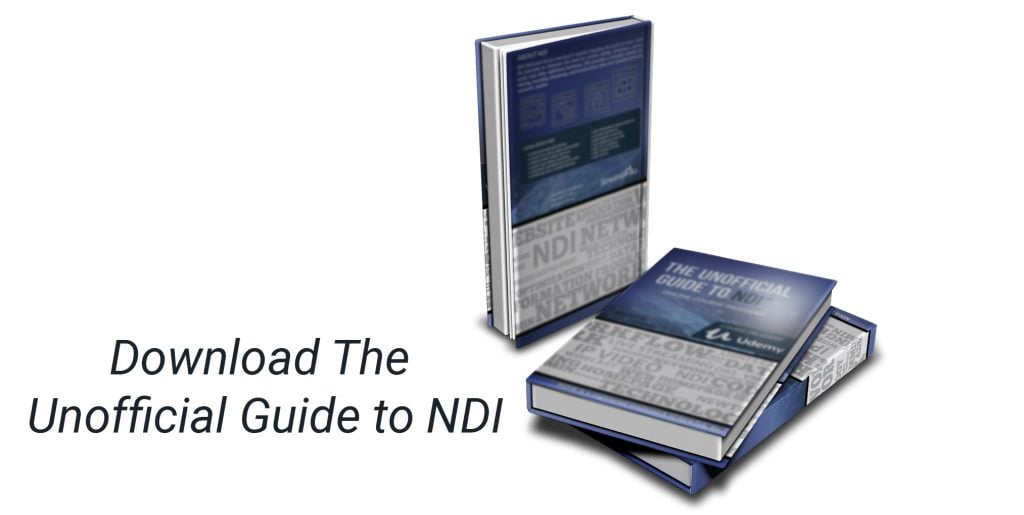 Download the Unofficial Guide to NDI PDF Book Here.
You can purchase the paperback on Amazon here.
You can enroll in the online course here.
---