How to use NDI video cameras
Written by Paul Richards on November 2, 2021
NDI® makes it easy to add video cameras to your production. NDI® is now available as standard output for many cameras and there are ways to integrate existing cameras into a modern NDI® workflow as well. Here are  five options for connecting a video camera to an NDI® network: 
NDI® Cameras

 – NDI® cameras connect directly to the LAN via an ethernet cable to output video and audio on the network. NDI® cameras are available with NDI® HB and NDI|HX

®

formats. 

NDI® Webcams 

– Webcams with NDI® built-in have an ethernet connection instead of a USB port. HuddleCamHD offers a 4K NDI® webcam that plugs into the LAN and uses  NDI® Webcam Input to interface with video communications software. 

Mobile Cameras over WiFi

 – Any smartphone can be connected to an NDI® network via a WiFi router. There are two different NDI® applications available for both iOS and Android.

Cameras Attached to a Computer

 – This mainly refers to internal or external webcams but could include any camera connected to a computer on the network. Any USB-connected webcams can be used with software like NDI® Screen Capture, or a video production software like OBS as an NDI® source. 

Cameras Connected to the NDI® Network that Use a Convertor Box

 – Traditional HDMI and SDI cameras can be connected to an NDI® capture card to make the camera's video available via NDI®. Capture cards connect HDMI or SDI cameras into USB for use on a computer. These cameras can then be treated like webcams in the sense that they are used with NDI® Screen Capture. 
Modern digital video cameras tend to feature either HDMI or SDI outputs and some camera models feature both. While NDI® is becoming a more common feature on PTZ cameras, other camcorders and broadcast cameras still require a capture device to connect via NDI®. You can convert any SDI or HDMI signal into NDI® with an NDI® encoder.
For HDMI cameras, there are several options from Magewell, NewTek, and other manufacturers to capture HDMI and convert the signal to NDI®.  All you need to do is plug the camera's HDMI output into the converter, and plug the converter into the network. Most of these NDI® encoders use a Power Over Ethernet (PoE) switch. If you do not have a PoE switch, most NDI® encoders can also be powered via a USB connection.
An example using an NDI® encoder from Magewell appears above. In the StreamGeeks studio, there is a digital pinball table with an LCD television for the pinball playing surface. The Magewell Pro Convert loops in and out the existing HDMI connections so that the computer and LCD remain connected. The Pro Covert also outputs an NDI® signal with low latency. The NDI® output is then used with any NDI®- compatible software for live streaming. 
Another popular use for NDI® encoders is for traditional cameras that are not yet NDI®-capable. In the diagram above you see the SDI Pro Convert from Magewell sitting in between a broadcast camera and the local preview monitor used by the camera operator. Many traditional video cameras are now being upgraded to fit into modern IP workflows using NDI® encoders like this one. 
With any NDI® encoder or camera with NDI® built-in, you can access settings for network-connected devices via an administrative panel using a web browser. You can type the device's IP address into any web browser connected to the LAN network. The available settings vary by device, with some allowing users to adjust the brightness, contrast, saturation, and hue of the actual camera or incoming video feed.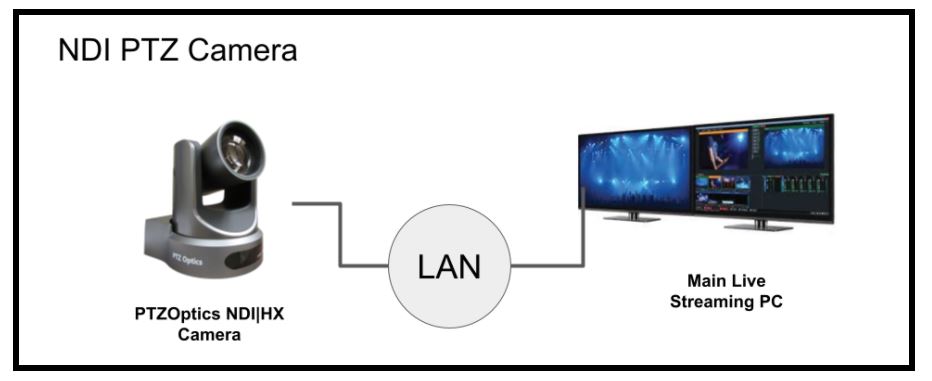 One of the most effective ways to start using NDI® is to use an NDI®-enabled device. You can easily expand your existing NDI® production workflow through the use of NDI®-enabled devices and PTZ (pan, tilt, zoom) cameras are particularly useful for a variety of reasons. Starting with NDI® 3.0, NDI® has supported PTZ camera control in Studio Monitor. Using a power over ethernet (PoE) switch, every aspect of the PTZ camera, including power, runs with a single ethernet cable. While many PTZ cameras already have audio/video and control over IP builtin, NDI® makes the connection more stable and reliable while drastically reducing latency.
PTZ cameras with built-in NDI® can add broadcast-quality video with the added benefit of robotic controls to NDI®-enabled software and hardware systems. PTZ stands for "pan, tilt, and zoom" which are camera operations that can be controlled from anywhere on the network. PTZ camera controls offer producers the ability to quickly control cameras. In many cases, producers have access to built-in controls in the video production software they are already using such as OBS, Livestream Studio, Wirecast, or vMix. Many PTZ cameras are available with full 1080p video resolution and frame rates up to 60fps. The PTZOptics 30X-SDI, for example, includes a 30x optical zoom that is capable of zooming in on the head and shoulders of a person on-stage from 75' (32 meters) away. PTZ cameras are easily integrated into NDI® video production workflows. 
With NDI® builtin, PTZ cameras can be connected in minutes for unparalleled quality and control. In the past, PTZ cameras required one cable for audio, another video, one for control, and another for power. With NDI®, PTZ cameras, audio, video, control, and power can be handled through a single ethernet cable connected to a PoE switch. This makes installation much more straightforward and only requires enough cable length to make it to the nearest network switch.
As NDI® becomes more popular, the standard is now being used in joystick controllers. The PTZOptics SuperJoy above is a controller designed to work with any NDI® camera. While the SuperJoy supports multiple network control methods including VISCA over IP,  NDI® is designed for ease of use. 
Anyone looking to add more cameras to their production will find that using NDI® to send video over the network is a highly flexible option. With the latest broadcast-quality PTZ cameras offering built-in NDI®, remote-controlled cameras can be added using one cable. Currently, there is only one webcam that comes with NDI® built-in. Built-in webcams on computers can easily become video sources for production. Even legacy equipment with HDMI and SDI outputs can become part of the network using an encoder. If you have a camera,  you can connect it to your network to use with NDI®. 
If you currently have PTZ cameras without NDI®, you still have some options to easily add them to your NDI® network. One option is to upgrade the firmware. Some PTZ cameras can receive firmware upgrades to make them fully NDI®-capable. If that is not possible, there are also converters available that can turn the output from the PTZ camera into an NDI® source. Some of these, with a suitable cable, can allow the PTZ controls to be accessed via the NDI® network. In conclusion, PTZ cameras with NDI® built in are game changers. These cameras have a long list of benefits which include discoverability, optimized video, tally support and much more. 
Key Takeaways:
Many cameras now come with NDI® built in. 

Cameras that do not support NDI® natively can be used with an NDI® encoder to output NDI® video on your network. 

NDI® allows you to gain additional video camera features like network discoverability and PTZ camera controls. 

PTZ cameras are ideal NDI®-enabled devices because they provide video and control over a single ethernet connection. 

NDI®-enabled PTZ cameras are easily integrated into available NDI® tools to make video productions easier to set up. 
Learn more about NDI:


What is NDI? - learn more here
Learn about the history of NDI - here
What is IP Video - learn more here
Learn about popular NDI software and hardware here
Learn about networking for NDI here
Learn about how much bandwidth NDI requires here
Learn how to use NDI with OBS here
Learn how to use NDI with vMix here
Why you should learn how to use IP video here
Learn how to use NDI cameras here
Learn how to use NDI for graphics generation here
Learn how to use NDI with WiFi here
Learn how to power displays with NDI here
Learn about NDI Studio Monitor here
Learn more about NDI Screen Capture here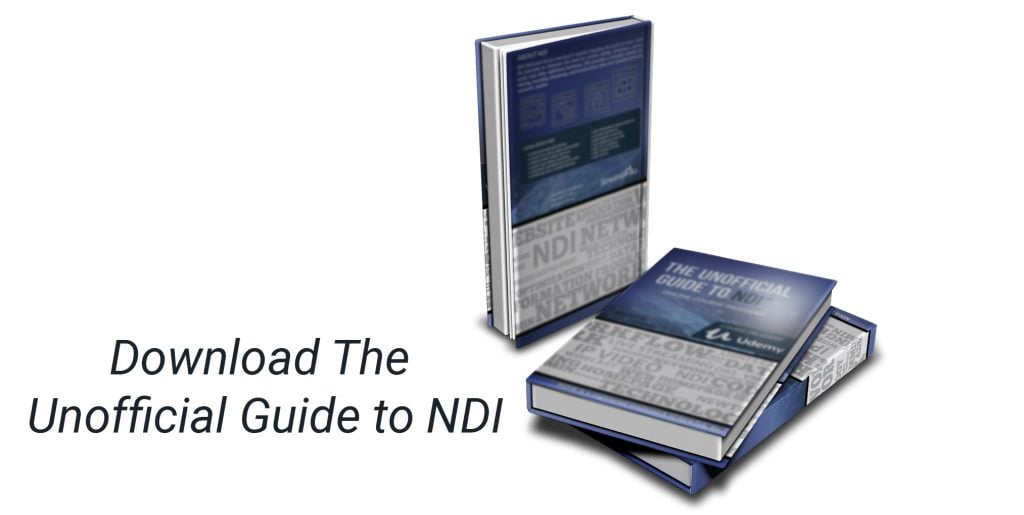 Download the Unofficial Guide to NDI PDF Book
---