How the StreamGeeks use NDI
Written by Paul Richards on November 2, 2021
USING NDI® AT THE STREAMGEEKS
The StreamGeeks are a small team of content creators from West Chester, PA, USA who produce live shows and video content all about live streaming. The StreamGeeks have been using NDI® in a variety of ways to produce video content, live streams, and fully featured webinars. In this chapter, you can learn realistic ways to use NDI®. You will see how the team at StreamGeeks uses NDI® to capture presentation materials, manage Zoom meeting participants, social media comments, and cameras. Each NDI® use case in this chapter is a practical, "get the job done" scenario. 
Simple Presentation Slides
During most live streams and video recordings, the team at StreamGeeks creates a presentation. This presentation is made with Google Slides and then runs on a computer in the studio. The laptop is then connected to an HDMI monitor so that it can be easily seen from any camera angle in the studio. Using NDI® Screen Capture, the "Presentation Laptop" easily sends the presentation slides directly to the "Live Streaming Computer," using the LAN. 
The live streaming computer uses vMix for video production. Inside of vMix, there are multiple NDI® camera inputs, an audio input, and a variety of other media assets. One of these media assets is a PNG file that is used to organize a live camera view and the presentation slides. You can see in the screenshot below how vMix is used to layer together two NDI® video sources.  The output of vMix with multiple NDI® video sources in a live show format.
Many video productions are built from multiple layers of media sources. Local to the computer, there is a PNG file and a lower third. Underneath the transparent PNG file, there are two NDI® video sources that are connected over the network. This allows the producer the flexibility to create a scene where viewers can see the speaker next to their presentation but also cut to a full screen view of either the camera or the presentation at any time. 
Capturing a Zoom Meeting
The beauty of IP Video is scalability. The diagram above shows an additional four NDI® cameras and a second NDI® Screen Capture. It's customary to have a Zoom meeting going during the StreamGeeks' livestreams. This allows the team to connect with viewers in real-time to answer questions and collaborate. Just like the presentation slides, the Zoom meeting is captured in a Grid View and made available to the producer. 
As you can see, NDI® video sources can easily be added to your LAN in order to provide more options for your production. The NDI® capture of Zoom meetings has become very popular. During a typical live stream, the StreamGeeks will also use a NDI® Webcam Input to bring NDI® video back into Zoom for guests who are not watching the livestream to view. To take this NDI® Zoom capture project one step further, you can see the next diagram includes two different video capture methods in the same Zoom meeting. How is this possible? Using multiple computers, the StreamGeeks will often connect to the same Zoom meeting to display the content in various ways. 
During certain livestreams, it's nice to be able to show the active speaker in a larger window. And as a producer, it's good to have the active speaker in the Zoom meeting available as its own input to appear in a full screen. Here you can see the active speaker is actually shown in a regular screen capture. This means that vMix, or another type of software, is simply capturing a screen that is connected to the computer directly without NDI®. While this does take up precious monitor space, the StreamGeeks will often use NDI® on a separate computer to capture the active speaker view. 
Working with a Team
One great way NDI® has helped the team at StreamGeeks grow is through shared responsibilities. In the studio we have the ability to share video sources and production-related responsibilities. One way that our team shares responsibilities is by managing who is responsible for a specific NDI® video feed that is being sent to the production. The presentation slides are one example, but another is the management of social media content and in-studio displays. 
Here, you see two vMix social interfaces. On the left is the main application that runs on a Windows computer and on the right is the web-interface used for control.
To manage social media comments, the team uses vMix Social. There is a main vMix Social application that is used to authenticate accounts with social media platforms such as Twitter, Facebook, Twitch, and YouTube. Once set up, this application has a web interface that can be used by anyone on the LAN. The web interface will show all social media comments coming in from the connected social media networks. From here, the user selects a comment to show onscreen. While vMix Social is a great tool, it's too much for our producer to manage while also running the livestream. Therefore, a second social media manager is necessary. 
The social media manager sends video directly to another vMix computer on the network while also controlling an LCD screen with Studio Monitor.
The diagram above shows how the social media manager is able to manage a separate vMix instance and connect that video to the main livestreaming computer using NDI®. Running a second instance of a video production software like vMix, OBS, or Wirecast allows a secondary livestreaming operator to contribute to the production. This can look like a simple lower third, or a full screen of video. In fact, the social media manager also controls the video on an LCD screen in the studio. To do this, the social media manager remotely controls Studio Monitor using the web control interface. This allows the social media manager to switch between a grid view of the Zoom audience and other content that may be beneficial to the production. In practice, this is often used to seamlessly switch between social media comments and the audience coming through via Zoom. 
Using NDI® this way is ideal for many organizations that seek to add volunteers to their team. NDI® will allow anyone with a computer and some technical skills to contribute to the video production. 
Key Takeaways:
NDI® is a technology that makes it easier to implement high quality video productions.

The StreamGeeks use NDI® in most live video productions from their studio.

NDI® makes it easier to work with a team and allow others to contribute content.
Learn more about NDI:


What is NDI? - learn more here
Learn about the history of NDI - here
What is IP Video - learn more here
Learn about popular NDI software and hardware here
Learn about networking for NDI here
Learn about how much bandwidth NDI requires here
Learn how to use NDI with OBS here
Learn how to use NDI with vMix here
Why you should learn how to use IP video here
Learn how to use NDI cameras here
Learn how to use NDI for graphics generation here
Learn how to use NDI with WiFi here
Learn how to power displays with NDI here
Learn about NDI Studio Monitor here
Learn more about NDI Screen Capture here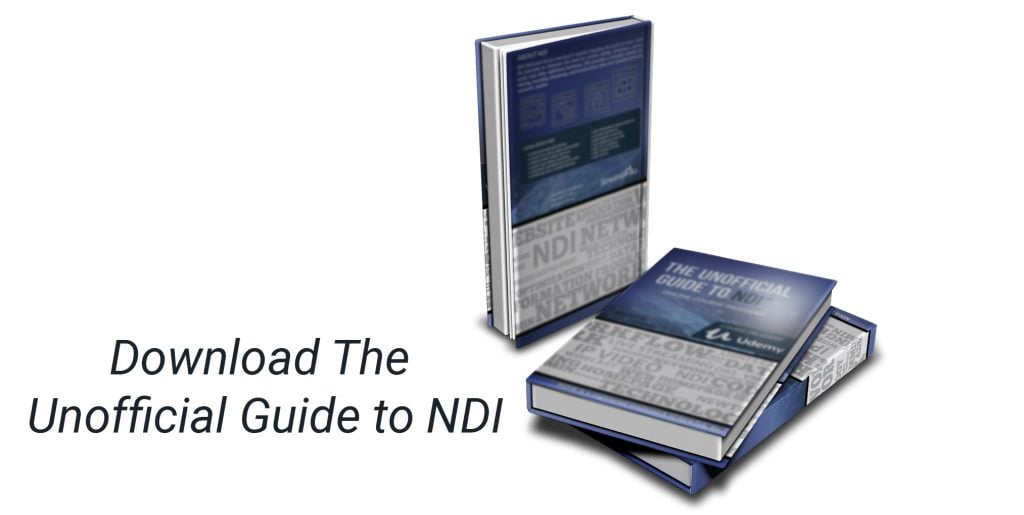 Download the Unofficial Guide to NDI PDF Book
---