How to use Zoom with vMix
Written by Paul Richards on May 18, 2020
Everyone has been asking us how to properly connect Zoom and vMix together. There are a lot of reasons why you might want to do this. First of all, you can use Zoom with your vMix productions to bring in remote guests. Yes, vMix has a feature called vMix call, but Zoom is much more popular for video conferencing and easier to use for most people. Also, vMix call is only available in the more expensive versions of vMix. Zoom is an easy way to host larger meetings and open up a host of new possibilities for improving your video production capabilities.
There are many other reasons why your Zoom meetings can be enhanced by vMix. One of the best reasons is to improve your audio quality using vMix's tools for audio. You can use VST3 plugins to enhance the audio coming from vMix into your Zoom meetings. You can also enhance the audio and video recording quality for your Zoom meetings using Zoom. So let's learn how to connect Zoom and vMix together.
Note: This tutorial is only for Windows. vMix is not available for Mac or Linux OS.
How to connect Zoom and vMix?
First, check out the diagram we have included above so that you can understand how everything connects. Because both Zoom and vMix run on a Windows computer. You do not need to run any physical cables to connect the two software solutions. This is going to be done 100% virtually. Starting with virtual audio cables. You will also use virtual webcam outputs and desktop capture inputs to connect the video.
Virtual Audio Cables
You will need two virtual audio cables to fully connect vMix and Zoom together. One virtual audio cable is used to output a mix of audio from vMix into Zoom and the other is used to bring the audio output from Zoom into vMix. Zoom essentially has two audio options for users to choose from. Zoom has a microphone input and a speaker output that we will use. In the picture above, ou can see that the tutorial uses virtual audio Cable-B for the Test Speaker and virtual audio Cable-A for the microphone. The Microphone input comes from the audio bus inside of vMix which can create a mix of audio to send to vMix. You can send any audio inside of vMix into Zoom. Be careful not to send the audio from Zoom back into Zoom, as this will cause a feedback loop.
Sending vMix Video to Zoom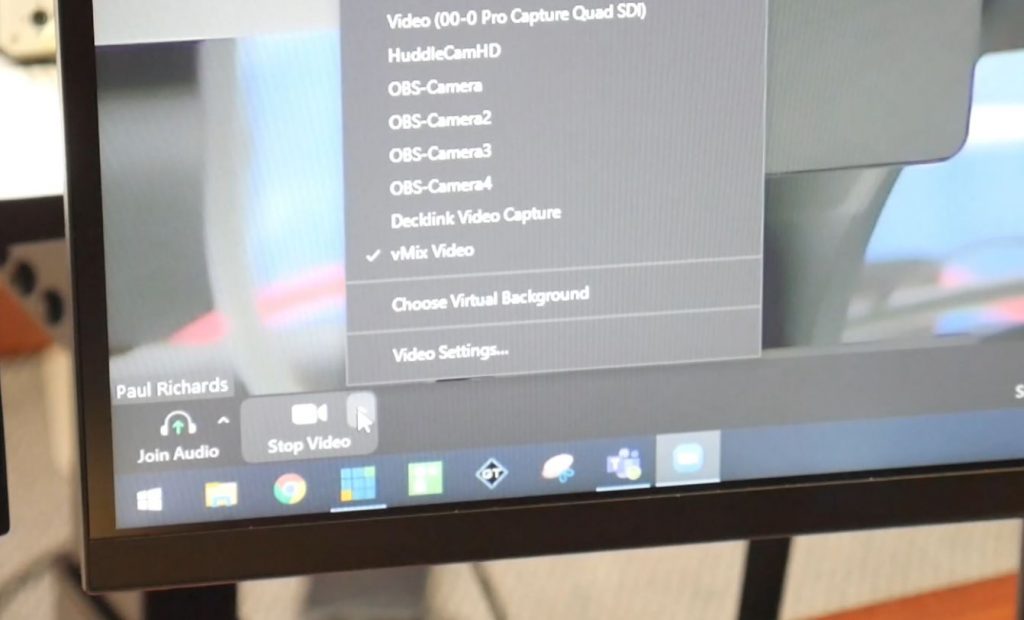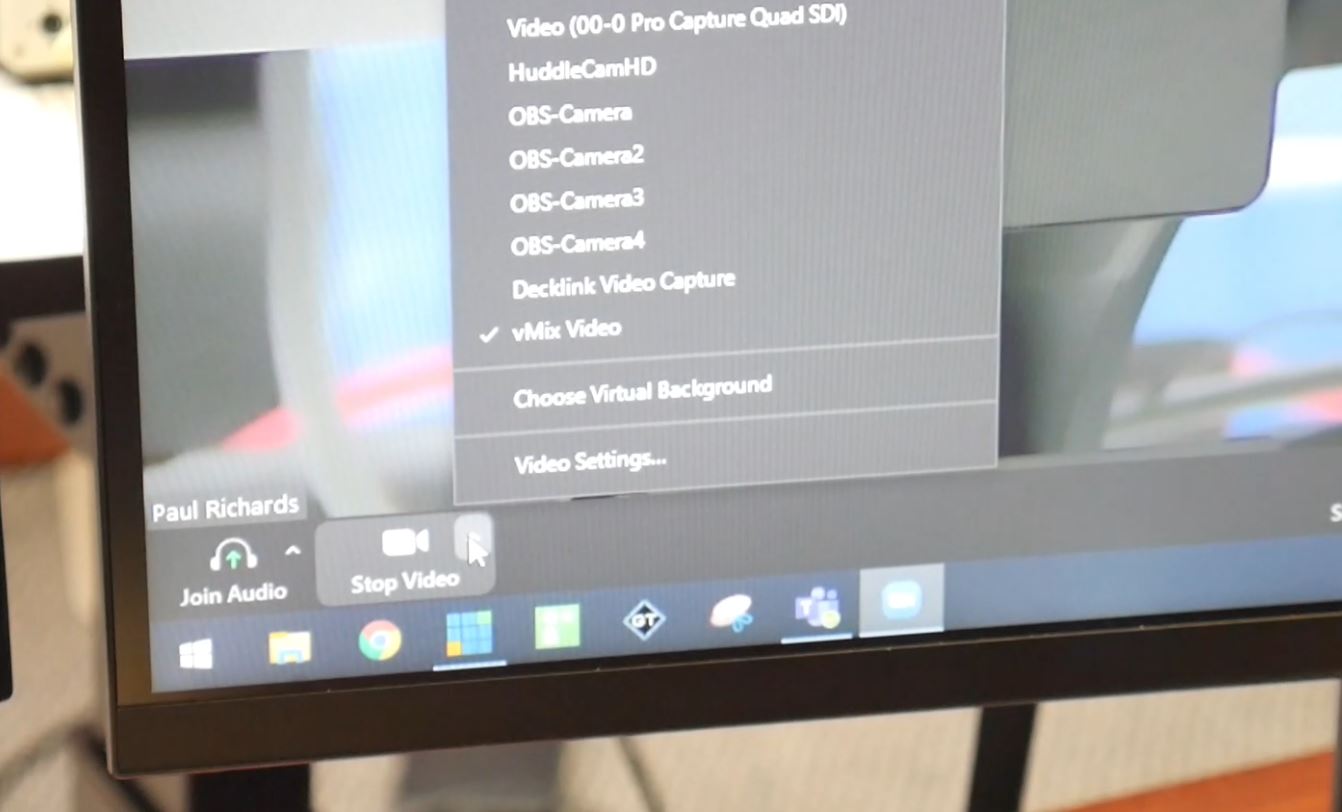 Sending your video from vMix into Zoom is probably the easiest part of this setup. All you need to do is enable the "external" output button and then select "vMix" as your webcam in Zoom. Video is the easy part. Next, you can add an input inside of vMix with a desktop capture. The desktop capture would be the screen with Zoom on it. You can have Zoom in multiple layouts including grid view, speaker view, or have a single person video pinned. Anything on this screen will come into vMix through your desktop capture.
Additional Notes to Consider
Now that you have your audio and video connections, here are some additional technical notes to consider. First of all, you can always use the microphone indicator in Zoom to check to see if audio levels are coming through vMix into Zoom. You can also use the test speakers button in Zoom to check if audio is coming out of Zoom into vMix. If you have everything set up and working, the last part of this is to consider who you will hear the far-end audio from Zoom. There are basically three options for this. You can listen to a pair of headphones, you can set up an in-ear monitor system or you can connect to an audio system.
Conclusion
Connecting Zoom and vMix together can help you produce an amazing amount of live streaming and video conferencing improvements. From higher quality audio and video, to new applications that feature talks show guests and breakout sessions. You can see on our live show, that we use Zoom and vMix all of the time to produce innovative and interactive productions. You can learn more about using Zoom and vMix in our other articles below.
Other articles about Zoom
---