How to Connect OBS and Teams
Written by Paul Richards on February 17, 2021
Connecting OBS with Microsoft Teams is a great way to add enhanced video and audio into your Teams meetings. OBS, or Open Broadcaster Software is a completely free video production software that can mix together audio and video sources in creative ways. OBS now features an easy virtual webcam output option that can be used with video conferencing software like Teams to output video clips, countdown timers, virtual sets and much more. 
So, let's talk about how to connect OBS with Microsoft Teams so that you can start using these awesome features. 
Here are the steps for this project:
Step 1 – Setup Your Virtual Camera in OBS and choose "OBS Virtual Camera" inside of Microsoft Teams

Step 2 – Install Virtual Audio Cables A + B (if you would like full audio connectivity)

Step 3 – Connect your audio sources with virtual audio cables A + B

Step 4 – Install Audio Monitor Plugin for OBS. Setup Your Virtual Audio Cables in Teams & OBS

Step 5 – Test and configure all of your settings!
Using a Virtual Webcam in Microsoft Teams
Again, using a virtual webcam in Microsoft Teams allows you to use OBS to create engaging visuals for your online meetings. For example, you can use the countdown timer scripts explained in this post to display countdown timers in Microsoft Teams. To start, make sure you have the latest version of OBS, which currently is 26.1.1. This version will support the virtual webcam output option on both Windows and Mac computers. You can click the "Start Virtual Camera" button in the lower right corner of OBS to enable the virtual webcam. Then you can make sure to select "OBS Virtual Camera" as your webcam in Microsoft Teams.
There you go. Now you have set up a virtual webcam in Microsoft Teams with OBS. Now everything you have in OBS is able to be shown in Teams. Keep in mind that sometime Teams will mirror the video from OBS. If you are showing text you may need to mirror that text in OBS for it to show up properly for you.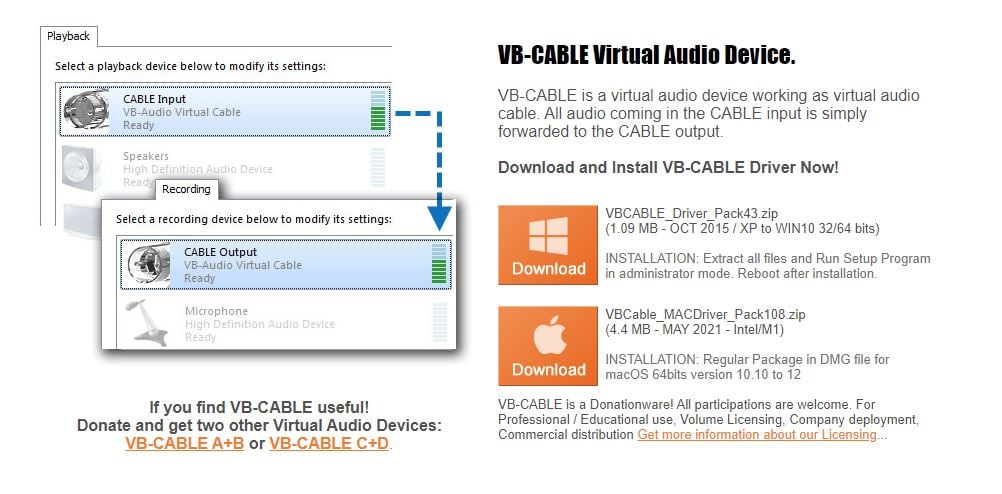 Setting Up Virtual Audio Cables for Microsoft Teams
Next you can set up virtual audio cables to send and receive audio from OBS and Teams. Why would you want to set up virtual audio cables? Well, for some people this could be confusing and you do not have to do this. For some people, simply having a virtual webcam does enough and virtual audio connectivity is not necessary. If you would like to play music from OBS and have it come into Team that you would want virtual audio cables. If you would like to play video clips that include audio and a variety of other sources, then virtual audio cables are what you are looking for. 
You can install virtual audio cables on to your Windows computer by getting the drivers here. Virtual audio cables are a very useful tool for video and audio production in many ways. You will need two of these virtual audio cables for this project. 
One virtual audio cable will be used as your microphone input into Teams and one virtual audio cable will be used for your speaker output from Teams. Take a look at the wiring diagram about to see how these virtual audio cables are routed. Virtual audio cables need to be selected inside of your Teams settings as your microphone and speaker. Then you also have to bring these virtual audio cables into OBS and route the audio inside of the advanced audio settings. You also need to use one of your audio cables as the monitor output selection inside of OBS.
This is probably the most complicated part of connecting Teams with OBS. First make sure you have installed two unique A and B virtual audio cable drivers on to your computer. It's helpful to draw out exactly how they will connect via Teams and OBS. In Teams, select one virtual audio cable for your microphone and one for your speaker. In OBS, add both virtual audio cables into your audio system in the audio settings area. Then go to the advanced audio settings and monitor the audio input so that you can send audio back to Teams.
You can find the OBS Audio Monitor plugin here. 
Once you have followed these steps you will have successfully connected Teams with OBS for full audio and video use without a feedback loop. You can get a feedback loop if you do not have your virtual audio cables routed properly. Hopefully, the video tutorial is detailed enough to walk you through this setup.
Conclusion 
Spice up your Teams meetings by connecting OBS with Teams. It's a great way to play funny video clips, add background music or even show countdown timers. Below you can download our OBS and Teams guide. 
Check out our other articles about Open Broadcaster Software below:
---