The Best Way to Connect OBS and Zoom
Written by Paul Richards on February 12, 2021
THE EASY WAY TO CONNECT OBS AND ZOOM
Just connect video and your mic. Leave the audio with your regular settings

Only requires 1 free virtual audio cable for PC

Use Loopback for Mac –

https://rogueamoeba.com/loopback/
THE NEW BEST WAY TO CONNECT OBS AND ZOOM
Connect your webcam with the virtual video camera

Connect your microphones from OBS to Zoom

Connect the Zoom audio output in OBS

This is ideal for recording and streaming the content

Use new Audio Monitor plugin –

https://obsproject.com/forum/resources/audio-monitor.1186/

This plugin allows you to choose each audio output you want to send to Zoom individually. This way you can still use your monitor output for your headphones. 
First of all, why would you want to connect OBS and Zoom? By connecting OBS to Zoom with video you can use the virtual webcam feature of OBS to power Zoom. In this way, your webcam source in Zoom can have all kinds of awesome video sources that you can manage in OBS. You can use this to use lower thirds, show overlays, mix together multiple sources, display countdown timers and much more. The only limitation is your creativity. 
Next, why would you want to connect your Zoom audio through OBS? First of all, in OBS you can enhance your audio with VST2 plugins and you can mix together multiple sources of audio and output that into Zoom. Want to play a video clip and have everyone see it in Zoom? Sure, you could use the Screen Share feature, but it's much cleaner to manage everything in Zoom. Want to record and stream your Zoom conference on YouTube and Facebook using OBS? Well, you are going to need the audio from your Zoom guests into OBS to do that properly. 
So, the easiest way to get started is to start with video. You can bring your webcam into OBS and then output into Zoom using the "Virtual Webcam" option. This button is in the right hand corner by default right below start recording and streaming. Next, in Zoom you can select "OBS Camera" as your webcam in Zoom. Now everything you see have in the output screen on OBS will show up your webcam source in Zoom. Easy right? 
Next, you can bring your microphone into OBS and use a virtual audio cable to transport that audio into Zoom. Audio is a little harder than video because it requires a virtual audio cable but don't worry, you can do it. If you are using a Mac you can download Loopback to create and install the required virtual audio cables. If you are using Windows, you can download the virtual audio cables from VB audio.
In order to send audio to zoom and receive audio from the far end, you will need two virtual audio cables. One to send audio and one to receive audio. If you want to keep things very easy you can use just one audio cable to send audio from OBS to Zoom, and skip receiving the audio back into OBS. Let's start with this and then build up to the complete set up. 
Once you have installed your virtual audio cables you can use a brand new plugin called "Audio Monitor" for OBS. This plugin will allows you to select any audio source in OBS and send it to any output using the filter feature. For this example, you can select any sources in OBS that you want to send audio back into Zoom for. For example, if you have a video clip that you want to share audio with Zoom in, you should add the filter. To add the filter, right click the audio source and click filters. Then you can click the plus button to add the filter. Select the "Audio Monitor" filter and you will see a dropdown list of places where you can send your audio for this source. Choose the virtual audio cable you are using to send audio to Zoom for each source that you want. You can repeat this step for your microphones, and other sources.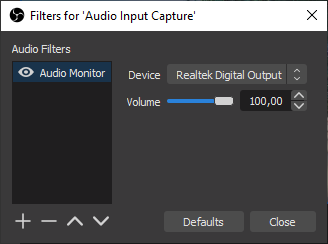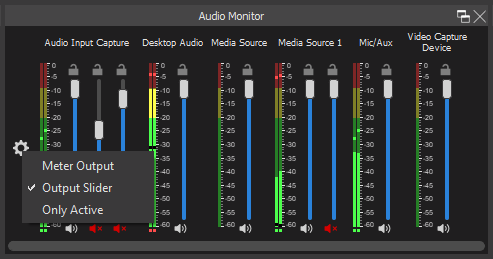 Next, you can test this, by selecting your virtual audio cable as your "Microphone" source in Zoom. Play some audio in OBS and you should see the microphone levels going up. Great job, you have connected your audio sources in OBS to Zoom. This setup will work great, and you keep your headphones connected to Zoom in order to hear the far end callers. But, you can also bring the audio coming out of Zoom into OBS. This will be required to make HD video recordings in 1080p and live stream your OBS productions with the audio from your video callers. 
To do this, you need to select a second virtual audio cable as your speaker output for Zoom. Then you can bring this source into OBS as a microphone source. It's actually that easy. 
Pro Tip: Want to make your Zoom callers sound better? Try using some of the audio filters available in OBS to enhance their voice quality. You can apply some compression and a little bit of noise cancellation to increase the quality of their voices. 
CONCLUSION
This is the easy way to connect OBS and Zoom together. Plus, you have also learned the complete way to bring video and audio together between Open Broadcaster Software and Zoom. By connecting a microphone and a speaker virtually from OBS and Zoom, you are able to increase what you can do with Zoom with video and audio. Once you have this setup there should be little you need to do to change your setting. But I have included a few troubleshooting tips below. 
Troubleshooting Tips for OBS & Zoom:
#1: Why am I getting an audio loop or feedback in OBS with Zoom?
If you are hearing an audio loop in OBS, you need to check your audio mixer. Audio loops occur in OBS and Zoom when you are sending the same audio back into Zoom as you are receiving. Therefore, check to make sure that you are only sending your microphone and other audio sources into Zoom. You should NOT be sending back the microphone input from Zoom. 
#2: Why can't I see my OBS webcam in Zoom?
If you cannot see video in Zoom, it is likely because you do not have OBS running, but you do have your webcam selected as "OBS-Camera." If you are going to be using OBS to power Zoom, it's a best practice to start OBS first and then Zoom. This way the virtual webcam will be ready for you. 
#3: Why can't I hear the Zoom audio in OBS?
If you cannot hear the Zoom audio in OBS, check to see if you have added a microphone input using your second virtual audio cable. Next, check to see if you have the speaker output of Zoom as your second virtual audio cable. You can test the audio output through the virtual audio cable in the audio settings area of Zoom. Click the up arrow, next to the microphone and click "Audio Settings." Here you can click the play audio button and see if the audio is coming through to Zoom. 
#4: How do I monitor the audio in OBS coming from Zoom?

You should be able to see the audio coming from Zoom into OBS using the levels on the audio mixer. You can choose the speakers or headphones that you want to use to monitor this audio in the OBS settings area. You may need to use a pair of headphones to monitor the audio and make sure it's not coming back into a microphone that you have on. 
#5: Why am I still getting an audio feedback loop in OBS when connecting with Zoom? 
Another possible reason you may be getting an audio feedback loop is because you are using speakers that are being picked up with a microphone. To avoid a feedback loop like this, you should consider using headphones so that the microphone will not pick up the audio you use to monitor the Zoom audio. 
Check out our other articles about Open Broadcaster Software below:
---