Updated! How to Connect OBS and Zoom
Written by Paul Richards on October 29, 2020
How to Connect OBS and Zoom
It's time for an updated video and tutorial on connecting OBS and Zoom. OBS has recently been updated to support a new virtual camera output feature. This feature makes it even easier to connect OBS with Zoom. This tutorial also includes a new method for working with virtual audio cables to connect OBS and Zoom. The video side is easy, and the audio side is a little more difficult. Let's dig in. 
The picture above is a complete connection diagram showing you how to connect audio and video between OBS and Zoom. Essentially, you are able to bring audio and video directly from Zoom and OBS with any Windows or Mac PC. The main difference between Windows and Mac computers is the type of Audio setup that you use. 
Requirements for this setup:
Zoom

Latest version of OBS

VB-Audio Cables (SoundFlower on Mac)

VoiceMeeter

Headphones

2 Monitors (Video)
Connecting Video Between OBS and Zoom
You can now use the virtual camera output inside of OBS to send your OBS video output into Zoom. To do this, simply click the Virtual Camera Output button. This button is below the "Start Recording" button in the bottom right-hand corner by default. Some people still prefer to use the Virtual Camera plugin available for OBS as well. Also, if your video is mirrored you can fix this in the video settings area of Zoom. 
To bring your video from Zoom back into OBS you can use a desktop or window capture. Click the add source in OBS inside of one of your scenes. Then select either Desktop or Window Capture. You will then be able to bring in everything happening in Zoom into your OBS production. This is great because you can now record 1080p videos with high bitrates using Zoom. Many people say that the default cloud recordings in Zoom could be better. Using OBS will allow you to record in a higher quality and do it locally on your harddrive without Zoom's compression settings. 
Working with Virtual Audio Cables
Setting up virtual audio cables to work with Zoom and OBS is a little tricky. But don't worry, you can do this. Start by downloading virtual audio cables at VB-Audio.com. You need to download the A + B audio cable drivers on your Mac or PC computer. You will use these to in Zoom for the microphone and speaker options. Next, you should download VoiceMeeter if you have a Windows Computer. Mac users can download SoundFlower. VoiceMeeter will be used to monitor audio with your headphones. Once you have both audio cables installed you can set them up in Zoom. Select Audio CABLE-B for your speaker and CABLE-A for your microphone. 
Using VoiceMeeter with OBS and Zoom
In order to get VoiceMeeter set up properly, you do need to set it up as your default audio device in Windows sound controls. You can do this by right clicking the audio speaker in Windows and select "Open Sound Settings." Then select "Sound Control Panel." Here you can right click VoiceMeeter and set it as your default device. This allows VoiceMeeter to output your audio to any source attached to your computer. In this case, you will eventually choose your headphones. 
Take another look at the connection diagram between OBS and Zoom. You can see that VoiceMeeter is being used to connect OBS and Zoom's audio. You can also see that it is being used to send audio into your headphones. You can now set up VoiceMeeter with virtual audio cable A and B. Next, you can select your headphone output to monitor the audio. 
OBS only has one audio output bus that you can use with a virtual audio cable. Open the settings area and click the Audio tab. Here you can select Audio Cable A as your "Monitoring Device." This will allow you to send any audio inside of OBS you would like out via your Audio Cable A. To select audio sources to send out via this virtual audio cable navigate to the Advanced Audio Properties area of OBS.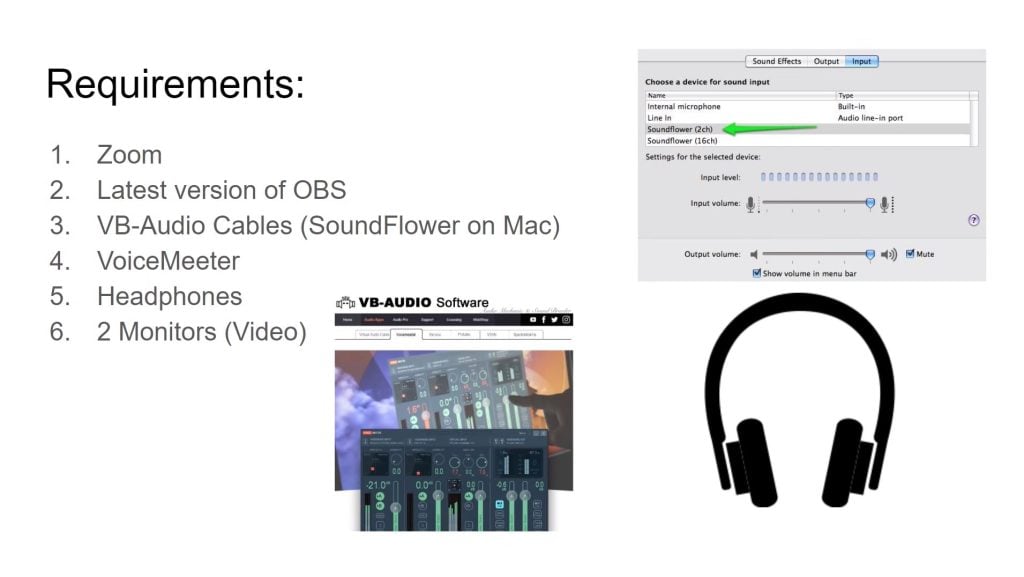 Open up Advanced Audio Properties by right-clicking the audio mixer and selecting all audio sources you would like to send to Zoom. Set all audio sources to Monitor and/or Monitor and Output to send them via your virtual audio cable. Each audio source that you select here can be set up to go through the monitor headphones output and sent to Zoom. 
Next you should bring audio into OBS from Zoom. In the audio settings area you can select audio CABLE B as a "Global Audio Source." This will bring the audio coming out of Zoom's speakers into OBS. To test this and make sure it's working properly, click the "Test Speaker" option inside of Zoom. You can access this in the Audio Settings, area of Zoom. 
That's it. You are done! You can read the Unofficial Guide to OBS to learn more about increasing your video production skills with OBS and Zoom. You can download a free copy here. 
By the way, you can also reference additional help in this blog post on the same topic.
Check out our other articles about Open Broadcaster Software below:
---