Using NDI Tally Lights
Written by Paul Richards on November 2, 2021
NDI® and its creators have roots in the broadcast industry which is why NDI® supports many broadcast technologies. One such technology is tally. A tally light is an indication light that informs you about a specific camera's status in production. For example, each camera can have a tally light associated with it. The tally light will turn red when the camera is live on-air. When a light turns red, the onscreen talent knows which camera to look at. NDI® supports tally indications with mobile phones, screen capture sources, and much more. 
A great way to see the built-in tally light functionality of NDI® is to use the Studio Monitor application. If you place that source in the preview or output position of a video production software like OBS, Wirecast, or vMix, you will notice a green or red outline around the source in Studio Monitor. This outline communicates how that source is currently being used in production.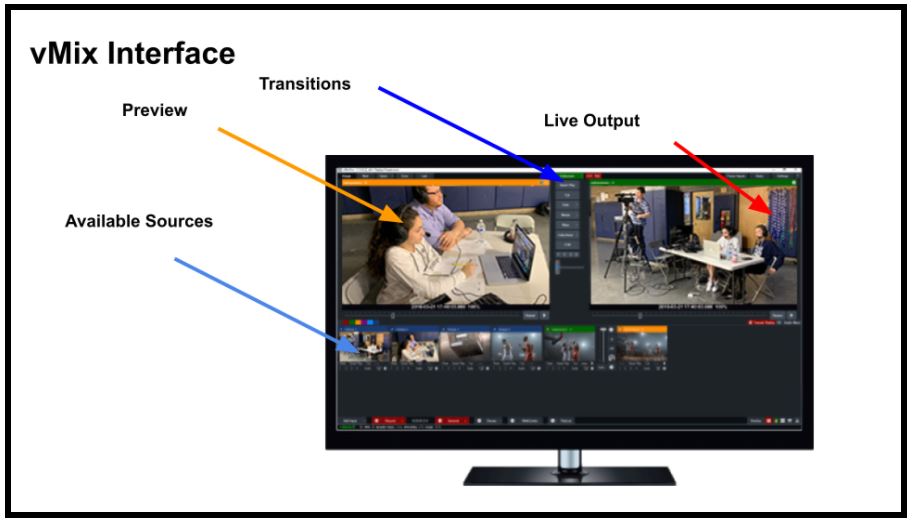 Standard video production software with preview and live output area.
NDI® devices use the tally light function in different ways. PTZOptics cameras, for example, have built-in tally light support that uses an indication light on the front of the camera. Because PTZOptics cameras have NDI® built-in, the cameras turn on a light when the camera is in output mode, and blink when the camera is in preview mode. The tally light will turn off entirely when the camera is neither preview or output mode.
Other NDI® devices that support tally lights include NDI® encoders and decoders. The NewTek Spark, for example, offers indication lights for camera operators. NDI® encoder devices connect to broadcast cameras which makes the tally light helpful for camera operators so they can know when the camera is being used for a production. A tally light on an NDI® encoder maybe hundreds of feet from the production computer but because it is connected over the network, the tally light signal can be maintained with minimal latency. 
Finally, there are complete tally light solutions that have been designed for NDI®. Tally-Lights, LLC makes an NDI® controller designed to support up to  eight tally lights. The NDI® tally light controller can be connected directly to a network and configured via a web browser. The controller can then be set up to turn on up to eight lights individually as each NDI® source in the studio is being used. Tally lights are often overlooked during the design process of new video recording and streaming applications. Luckily, NDI® supports tally lights through a variety of options which help users better communicate with on-camera talent and members of the production team. 
Key Takeaways:
Tally lights are a tool to keep on-screen talent and camera operators informed about a production. 

NDI® supports tally light functionality; it is a built-in option for NDI® tools such as Studio Monitor.

Tally lights can be set up with NDI® and non-NDI® cameras. 
Learn more about NDI:


What is NDI? - learn more here
Learn about the history of NDI - here
What is IP Video - learn more here
Learn about popular NDI software and hardware here
Learn about networking for NDI here
Learn about how much bandwidth NDI requires here
Learn how to use NDI with OBS here
Learn how to use NDI with vMix here
Why you should learn how to use IP video here
Learn how to use NDI cameras here
Learn how to use NDI for graphics generation here
Learn how to use NDI with WiFi here
Learn how to power displays with NDI here
Learn about NDI Studio Monitor here
Learn more about NDI Screen Capture here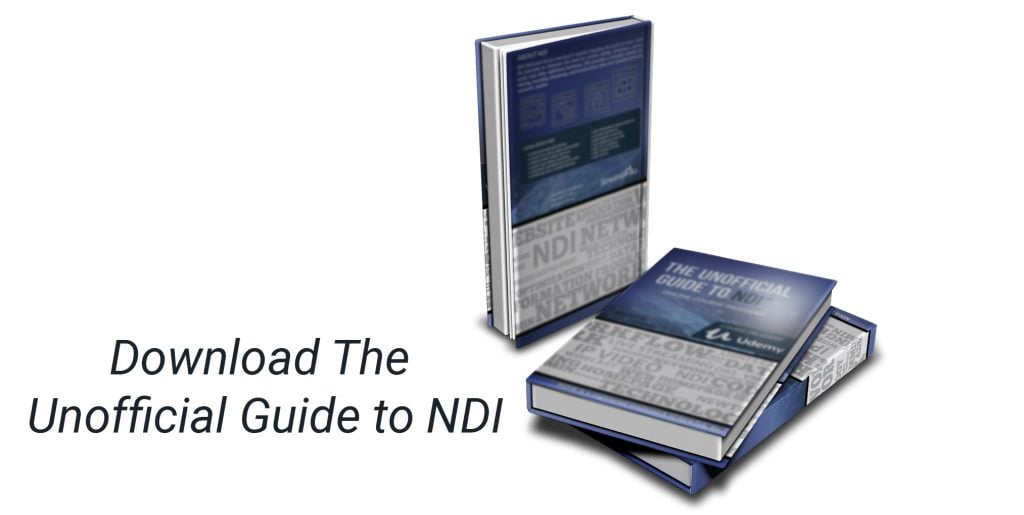 Download the Unofficial Guide to NDI PDF Book Here.
You can purchase the paperback on Amazon here.
You can enroll in the online course here.
---