vMix 25 adds LIVE LAN
Written by Paul Richards on January 12, 2022
Martin Sinclair the CEO and lead engineer of vMix, announced the vMix 25 BETA was ready for download and testing toward the end of 2021. The BETA software is available for download from the vMix forums here. It's important to note that you should not install BETA software on your main production computer because some small bugs may still be in the software.
So what's new with vMix 25?
LIVE LAN is a video streaming option available in vMix which is designed for distributing video over a local area network (LAN). This feature uses HTTP Live Streaming (HLS) which is a streaming protocol from Apple. HLS is an ideal encoding and streaming protocol for use on a local area network (LAN) because it requires low amounts of bandwidth and it's easy to connect to from a variety of receiving devices. One main benefit of HLS is that it sends video using HTTP which can be used by any web browser that supports HTML5. As of 2022, approximately 75% of web browsers already support HTML5 making HLS easy to use with almost all modern web browsers including Google Chrome, Firefox, Internet Explorer, Microsoft Edge, and Opera.
LIVE LAN makes it easy for vMix users to stream video to many different types of devices including smartphones, chrome books, and computers such as Windows, Mac, or Linux. The wide variety of supported devices makes HLS streaming ideal for organizations using vMix to deliver video to large audiences connected over WiFi or hardwired to the LAN.
How to start streaming to smartphones and computers with vMix?
To start streaming with Live LAN, vMix has included a "Live LAN" streaming destination which uses the vMix Web Browser tool to create a destination for users to connect. Therefore, you can visit the Web Browser settings area in vMix to retrieve the IP address users will need to connect to the live stream. For security purposes, it is suggested that you use a password for important areas of the web browser controller. For example, you would not want to give out the IP address and port number of your vMix LIVE LAN address to students at a school without using a password for the vMix controller.
Pro Tip: It is possible to use a domain name on a local area network to mask your vMix computer's IP address.
How much bandwidth does Live Lan use?
Another feature of the HLS encoding type used by LIVE LAN is the stream delivery method. Unlike most streaming solutions which create a consistent stream of bandwidth, HLS delivers video in chunks which can be adaptive to the environment of your network and allow you to handle increased amounts of simultaneous connections. HLS allows you to deliver video via standard web-browsers in an intelligent way. The process of delivering video to modern HTML5 web-browsers via live streaming with HLS was originally designed by developers at Apple. After testing a 3 Mbps 720p video stream set to 30 frames per second, I noticed that the bandwidth fluctuates up and down as the chunks of packets were delivered.
What else does vMix 25 have?
vMix 25 now officially supports NDI 5.0 which adds enhancements to the IP video production standard with the way it's implemented inside of vMix. Below is a short list of other features announced for vMix 25.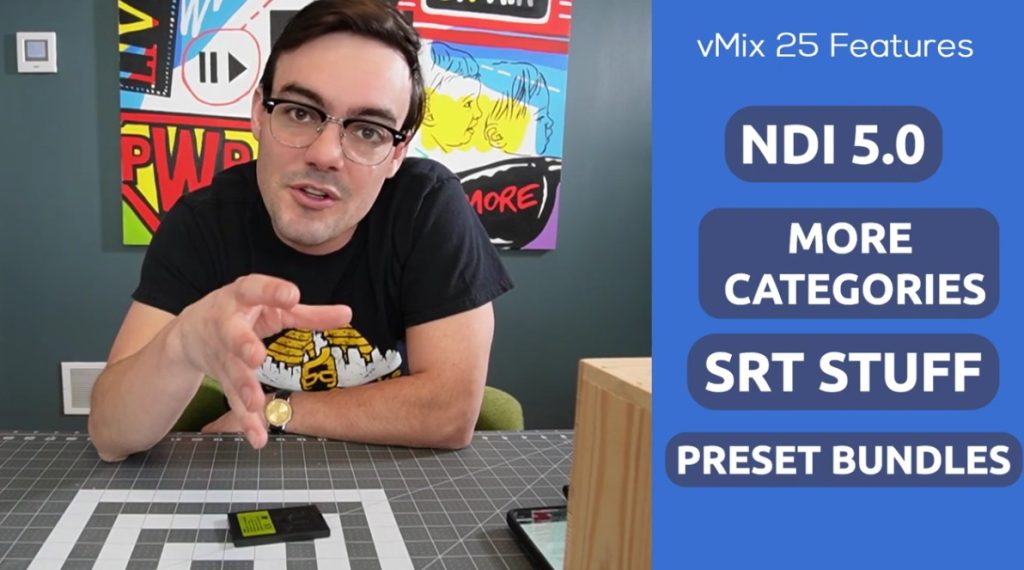 New Features and Changes
* LiveLAN
New built-in streaming destination, streams to the vMix Web Controller which can be watched from any HTML5 browser on the local network
* More Categories
Up to 16 more categories can now be added with custom colors and labels
* NDI 5
vMix 25 now includes built-in support for the latest NDI 5.
Note, many NDI 5 features are in the free NDI Tools NDI.tv so check that out for more information.
* Preset Bundles and Offline file improvements
Preset bundles can now be saved which include most media assets like videos, images and titles in a single preset file.
Improvements have also been made to existing preset files, if files referenced cannot be found, a single window can be used to locate these prior to opening.
* Added additional virtual sets
* Added support for all the latest AJA capture devices such as Corvid 44 12G and T-Tap Pro. This requires updating the AJA driver to version 16 or higher, available from the AJA website.
* Added support for custom keyframe frequency in SRT output encoder (defaults 2 seconds).
* Added option to disable NDI preview thumbnails when adding sources, useful for networks with hundreds of sources that may consume excessive bandwidth to generate thumbnails.
* Web Controller and TCP API now restrict access to users on local network only by default.
This can be disabled if needed in Settings
* vMix is now 64bit only. This is due to 32bit only Windows versions no longer being supported.
* New activators: InputAudioAuto, OverlayXAny, BusXSolo, VideoCallSourceOutputX
* New shortcut: OverlayInputXLast
* Various minor bug fixes and improvements
Start Learning vMix
What is vMix. Learn here
Getting Started with the vMix interface here
Learn how to work with vMix inputs here
Mixing Inputs Together with vMix Multiview here
Learn about vMix titles here
Learn how to mix Audio in vMix here
Learn how to use VST3 audio plugins with vMix here
Learn all about vMix settings here
Learn about how to use vMix Full Screen and Multiview here
Learn how to record video with vMix here
Learn how to live stream with vMix here
Learn how to use vMix video overlay channels here
Learn how to make Stinger Transitions in vMix here
Learn how to use social media comments in your live stream with vMix Social here
Learn how to use vMix shortcuts here
Learn how to use GT Title Editor to make custom vMix titles here
How to use vMix Call to bring guests in your live stream here
How to control vMix remotely with the web controller here
How to use vMix color correction tools here
How to use virtual sets with vMix here
How to use NDI with vMix here
How to control PTZ cameras in vMix here
Learn how to connect vMix with Zoom using the virtual webcam output here
Learn how to use automated playlists with vMix here
Learn how to use data sources with vMix here
Learn how to use vMix triggers here
---