The Unofficial Guide to NDI is out!
Written by Paul Richards on November 2, 2021
Every so often there is a shift in the way we live and work that seemingly brings the way we just do things to a halt and introduces a new path. This is what happened when we went from ethernet cables between computers to wireless (WiFi) connections … which then enabled portable devices … which gave rise to laptop computers … and eventually modern cell phones … which, for a large part of the world, has now changed the very computers we use today. More importantly, these devices have meant that humanity can share information, which means that doctors have ways to diagnose illnesses, buses and trains have better safety devices, cars have better systems managing their fuel efficiency and the list goes on and on. 
We are at a point where the phone in your pocket has a high-quality camera, screens and computers are everywhere, and everything is connected by networks that allow any device to talk to any other. There is a revolution that is going to change the whole way the world collaborates, how we work with others, present projects, and make purchases. This revolution is going to be fueled in part, by video, and it will make content easy to work with. We will look back at the traditional ways of producing video in the same way that we look at computers with slow internet connections. We believe that Network Device Interface (NDI®) is going to be part of the engine that makes that happen and this book is going to help tell you the story of why and how this revolution will start.
This is an exciting moment in time. It's been more than half a decade since NDI® was architected by Andrew Cross and both the magnitude of users we now have (it's in the hands of millions of people) and the rate of adoption that keeps accelerating is beyond our biggest dreams. Now, Paul has created the first definitive book on NDI® and in doing so will bring the benefits and understanding of this technology standard to a whole group of new content creators and storytellers.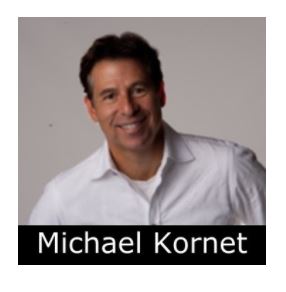 Michael Kornet
Vice President Business Development, NDI
Paul was there with NDI® from the very early days and it has been one of those very lucky happenings when you find an organization like Haverford made up of people that you not only respect for their vision and accomplishments but truly just enjoy being around and working with.  
When this protocol was created, the mission of NDI® was to grow IP Content as fast and wide as possible. This book in your hands helps make that possible and we could not be more thankful or excited about the shift to a new standard of IP Content built on NDI® that we are all witnessing. To be a part of a technology shift like this comes around maybe once or twice in a career and so it is so fun to see and important to have NDI® brought to life in a way that anyone can understand and start playing with. 
So, enjoy the magic of NDI® and IP Content. Welcome to a significant shift in the way content is created, distributed and consumed. 
Andrew Cross, Architect of NDI and President of R&D, Vizrt Group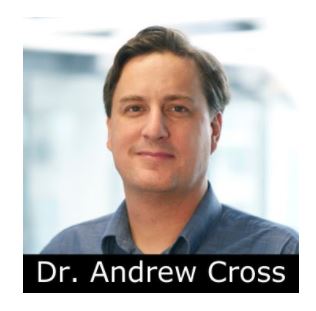 Learn more about NDI:


What is NDI? - learn more here
Learn about the history of NDI - here
What is IP Video - learn more here
Learn about popular NDI software and hardware here
Learn about networking for NDI here
Learn about how much bandwidth NDI requires here
Learn how to use NDI with OBS here
Learn how to use NDI with vMix here
Why you should learn how to use IP video here
Learn how to use NDI cameras here
Learn how to use NDI for graphics generation here
Learn how to use NDI with WiFi here
Learn how to power displays with NDI here
Learn about NDI Studio Monitor here
Learn more about NDI Screen Capture here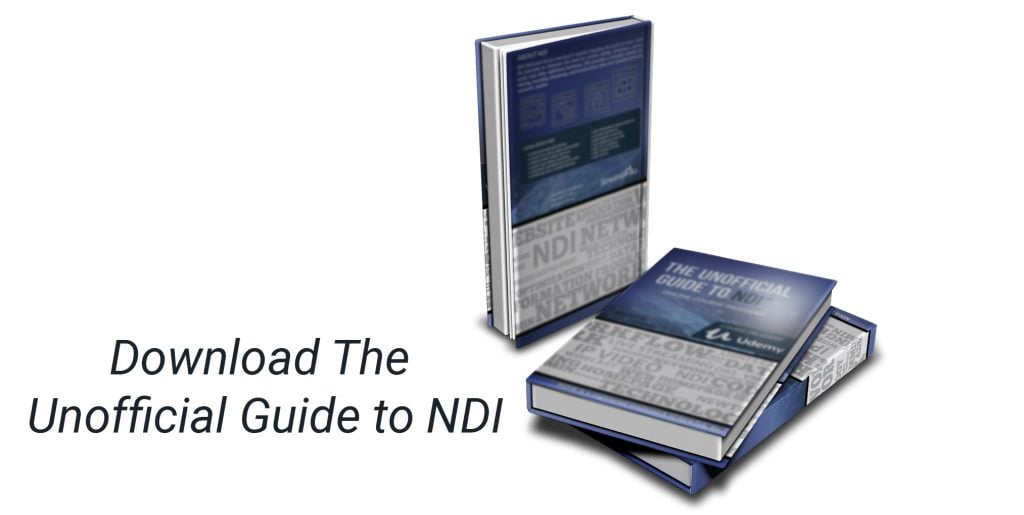 Download the Unofficial Guide to NDI PDF Book Here.
You can purchase the paperback on Amazon here.
You can enroll in the online course here.
---